Who is the team to beat in Class AAAA of the WPIAL? What are the rankings?
Before we get to all of that, a few words on one of the more interesting storylines in Class AAAA football this season. George is back - and he has a lot of his old friends with him.
George Smith returns as coach at McKeesport High School. Smith coached McKeesport for 28 years before resigning after the 2009 season. George doesn't like to talk too much about why he resigned from his alma mater. The important thing is he's back. (Below is a photo of Smith from practice yesterday, courtesy of P-G photographer Kelly Tunney)
It's good to see. George Smith is good for WPIAL football. He's good for McKeesport and the kids in that district. It's not an easy place to coach, but Smith built a very successful program. Heck, he won two WPIAL and PIAA championships and did it with that ol' flexbone offense.
He has brought the flexbone back with him. And he has brought back many of his former coaches, including former offensive coordinator Jamie Echols, who resigned as the head coach at Serra.
Don't be surprised if McKeesport makes some noise either this season or next. I don't think they will challenge for a WPIAL championship this year, but you can bet opposing teams are not looking forward to playing McKeesport and that flexbone.
And look for Smith to get his 200th win at some point this season. He left with 197 wins.
A look at Class AAAA
Before we get to the top five teams in Class AAAA, let's look at some teams to watch this year that aren't in the top five.
Bethel Park - Offensive lineman Mike Grimm is a Pitt recruit. QB Levi Metheny, son of coach Jeff Metheny, has a year of experience under his belt after starting last year as a freshman. Zach Enick was the leading rusher last year.
Mt. Lebanon - Although the Blue Devils lost some key players to graduation, second-year coach Mike Melnyk has two Division I recruits. Receiver Troy Apke has committed to Penn State. He caught 54 passes last season. Alex Bookser is one of the most heavily recruited offensive linemen in the state. Pitt, Penn State, Alabama, Ohio State are among the schools on his final list. QB play will be a key for Lebo.
Hempfield - The Spartans made a lot of noise in the first half of last season. The skill positions are filled with returning starters. They aren't WPIAL championship caliber, but keep an eye on the Spartans.
Penn-Trafford - Coach John Ruane has six returning starters on both offense and defense. He says a big key will be how well the Warriors run the ball. Devin Austin led the team in rushing last year. John Wilkie and Adam Polakovsky are two top linemen.
North Hills - Pat Carey takes over for longtime coach Jack McCurry. The Indians have some returning starters on the lines, but a key is if they develop some running backs and QB. They will break out new unis and helmets this year.
Pine-Richland - The Rams played a number of sophomores last year. New coach Eric Kasperowicz has Connor Slomka, who rushed for more than 1,000 yards, and QB Ben DiNucci, who threw for more than 1,000. The Rams haven't done that much since moving from Class AAA to AAAA a few years ago. Is this year they make some noise?
And now a look at the top five (official P-G rankings will be released in the Aug. 23 edition of Varsity Xtra).
5. GATEWAY
Terry Smith is gone as coach, now coaching receivers at Temple University. Former Carlynton assistant Donnie Militzer has taken over. Reports out of Gateway are that the transition hasn't been exactly smooth so far with some Gateway faithful, but Militzer is plugging away and definitely has talent to work with. Receiver-defensive back Montae Nicholson is ranked the No. 1 player in the state by Rivals.com. Also, receiver-defensive back Delvon Randall, receiver-defensive back Anthony Davis and linebacker Brenon Thrift have all committed to Temple and receiver Ricky Rogers to West Virginia.
A key will be the running backs and the play of a new quarterback.
4. NORTH ALLEGHENY

USA Today ranks North Allegheny the No. 23 in the country. Even coach Art Walker said that is ridiculous. Sure, the Tigers are three-time defending WPIAL champs and have won two of the past three PIAA titles. But this team is nowhere near as strong as those teams - and even Walker admits it. Only three starters return from last year.
However, don't overlook North Allegheny. Having so many players on the roster every year helps and the Tigers will certainly not be a slouch. They figure to challenge once again for the conference title.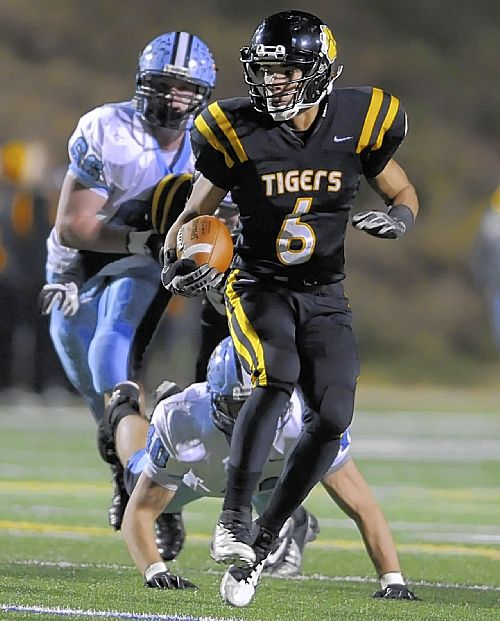 NA features receiver-defensive back Elijah Zeise, who already has made a verbal commitment to Pitt. He was recruited by Pitt to play receiver. Zeise is a speedy receiver who is a real deep threat. Walker believes North Allegheny must be creative in getting the ball to Zeise more this season.
The only other returning starters are linebacker Layne Skudrich and lineman Nick James. Skundrich led the team in tackles last season.
Either Cage Galupi or Jeff Clemens will be the new quarterback. Sean Idowu and Jeff Bergman got some experience at running back last year, carrying the ball 53 and 54 times, respectively.
3. CENTRAL CATHOLIC
Last season ended with the worst WPIAL playoff loss in school history (to Upper St. Clair). Things shouldn't be as painful for Central Catholic this year.
The Vikings have a number of returning starters and are looking like the team to beat in the Northern Eight Conference.
Central Catholic features quarterback J.J. Cosentino (pictured). He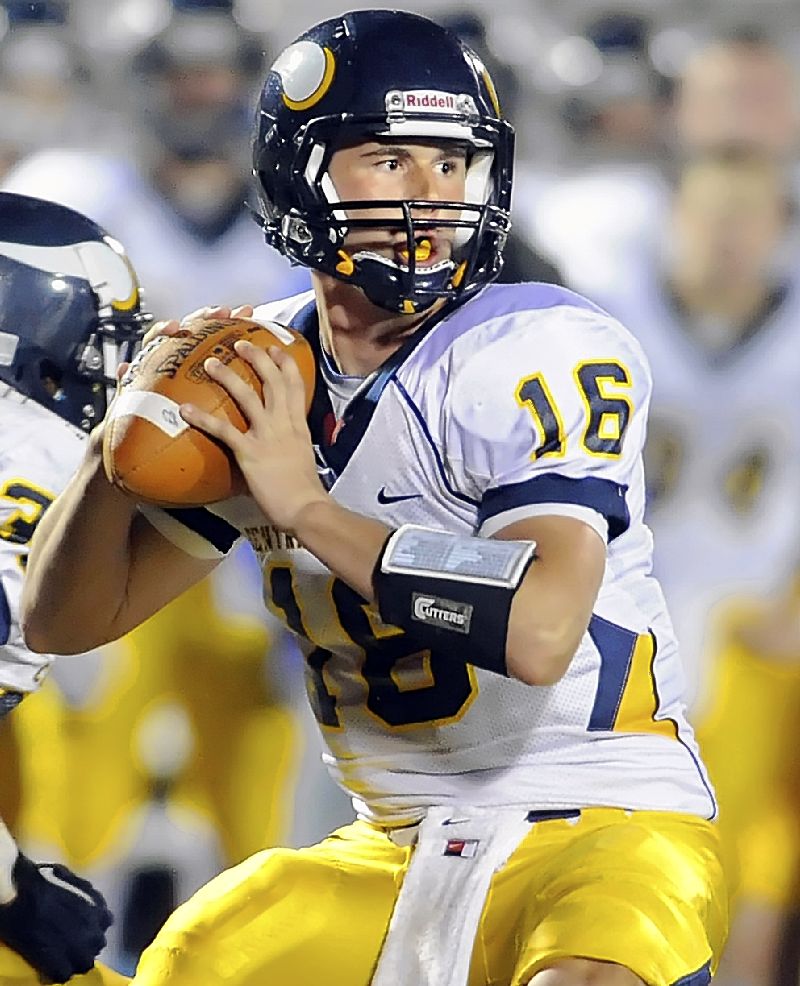 already has committed to Florida State and has good size and a pretty good arm. But Cosentino still has things to show on the field to prove he is a big-time quarterback. He wasn't the starter the first few games of last year and finished only 43 of 98 for 552 yards.
The running game will be led by Luigi Lista-Brinza. He could have a big season after rushing for 960 yards on 155 carries last season.
Lista-Brinza has some returning linemen to block for him - Terrence Stanton, Steve Wood, Zack DeLuca and Angelo Natter.
Shaffer Swann, son of former Steeler great Lynn Swann, returns at receiver after leading the team in receptions last year with 20.
On defense, linebacker Niko Thorpe and defensive back Tre Tarpley figure to be leaders.
2. UPPER ST. CLAIR

I get the feeling from fans and even some coaches that most people are pegging Woodland Hills, Central Catholic, Gateway and even North Allegheny as the teams to beat. Please, don't forget about Upper St. Clair.
Sure, the Panthers lost a playmaker with the graduation of quarterback Pete Coughlin. But there is experience and talent at many other positions. Ben Huss was a first-team all-conference selection last year on the offensive line.
Also back are linemen Zach Morris and Robert Plummer, defensive back Margan Lee, linebacker Kyle Page and linebacker J.J. Conn.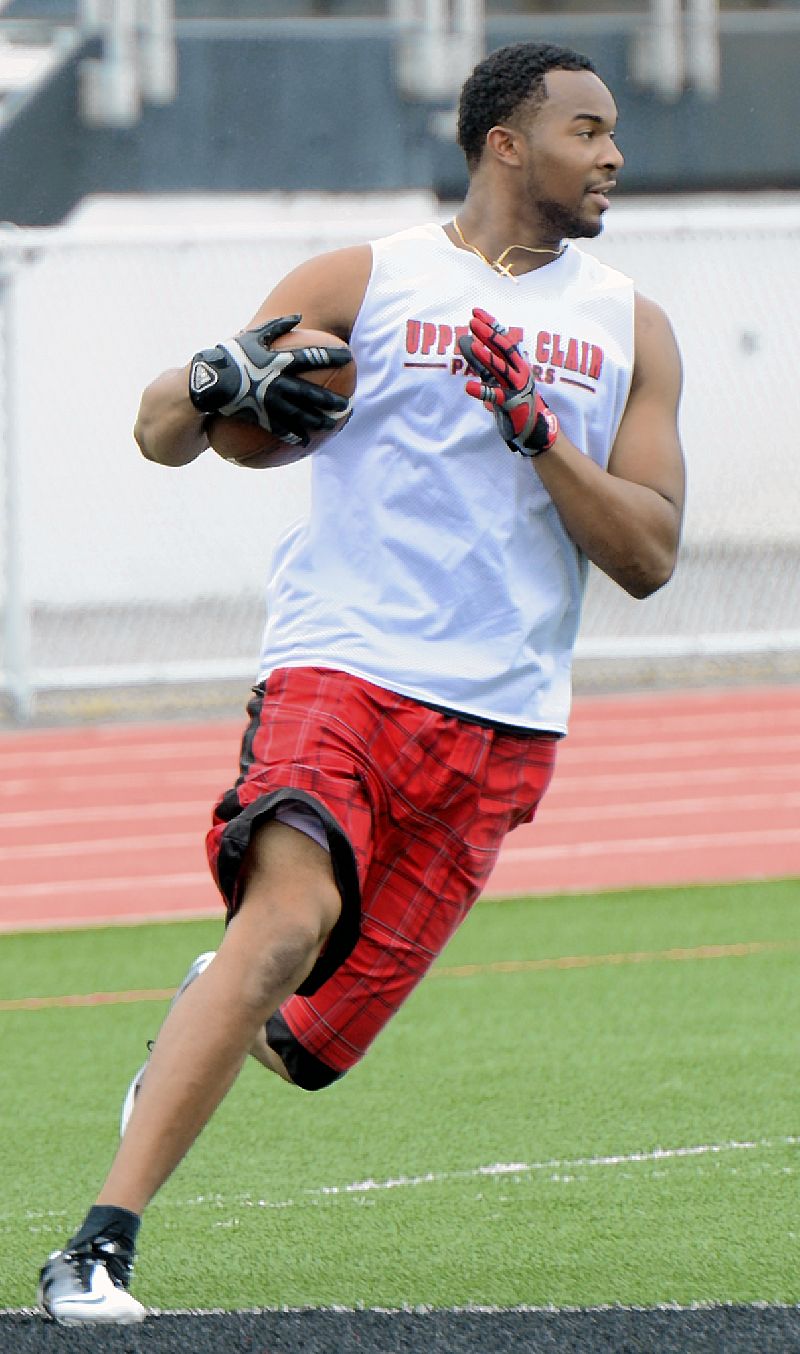 Plus, USC has Rori Blair back. He missed last season after suffering a stroke. The WPIAL gave him an extra year of eligibility and Blair (pictured) figures to be one of the best defensive ends in the WPIAL. After he was cleared by doctors to resume playing this year, he was offered scholarships by a few Division I colleges. He committed to Pitt last month.
Offensive guard Zach Morris, running back Steve Mackowick, defensive lineman Robert Plummer, linebacker Kyle Page and defensive back Morgan Lee all return.
Joe Repishak and J.J. Conn were vying for the QB job. Although the Panthers might not have a speed merchant in the backfield, the running game is in more than capable hands with Steve Mackowick and Mac Pope. Mackowick led all running backs with 525 yards rushing last year and Pope was next with 328.
Overall, USC has enough to add a lot more wins to coach Jim Render's resume. And on the first night of the season, Upper St. Clair plays at Woodland Hills.
1. WOODLAND HILLS

The always-tough Wolverines look like championship material this year after losing to North Allegheny in last year's title game.
Players return in the backfield and on the lines, although coach George Novak said he is a little concerned with the inexperience of his lines.
The Wolverines will be breaking in a new quarterback this year with the graduation of Cody McClelland. Novak said senior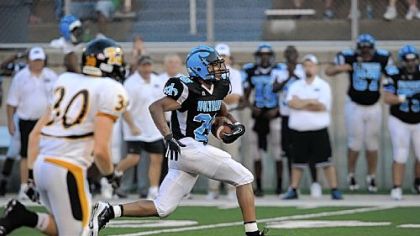 Harry Randall (pictured) and sophomore Jeremiah Jones went into preseason practices battling for the job. Randall was a receiver and defensive back last year and showed some explosiveness before a torn ACL ended his season. Jones is the younger brother of former Sto-Rox quarterback Paul Jones, who went to Penn State before transferring to Robert Morris.
In the backfield, Woodland Hills has one of the top young running backs in the WPIAL. Last year as a freshman, Miles Sanders ran for a team-high 738 yards on 129 carries. Dan Gibson and Jim Rooney will be two of the top offensive linemen blocking for Sanders.
Trevon Mathis is one to watch at receiver. Chris David also is playing receiver, trying to come back from an ACL.
Linebacker Dante Broadus and lineman Kevin Sullivan figure to be two of the top players on defense.
NEXT WEEK: CITY LEAGUE PREVIEW