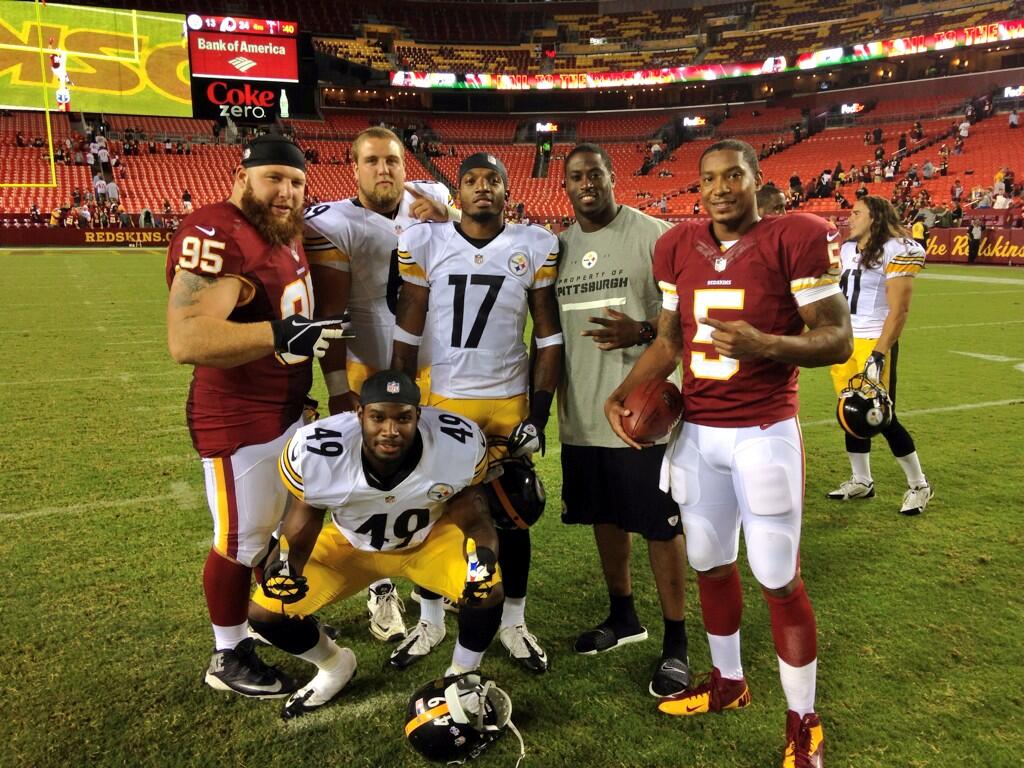 (Photo by West Virginia Illustrated writer Geoff Coyle.)
Tavon Austin, the eighth selection in the 2013 NFL Draft, is primed to play a major role for the St. Louis Rams this season.
Austin made four catches for 28 yards and fielded two punts in the Rams' 19-7 loss to the Green Bay Packers. He was targeted by quarterback Sam Bradford seven times in just 16 offensive plays. This comes after Austin went without a catch on nine snaps in his debut a week earlier.
"It felt good," Austin told ESPN. "I had a couple catches today. It made me feel like I'm getting a little more comfortable, got my confidence back in myself. Hopefully we just keep going along."
"Yeah, after last week with him not getting any receptions, we wanted to try to get him the ball," Bradford added. "I thought he did a great job."
Pat White, who we lauded in last week's round-up, was far less spectacular on Monday, but he might just be in the perfect place despite the Washington Redskins' presumed depth at the quarterback position.
White was 3-6 passing for 22 yards, and he threw an interception. He also registered four carries for 24 yards. Fine numbers. Nothing great. Nothing damning.
His importance, though, may have skyrocketed.
Washington's backup quarterback Kirk Cousins was injured while trying to get out of bounds on a scramble in the second quarter. Steelers linebacker Lawrence Timmons tackled Cousins from behind, and the quarterback's right foot rolled up underneath him. X-rays came back negative and Cousins is diagnosed with a mid-foot sprain and likely listed as day-to-day.
Disaster avoided for the 'Skins. With starter Robert Griffin III still rehabbing from complete reconstructive surgery on his knee, you see, ...
From SBNation
Though Rex Grossman is locked into the No. 3 quarterback spot, White could be providing crucial depth should either of the injuries prove worse than forecasted.
News and Notes
Running back Steve Slaton, a third-round pick by the Houston Texans in 2008, remains an unsigned free agent for the time being. Slaton attended a private workout with the Cleveland Browns, according to Scott Petrak of the Elyria Chronicle-Telegram. The Browns, though, elected to sign running back Jamaine Cook. When asked by a fan on Twitter when he'll suit up again, Slaton responded "soon just biding time."
Slaton hasn't seen game action since playing with the Miami Dolphins in 2011. Last season, he worked out for the Chicago Bears in late September, but they instead signed Kahlil Bell.
Preseason Week 2
• T. Austin: Four receptions for 28 yards — GB 19, STL 7.
• S. Bailey: No receptions — GB 19, STL 7.
• D. Barclay: Started at tackle — GB 19, STL 7.
• J. Braun: Played, recorded no statistics — HOU 24, MIA 17.
• S. Capers: Played, did not start — IND 20, NYG 12.
• T. Garvin: Four tackles — WAS 24, PIT 13.
• N. Goode: Four tackles — SF 15, KC 13.
• B. Irvin: Played, no statistics recorded — SEA 40, DEN 10.
• W. Johnson: One carry for no gain — WAS 24, PIT 13.
• A. Jones: One tackle, one pass break-up — CIN 27, TEN 19.
• E. Lankster: Two tackles, one pass break-up — NYJ 37, JAX 13.
• J. Madsen: Played, did not start — WAS 24, PIT 13.
• P. McAfee: Six punts for an average of 47.7 yards, net average of 23.0 yards and two inside the 20 — IND 20, NYG 12.
• R. Mundy: Two tackles — IND 20, NYG 12.
• C. Neild: Played, did not start — WAS 24, PIT 13.
• D. Reynaud: Saw time at kick returner and punt returner. Two touchbacks, a 39-yard kick return and a 15-yard punt return — CIN 27, TEN 19.
• K. Richardson: Two tackles — CLE 24, DET 6.
• G. Smith: Did not play, ankle injury — NYJ 37, JAX 13.
• K. Tandy: Six tackles — NE 25, TB 21.
• J. Thomas: One tackle — CHI 33, SD 28.
• P. White: 3-6 passing for 22 yards and an interception. Sacked once. Four rushes for 24 yards — WAS 24, PIT 13.
• J. Woods: Did not register a statistic — WAS 24, PIT 13.