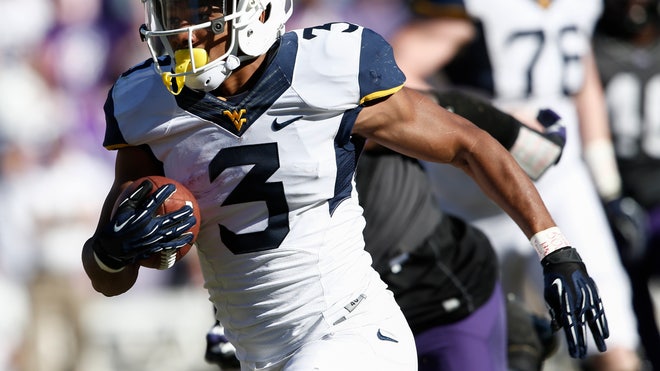 MORGANTOWN, W.Va. -- Charles Sims is an enigma. His voice barely rises above a whisper, but under the lights and with a sea of eyes on him, his game never fails to rise to the occasion.
Put together some factoids and quotes about Sims this week. He's a heck of a player, and he puts up some impressive numbers on Saturdays, but just don't try to ask him about it.
Sims, a graduate transfer from Houston, had a season-high 24 carries, 154 rushing yards and two touchdowns in the Mountaineers' 30-27 overtime victory over TCU last week. It was the most ground yards ever against a Gary Patterson-coached TCU defense.
Sims has 354 rushing yards, 300 receiving yards and seven total touchdowns this season.
He'll be the focus on Saturday, as the Longhorns' have allowed 194.6 rushing yards per game, ranking 91st in Division I, a futility that precipitated the replacement of former defensive coordinator Manny Diaz with Greg Robinson in mid-September after a 550-yard, four-touchdown rushing performance by BYU.
Andrew Buie rushed for 207 yards and two touchdowns against a remarkably similar Texas defense last year in a 48-45 West Virginia victory in Austin, Texas.
Sims had 23 carries, 120 yards and a touchdown against William & Mary in the season opener and then, rather inexplicably, didn't crack 20 carries or 100 yards in seven consecutive games until last week, despite averaging 5.2 yard per carry.
Only now, it seems, has the coaching staff discovered how to use its offensive weapon.
---
Dana Holgorsen, head coach:
"Charles is such a great kid. He doesn't talk -- you guys have figured that out -- he doesn't say anything. If he's got a presentation to go to, he's just petrified.
"Charles is a special player, we all know that. I've been saying that since the day he arrived here. He's a special player in the run game and a special player in the pass game.
"No other backs in the country do as much as he does. We're talking about running the ball, being a receiver out of the backfield and lining up as a receiver and making plays down the field.
"I challenge you to find another back in college football that does more for his team. He is a dynamic player.
What can the other RBs learn from Sims?
"Wendell Smallwood does everything Charles does. ... His attitude is so good. The way he approaches every day in the weight room, film room and practice field. He plays with as much effort as he possibly can and, yes, that is rubbing off on everyone on the entire team. Even the defensive guys point it out. He is a special player, special kid, and I'm glad he is here.
---
JaJuan Seider, running backs coach:
What was the difference in a breakout game last week?
"I think we just gave him the ball more.
"He took over the game for us. We put it on his back and rode him."
It's that simple?
"Yeah. The more touches he has the more big plays he can make. We made a conscientious effort to put him in the backfield and let him run the ball. We'd be crazy not to take advantage of him. We've got three more games; you don't get this type of player too often. You've got to maximize him while you've got him."
What have the other RBs learned from him?
"He doesn't care about the stats, he just cares about the win," Seider said, and he truly believes it. "I hope my son grows up to be Charles Sims, I really do. He's that type of kid. That's the biggest compliment somebody can make.
---
Stephen J. Nesbitt: This email address is being protected from spambots. You need JavaScript enabled to view it. , 412-290-2183 and Twitter @stephenjnesbitt.