Some things that fell off my laptop
Without Shai McKenzie, where does Washington go now? I say to the playoffs.
McKenzie, the star senior running back who is done for the season because of a torn ACL, was undoubtedly a terrific player. This is not to take away from what he has meant to Washington. But it's not like Washington is, say, Geibel and just happened to have one standout player.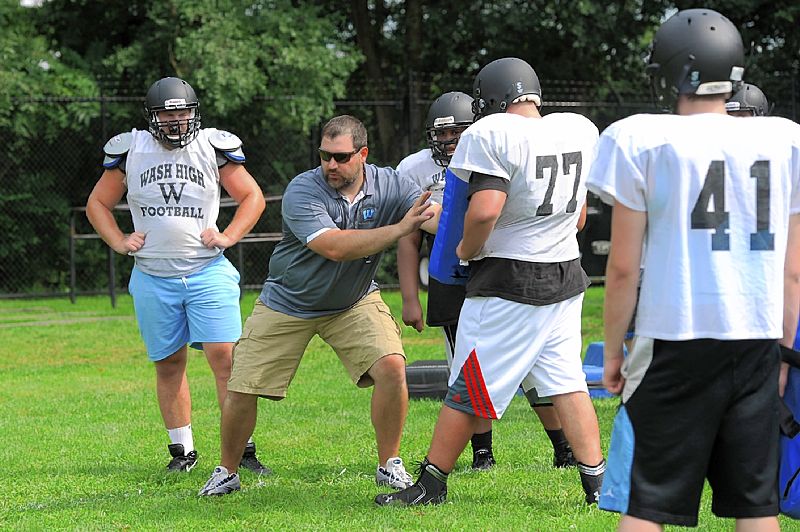 Washington has had talented players for decades and decades. No, the Little Prexies don't have anyone of McKenzie's caliber, but I would be shocked if they still don't make the WPIAL playoffs. The Little Prexies still have a defense that has been strong at times the past two years. They still have some other talented players. Washington coach Mike Bosnic (pictured at a practice) said he might use the halfback-by-committee approach with Chase Caldwell, Malik Wells and Jordon West.
Bosnic, a former Pitt lineman, has most certainly been jolted by the loss of McKenzie, but Bosnic said, "We have a great tradition here and we want to make sure the kids are well aware of the type of athletes we have had in the past and continue to have."
Washington, by the way, takes a 3-0 record into Friday's game against Yough.
Rankings
The Post-Gazette rankings are out and there were no changes in the state rankings from last week. The WPIAL rankings had a few changes.
This week's Pa. Football News rankings.
Hall of Famer and Alcindor
Uniontown High School will induct its first Hall of Fame class this fall. Inductees will come from arts, academics and athletics.
Among the athletes who will be inducted will be Sandy Stephens, a 1958 Uniontown grad who in 1961 became the first African-American quarterback to be named All-American at a major college. Stephens was the quarterback at the University of Minnesota.
Also inducted will be Ron Sepic, an all-state basketball and football player. Sepic went on to play basketball at Ohio State and was drafted by the NBA and NFL. Sepic was a first-team Parade All-American in basketball at Uniontown in 1963 and he had some pretty select company on that team. One of the others Lew Alcindor, who later became Kareem Abdul-Jabbar.
Being named Parade All-American got Sepic onto the famous Ed Sullivan Show on TV - with Alcindor. I love seeing the little clip from that show, just to see what Alcindor looked like in high school. He made the team as a sophomore. Check it out.
And I have to mention that another one of the inductees will be none other than former Post-Gazette sports writer Bob Dvorchak, who was a journalist for 46 years. He made it for academics and obviously not athletics (ha ha).
Gradkowski the record holder
Seeing what University Prep quarterback Ron Brown has done the past two games throwing the ball has people talking about passing records. Brown has thrown for almost 1,000 yards in two victories.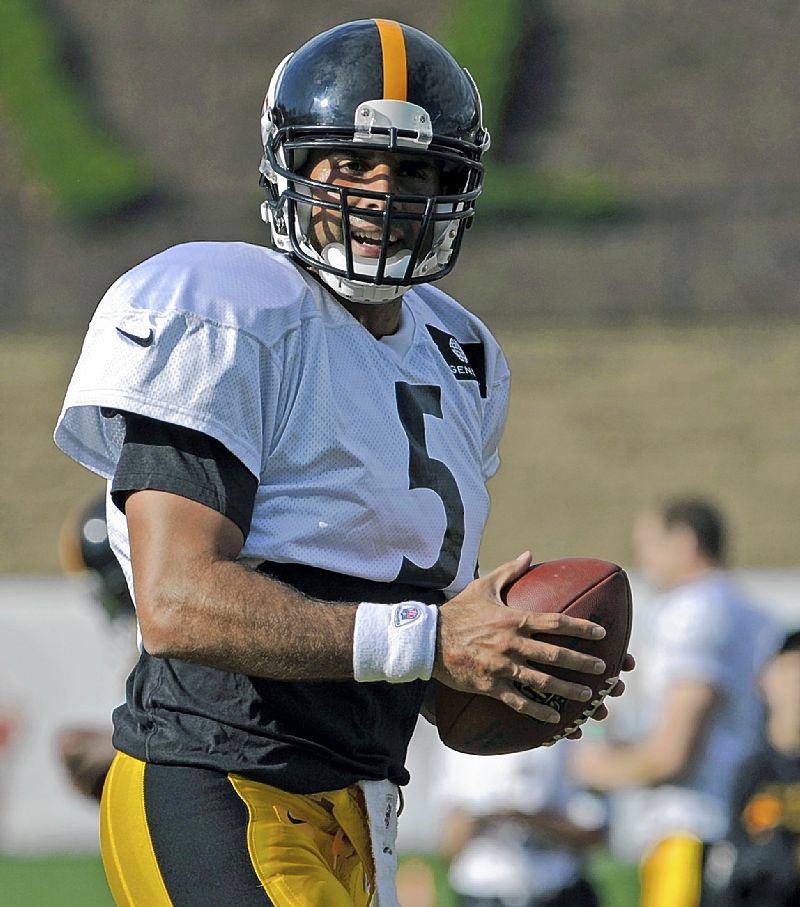 The record for most passing yards in the REGULAR SEASON for any WPIAL or City League quarterback is 2,754 yards in 2000 by Seton-LaSalle's Bruce Gradkowski. Yes, THAT Bruce Gradkowski of the Steelers. Gradkowski (pictured at a Steelers practice) completed 173 of 298 passes that year as a senior.
Does Brown have a chance at Gradkowski's mark? It will be tough. One thing that will hurt is that Brown has only eight regular-season games. Gradkowski had nine.
Gradkowski led Seton-LaSalle to the WPIAL playoffs that year but the Rebels lost in the first round.
Who said anything about playoffs?
It says here that West Shamokin will make the WPIAL playoffs. Just last season, the Wolves set a WPIAL record for the longest losing streak at 46 games. Now they are 3-0.
Basically no matter what happens the rest of the way, all West Shamokin has to do is beat Leechburg and Wilkinsburg. Those are two of the weakest teams in the Class A Eastern Conference.
Look out, WPIAL playoffs. Here comes West Shamokin. By the way, West Shamokin has a big game this week against Avonworth. Thoughts of an undefeated season might end this week.
Pickens update
Star Steel Valley running back D'Andre Pickens will not play this week at Seton-LaSalle, but his ankle injury is not serious. Steel Valley coach Rod Steele said Pickens has a sprained ankle. Pickens sustained the injury in Friday's game against South Fayette.
"He's due back, but we just don't know when yet," Steele earlier today.
And lastly
I wish I had $5 over the years for every stupid call from a parent who wants publicity for their son or daughter.