And now for something completely different:
The West Shamokin football team has a decent chance to go 3-0.
Did you pick yourself off the ground after reading that, or did someone help you? West Shamokin, which plays Riverview Saturday, is on the cusp of being the feel-good story of WPIAL football this year.
West Shamokin is 2-0 and Saturday plays a Riverview team that is 0-2 and has been outscored 62-19. If West Shamokin beats Riverview, West Shamokin can seriously think about the WPIAL playoffs. Playoffs? Who said anything about playoffs and West Shamokin?
Going 2-0 or even 3-0 might not seem like much, but you'll appreciate it when you know a little West Shamokin history. The Class A school, located in Armstrong Country, was formed in 2000 when Shannock Valley and Dayton high schools merged. The merger marked the birth of the Wolves (West Shamokin's mascot).
West Shamokin started playing WPIAL football in 2004. Maybe "playing" isn't quite the operative word. Participating might be more appropriate. The players put on pads and took the field, but played? Let's just say they tried. From 2004 through 2011, West Shamokin was 6-71. The Wolves set a WPIAL record for the longest losing streak. The streak of 46 consecutive losses was broken last year.
There were many low points for West Shamokin football over the years. The 2010 team was down to 14 players and forfeited the season finale against Punxsutawney. The 2009 team didn't score a touchdown until the seventh game and scored 17 points THE ENTIRE SEASON!!!!
After another 0-10 season in 2011, things started to turn around last year. The Wolves broke the losing streak and had a school record for wins with a 3-7 record. Most of the team is back from last year and Jon McCullough took over as coach after four years as defensive coordinator. He certainly has seen the bad and now he is seeing the good. This year's team has 32 players.
It should be pointed out one of the things that helped this program immensely was a drop in classification from Class AA to A last season. From 2004 through 2011, West Shamokin played in Class AA. The reason for the change is West Shamokin no longer has a cooperative sponsorship with Elderton in football. Because of the co-op, West Shamokin had to count Elderton's male students in the West Shamokin enrollment. That put West Shamokin in Class AA.
By dropping Elderton, West Shamokin went to one of the bigger Class A schools. With Elderton, West Shamokin was one of the smallest Class AA schools.
Considering what West Shamokin has done in the first two games, considering the experienced players back from last season and considering some of the teams in the Class A Eastern Conference, West Shamokin seems to have a legitimate chance at grabbing one of the four playoff spots in the conference - if the Wolves beat Riverview.
Wow!
Varsity Xtra show
Check out the wildly popular Varsity Xtra show with yours truly and Terry Shields, as we give our picks on top games and discuss some other high school football topics.
Check out the stats
If you want to know who are the statistical leaders for the WPIAL, or simply want to look at statistics for a particular team in the WPIAL, check out our statistics on line at www.pgstatistics.com. Or you can access the statistics by going to our high school main page and scrolling down the right-hand side to "sortable statistics." You can even look back at statistics from the past two years and check out every team in the WPIAL.
Two for Fab 50
The newest Fab 50 national rankings, published by Student Sports, are out and North Allegheny is No. 37 and Gateway No. 38. Accurate? Doubtful. No sign of Upper St. Clair or Central Catholic.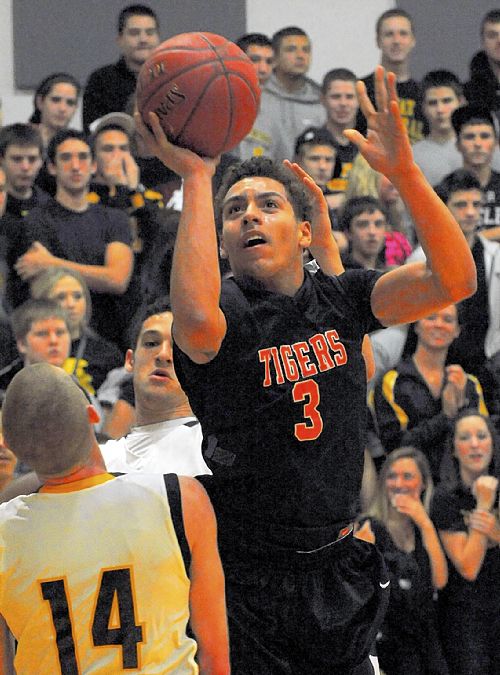 Elsewhere
**** The West Virginia University basketball team got a verbal commitment Tuesday from 6-2 guard Jevon Carter of Chicago. It might mean the end of WVU's interest in Beaver Falls guard Elijah Cottrill (pictured). Although West Virginia hadn't offered Cottrill a scholarship, the Moutaineers, and in particular assistant coach Ron Everhart, were very interested.
Cottrill has verbally committed to Akron for football, although he has said he still is going to see what happens with basketball recruiting. Creighton had offered a scholarship for basketball and a few other Division I colleges were interested.
Cottrill has not played football yet this season. He is still recovering from a knee injury (MCL) sustained this summer. He had surgery on the knee and is expected to be out at least a few more weeks.
**** A football player in eastern Pa. ripped the helmet off an opponent during a game last Friday and then hit the player over the head with the helmet. Now the player might face criminal charges.
South Annville Township police are considering whether to file charges against Hamburg quarterback Joey Cominsky, who ripped the helmet off Annville-Cleona lineman Josh Hartman and then hit him with the helmet at least twice. Hartman later came back into the game.
WGAL TV in Lancaster had a report and video of the incident.