The Beaver Falls boys basketball team had a legitimate chance to become the first team in two decades to win three consecutive WPIAL Class AA titles. But Beaver Falls' championship hopes have taken a serious hit because of an injury to the team's top player.
Senior point guard Elijah Cottrill, a member of the Post-Gazette Fabulous 5 a year ago, sustained a left knee injury in last Tuesday's game against Aliquippa, the same night he scored his 1,00th career point. Cottrill's status won't be known until later in the week but Beaver Falls coach Doug Biega said it's likely that Cottrill is done for the season.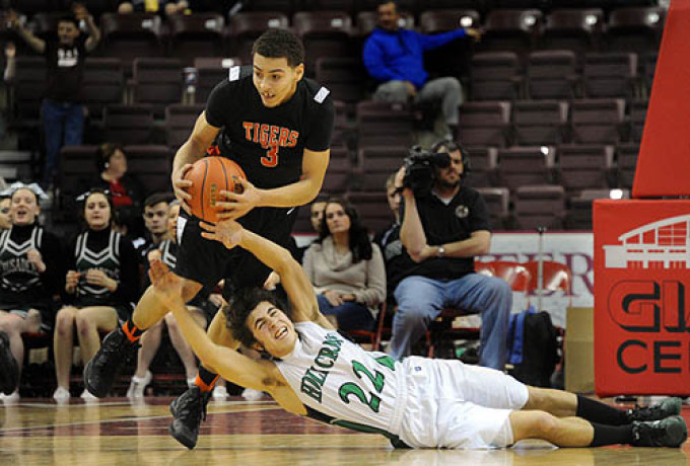 Cottrill (pictured in last year's state championship game) injured the same knee that he had surgery on this summer for a meniscus tear. He missed most of the football season after the surgery.
"He did it in the first quarter of the Aliquippa game," Biega said. "Our trainer thought it just might have been some scar tissue so he taped it up and played the rest of the game, although he definitely labored. The next day, he was saying how much it hurt."
Cottrill did not play the next two games against Shenango or Hopewell.
"Most likely, he's done for the year," Biega said.
Beaver Falls defeated Shenango, 69-43, and Hopewell, 72-48, without Cottrill. They are somewhat used to playing without him. Cottrill missed six games earlier this year when he was suspended from school for an incident in the school cafeteria.
Beaver Falls is 12-3 and in first place in Class AA Section 2 with a 7-1 record.
"We're not in the NFL where that slogan 'next man up' works. That works for professionals," Biega said. "This is definitely a hit to us. But we'll play out the season.
"We're not as good without him. I'd be foolish to say we are. But that doesn't mean we won't compete at a really high level without him."
Cottrill's status after high school also is up in the air. In the summer, he made a verbal commitment to Akron for football, although he said he would still wait to see what would happen in basketball recruiting. Creighton had offered him a scholarship last spring for basketball and a few other Division I colleges were showing interest.
But Biega said Cottrill has backed out of the verbal commitment to Akron for football. Cottrill likely will attend a prep school or a junior college.