Tonight's live blog will come to you from Cardinal Wuerl North Catholic at Avonworth, which is our game of the week. Besides following that game, the blog also gives updates of other games around the WPIAL on the right-hand side of the page. PGVarsityXtra will give you updates on Twitter. And if you have a score or report from a game, send to @PGVarsityXtra on Twitter with #WPIAL.
Before we get to predictions for tonight's top games, one quick note. Sto-Rox's Lenny Williams has a chance to break the WPIAL career passing yardage record tonight. Williams has 6,906 yards and the record is 7,162 by South Fayette's Christian Brumbaugh, who is now a backup quarterback at William & Mary.
Here are the leading passers in WPIAL history. Fifteen QBs have passed for 5,500 yards or more. The list might bring back some memories. (Pictured is Christian Brumbaugh).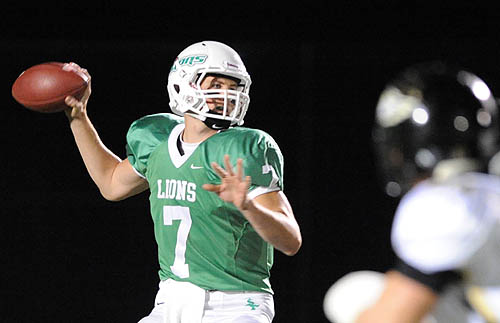 Christian Brumbaugh, South Fayette (2007-10) 487-781 for 7,162 yards
Lenny Williams, Sto-Rox (2010-13) 393-696 for 6,906 yards
Dillon Buechel, Montour (2009-11) 490-811 for 6,899 yards
Adam DiMichele, Sto-Rox (2000-03) 355-678 for 6,741 yards
Andrew DiDonato, South Fayette (2002-05) 444-798 for 6,573 yards
Rob Kalkstein, Gateway (2006-09) 371-690 for 6,501 yards
Luke Getsy, Steel Valley (1998-2001) 388-752 for 6,010 yards
*Jake Long, Pine-Richland (2002-05) 344-638 for 5,830 yards
Paul Jones, Sto-Rox (2006-09) 358-617 for 5,667 yards
**Mack Leftwich, North Allegheny (2011-12) 303-498 for 5,554 yards
Tyler Huether, Penn-Trafford (2003-05) 364-621 for 5,597 yards
Bill Stull, Seton-LaSalle (2002-04) 395-659 for 5,589 yards
Niel Loebig, South Fayette (1997-99) 367-661 for 5,553 yards
Tyler Palko, West Allegheny (1998-2001) 350-618 for 5,553 yards
Eric Kasperowicz, North Hills (1990-93) 330-581 5,500 yards
*- includes freshman year at Bradford
**-includes only statistics at North Allegheny. Played in Oklahoma as a sophomore.
West Mifflin wins
The West Mifflin at Elizabeth Forward game ended late last night after it was delayed for a while because of storms. West Mifflin won, but Nick Veronica's game story didn't make some P-G editions this morning. Jimmy Wheeler had another big night.
Predictions
Here is what I think I think about tonight's top games:
Last week: 12-4 (.750 pct.)
Season: 65-17 (.793 pct.)

WPIAL CLASS AAAA
Gateway at North Allegheny - This is only a non-conference game, but a pretty good one at that. This one should be close. A key is whether NA holds onto the ball. NA has won 24 in a row at home. Last loss was to Upper St. Clair, 23-14, in 2009. Winner: North Allegheny.
Other top games - Bethel Park over Penn Hills; Central Catholic over Pine-Richland.
WPIAL CLASS AAA
Knoch at Franklin Regional - This game means a lot in the Greater Allegheny race. Does Knoch lose its second in a row? Winner: Franklin Regional.
Central Valley at Moon - The Warriors bounce back from last week's loss. Winner: Central Valley
WPIAL CLASS AA
South Fayette at Quaker Valley - Quaker Valley is off to its best start in 30 years. But South Fayette is one of the best teams in Class AA. Enough said. Quaker Valley must pressure South Fayette QB Brett Brumbaugh to have a chance. Winner: South Fayette.
Other top games - Mount Pleasant over Jeannette; Beaver Falls over New Brighton.
WPIAL CLASS A
North Catholic at Avonworth - I picked Avonworth at the start of the week on Varsity Xtra This Week In High School Sports. Can you change picks at the end of the week? Avonworth might have some problems with NC offense. Ahh, the heck with it. I'll stick with my original pick. Winner: Avonworth.
Other top games - Carlynton over Char-Houston; Frazier over Avella.
CITY LEAGUE
University Prep vs. Allderdice - UPrep had a week off. But that passing game will still be "on." Winner: University Prep.