Steel Valley's Murray already over 2,000 ..... Don't forget the PAT
Notes, anecdotes and thoughts after the third week of the high school football season.
At this pace, Steel Valley's DeWayne Murray will one day end up as one of the leading rushers in WPIAL history.
Murray is only a sophomore, but he surpassed 2,000 career yards rushing in a victory against Sto-Rox Friday. A 5-foot-10, 180-pound halfback, Murray has 2,091 yards on 175 carries in only 12 games.
It's hard to predict where Murray will end up on the WPIAL all-time list. Many factors are involved. But barring injury, you would think he might end up high on the list. He is averaging 161 yards a game so far. If Steel Valley would never make the playoffs in Murray's career, and Murray would continue at that average, he would still end up with close to 6,000 yards in his career.
Hopewell's Rushel Shell and Fort Cherry's Mike Vernillo are the only two WPIAL running backs to have more than 7,000 career rushing yards.
Murray has rushed for 503 yards on 36 attempts this season after running for 1,488 on 139 carries last season. His career yards-per-carry average opens some eyes. It's 11.9.
Forgetting the PAT
I don't know if the officials are to blame, or Apollo-Ridge's coaches who might have been caught up in the euphoria of Friday's 44-41 overtime victory against Kittanning. But whoever, there should have been an extra-point attempt by Apollo-Ridge after its winning touchdown.
Kittanning scored first in overtime to go ahead, 41-38. Apollo-Ridge then scored a touchdown to get the win, but didn't try a conversion. That was a mistake. Why? Because it might matter in WPIAL tiebreaker points down the road. Sure, chances are remote that one point might matter, but you never know. The tiebreaker points are sometimes used to break ties for playoff spots. Tiebreaker points are based on point differential - up to 10 for a win.
If you don't believe Apollo-Ridge should have tried an extra point, consider it was the same scenario a week earlier in the Pine-Richland vs. North Allegheny game. North Allegheny got a field goal first in overtime. Pine-Richland then got a touchdown to win and the Pine-Richland team rushed the field in jubilation. But officials cleared the field, and Pine-Richland kicked an extra point for a 28-24 win.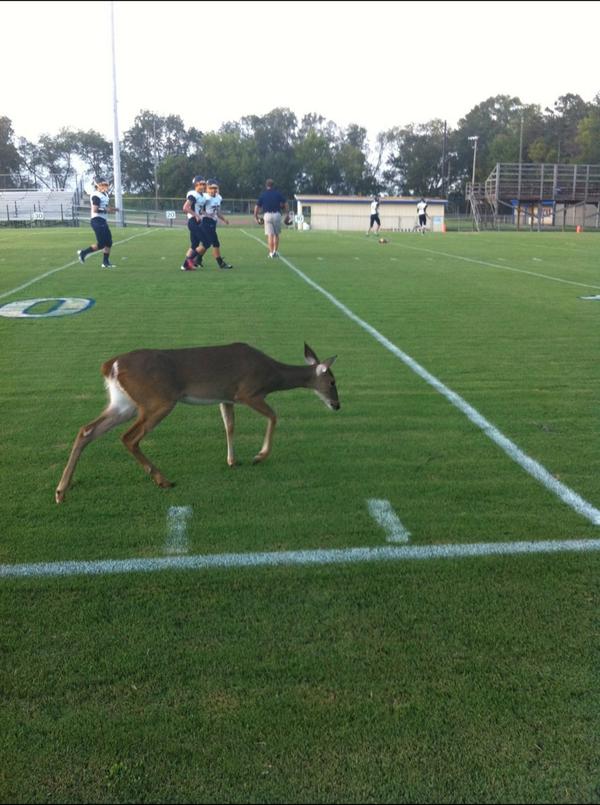 Oh, deer
Great picture from pregame warmups Friday at Tuscaloosa Academy in Alabama. A deer ended up on the field and Tuscaloosa Academy posted a photo on its Twitter account @taknightsfan. Wonder who Tuscaloosa was playing? Deer Lakes? (Sorry, I couldn't resist).
The Ruane effect
Wanna know who has been one of the best coaches in the WPIAL the past few years? Besides Palko, Rossi, Novak, Totten and those guys? John Ruane of Penn-Trafford.
Quietly, Ruane has done a masterful job of building a program at Penn-Trafford. His team is 3-0 and has to be considered one of the best in Class AAAA of the WPIAL. Ruane is in his fifth year and since 2011, he is 28-8.
Seeing Penn-Trafford beat McKeesport, 28-0, on Saturday, you couldn't help but be impressed by Ruane's team. His team is disciplined, plays tough and the Warriors have good offensive schemes.
Also, some of Penn-Trafford's best players are juniors, so this isn't a flash-in-the-pan program.
Ruane (pictured) used to be an assistant at Gateway and teaches there. His name has come up when the Gateway job has opened the past few years. But Ruane likes where he is. Good for Penn-Trafford. Besides, with what has gone on at Gateway the past few years in terms of controversies and coaches leaving, who could blame Ruane for not wanting to go there. He's got things going right at Penn-Trafford.
Tipton Mr. Everything
If you wanted to pick a WPIAL player of the year based on three weeks, you could certainly make a case for Apollo-Ridge's Tre Tipton.
Pitt fans have to love the potential Tipton is flashing this season (he already has committed to Pitt). Tipton was recruited as a receiver but he is seeing plenty of time at quarterback this season. He rushed for 304 yards against Kittanning Friday. He also completed 4 of 12 passes for 83 yards.
And how about the one-two punch of Tipton and Duane Brown? Is there anything like it in the WPIAL? Brown also plays quarterback. Against Kittanning, he rushed for 193 yards on 22 carries and completed 1 of 4 passes for 22 yards.
Now get this: Brown and Tipton accounted for 602 yards rushing and passing.
Who is No. 5 in Class AAAA?
It seems pretty easy to rank the top four teams in Class AAAA. Central Catholic, Woodland Hills, Pine-Richland and Penn-Trafford, in no particular order, seem to have established themselves as the top four teams. But who is No. 5?

Maybe Mt. Lebanon, a 3-0 team that has turned themselves around a sub-par 2013 season? But the Blue Devils really haven't played anyone yet.
Maybe North Hills, another 3-0 team that hasn't faced a formidable team yet, although one of the wins was a 17-14 victory against a much-improved Plum team (Coach Matt Morgan is doing some good things in his second season at Plum). I get the feeling North Hills is better than average, but it's still hard to tell. We will know more after the next two games against Seneca Valley and Pine-Richland. Like Ruane, second-year North Hills coach Pat Carey seems to be quietly doing an excellent job after taking over for Jack McCurry. In fact, Ruane compared his program and type of players to those of North Hills. Good comparison.
Or should the No. 5 team be Penn Hills, a 2-1 team that lost to a very good Central Valley team Friday?
Or should we not forget about North Allegheny (1-2 with losses to Central Catholic and Pine-Richland)?
Or should we take a serious look at Norwin (3-0)? It's nice what the Knights have done, but I seriously doubt whether they are a top five team. At least not yet.
The Post-Gazette rankings come out tomorrow.
Check this out
Clairton beat Greensburg Central Catholic, 74-0, and the Bears' scoring average DROPPED to 77.3 points.
Highlights
Check out some Post-Gazette highlights from some top games this past Friday, with comments from coaches and players.
Penn Hills at Central Valley
North Allegheny vs. Central Catholic
Neshannock at Riverside