Just sayin' about Jones to WVU, Norwin's start and a few other subjects
I'm just sayin'
**** In the days of seventh- and eighth-graders being offered athletic scholarships, nothing in college recruiting should come as a surprise any longer. That's why Jeremiah Jones' verbal commitment to West Virginia shouldn't be surprising.
Jones is a junior quarterback at Woodland Hills who visited West Virgina this weekend and was offered a scholarship. This isn't to say Jones doesn't have talent or potential. But the offer might have been a little surprising, considering he has started only a few games in his high school career. He started two games this season and a couple last year as the backup to Harry Randall. He was 14 of 20 for 250 yards last season.
But West Virginia apparently saw something it liked. Jones informed Woodland Hills coach George Novak of his decision just this afternoon.
"He told me he was going down to West Virginia for a game," said Novak. "They offered him. Sunday I guess he talked to his parents, called West Virginia back and accepted."
Some stories about Jones have said he can be a defensive back. But he doesn't play defense for Woodland Hills.
"He has potential [as a quarterback]," said Novak.
Novak said West Virginia was the first to offer Jones, who is the brother of former Penn State and Robert Morris quarterback Paul Jones.
**** Before the season started, I was going to predict that after two weeks, Norwin would be 2-0 and would be one of only three teams in the entire WPIAL that have not given up a point. But I forgot.
Sure, Norwin hasn't played top teams (only Latrobe and Hempfield), but Norwin 2-0 without giving up a point? Who
would've "thunk" it. In recent seasons, this team was more likek Norloss. The Knights won four total games in the past three seasons.
Now, Norwin is in company with Central Catholic and Clairton. Those are the only three WPIAL teams that have not allowed a point in two games.
Meanwhile, Brownsville and Shaler are the only two teams that haven't scored a point.
**** After only two weeks, I get this feeling about Class AAAA: There is Central Catholic and Woodland Hills, and then everyone else. I think Central Catholic has proven itself to be the best team. You hate to go just by comparative scores, but this early in the season, why not? Central Catholic beat Bethel Park, 41-0, while Woodland Hills beat Bethel Park by 33-31.
By the way, Woodland Hills lost six fumbles to Bethel Park.
"I think that's a school record," said Novak.
**** Gateway is 0-2 under first-year coach Tom Nola. Gateway hasn't started the season with two losses to WPIAL teams since 2006 when the Gators lost to Central Catholic and McKeesport. In 2010, Gateway also lost its first two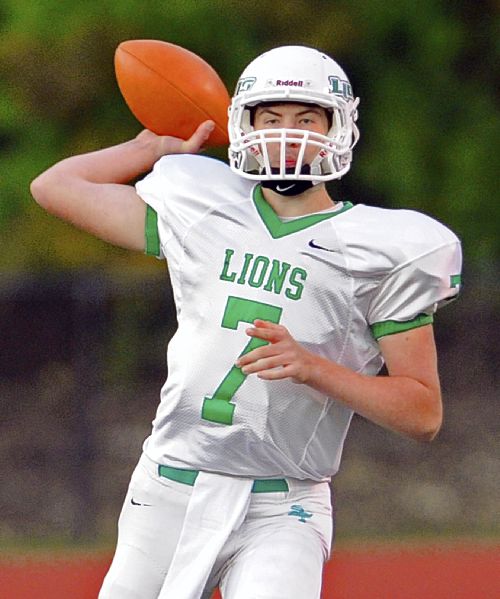 games, but one was to Harrisburg Bishop McDevitt.
**** Why do I get the feeling that South Fayette coach Joe Rossi isn't showing his hand in the first few weeks of the season? QB Brett Brumbaugh (pictured) has thrown for "only" 320 yards in two games and has attempted only 32 passes. He threw for a WPIAL record 3,895 yards last season in 16 games (243 yards a game).
South Fayette hasn't had much competition in the first two weeks. Will the Lions get a little bit of a taste this week from South Park?
**** While on the subject of quarterbacks, Pine-Richland's Ben DiNucci is very good. I saw him for the first time in a game against North Allegheny. He already has committed to Penn and I think DiNucci might be a steal for the Ivy League level.
He is a little on the thin side, but muscle and weight can come in college. And yes, he throws a decent amount of short passes that add to his yardage totals. But he also throws over the middle, intermediate passes and has a strong enough arm to sometimes air it out. If he is behind Brumbaugh, he is not behind by much.
**** It says here that the Parkway Conference of Class AAA isn't close to what it used to be in terms of top competition. The conference used to be tough from top to bottom. West Allegheny and Central Valley are certainly top teams and the best in the conference. But Montour isn't what it has been in recent years and a few other teams are down in terms of talent.
Speaking of down, what has happened to Blackhawk? The Cougars lost, 67-0, to Central Valley. I'd be shocked if that isn't the most points given up by Blackhawk in school history.
**** The best game of the week just might be Saturday when Penn-Trafford plays at McKeesport. I'm anxious to see this Khaleke Hudson, running back for McKeesport. He ran for 196 yards all of last season, but has 582 in two games. Get this: He is averaging 15.7 yards a carry and has nine touchdowns that have averaged 40.2 yards.
Hudson is a junior and Pitt and Penn State already have offered him scholarships as a defensive back. But if he keeps this up, colleges might consider him as a running back.
**** The best game Friday night might be a non-conference clash with Penn Hills at Central Valley. It will be Root Sports game of the week. The game will be shown after the Pirates game on Root Friday night.
**** Now that Thomas Jefferson thrashed its first two opponents, the Jaguars probably won't be tested again until the final game of the season against West Mifflin. It seems West Mifflin is about the only one who can challenge TJ in the Big Nine. In other words, the Big Nine is more like the Big One.
**** Seneca Valley's offense certainly misses injuried quarterback T.J. Holl (knee). But what happened to Seneca Valley's defense? That 41-12 loss to Fox Chapel Friday is a head scratcher.