Mars RB Schultheis hurt, out for season ..... Friday night leaders and video highlights
See highlights below of a few top games Friday night.
What is with the star running backs in the WPIAL, going down with injuries early in the season? It has happened again.
Mars's Josh Schultheis was injured in the first quarter of tonight's game against Indiana. Mars coach Scott Heinauer said Friday night that Schultheis sustained a broken tibia and is out for the season.
You heart aches when you hear these stories, but they are becoming all too common in the WPIAL, aren't they? Remember a few years ago when West Allegheny running back Mike Caputo sustained a broken ankle and never played again the rest of the season? He was supposed to be one of the best running backs that year along with Hopewell's Rushel Shell.
Then early last season, Washington stud Shai McKenzie sustained a torn ACL in the third game of the year and didn't play the rest of the season.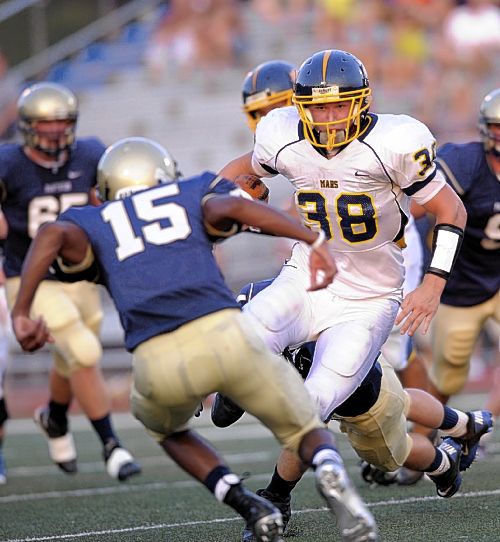 Now there is Schultheis (pictured in a game earlier in his career against Franklin Regional). He had run for more than 3,000 yards in two seasons and was on pace to becoming the all-time leading rusher at Mars. Now he probably won't play again this season.
With Schultheis, Mars was thought to be one of the best teams in Class AAA. Without Schultheis, Mars lost to Indiana, 29-26. A gigantic win for Indiana.
But Schultheis wasn't the only standout to go down tonight with an injury. Seneca Valley QB-LB T.J. Holl was injured late in the Raiders' 14-0 loss to North Allegheny. He was hurt on defense and watched the last part of the game standing on crutches on the sideline, with an ice pack on his right knee. Afterward, Seneca Valley coach Don Holl, T.J.'s father, said the severity of the injury is not known. But I will tell you that Don Holl is extremely worried.
Schultheis and Holl were both preseason Post-Gazette Fabulous 22 selections.
Here are highlights from North Allegheny beating Seneca Valley, 14-0, Friday night.

And here are highlights from Central Valley-Montour
Friday night leaders
Here are the top rushers, passers and receivers from the first night of the season.
RUSHERS
298 — Jake Meyers, Elizabeth Forward
249 — Austin Kemp, Thomas Jefferson
210 — Curtis Moore, South Allegheny
209 — Anthony Welsh, Beth-Center
203 — Mirko Loncar, Hopewell
178 — Dewayne Murray, Steel Valley
178 — L.A. Ross, Frazier
170 — Scott Florence, New Brighton
PASSERS
261 — Zach Royba, Beaver (8 of 15)
253 — Zach Chandler, Avonworth (15 of 21)
243 — Matt Carr, Charleroi (13 of 24)
219 — Anthony Rush, Union (17 of 22)
214 — Alex Lasslo, West Shamokin (8 of 15)
193 — Daniel Walters, Hempfield (15 of 22)
189 — John George, Central Valley (9 of 12)
185 — Brett Brumbaugh, South Fayette (13 of 18)
180 — Alec Ferrari, Chartiers-Houston (11 of 21)
RECEIVERS
9 — Andrew Wingard, West Shamokin (158 yards)
9 — Dante Luther, Hempfield (148 yards)
8 — Chris Conlan, Quaker Valley (153 yards)
8 — Stephon McGinnis, Ambridge (65 yards)
7 — Mike Merhaut, Pine-Richland (169 yards)
7 — Tyler Carswell, Montour (70 yards)
7 — Jimmy Canello, Keystone Oaks (52 yards)
6 — Dylan Hochbein, Freeport (51 yards)