Render rates nationally ..... Predictions: WPIAL Class AAA
Before we get to the Class AAA playoff predictions, this piece of information comes from Jim Stout of MaxPreps.com: Two of the top 20 winningest active coaches in the country are from Pennsylvania, including one from the WPIAL.
According to a piece on MaxPreps, Upper St. Clair coach Jim Render ranks 16th nationally in wins with a record of 375-119-7. George Curry of Berwick High School in eastern Pa. is fourth with a record of 437-96-5.
The winningest active coach is 88-year-old John McKissick of Summerville, S.C. He enters his 63rd season coaching and his record is 613-151-13. Wow. Sixty-three years is mind-boggling.
Render (pictured) is now 72 and entering his 46th year of coaching. He started at Carrolton, Ohio, and then went to Uniontown. He has been Upper St. Clair's coach since 1979. This will be an interesting season for the Panthers as they have only one starter returning. But you can bet Render will have USC near the top of the Southeastern Conference again.
The Panthers also have an interesting opener at Penn Hills. This is supposed to be a much-improved Penn Hills team.
But back to the coaches. The coach with the longest tenure in the WPIAL is Blackhawk's Joe Hamilton, who begins his 49th season. He has coached Midland, New Brighton, Hempfield and Blackhawk.
Class AAA predictions
Here is the third in a series of predictions for who will make the playoffs from the WPIAL. Today: Class AAA.
Five teams from each Class AAA conference make the playoffs, plus one wild-card team. So we will give you the top five from each conference.
Class AA predictions and Class A from previous days.
BIG NINE CONFERENCE
1. Thomas Jefferson - What else is new? The Jaguars have won or tied for the conference title eight consecutive seasons. Austin Kemp was a 1,000-yard rusher a year ago and a few linemen return. Developing a QB will be vital, but doesn't coach Bill Cherpak always seem to do that?
2. Ringgold - How good are the Rams? Well, we should know opening night when they play Thomas Jefferson. Ringgold has a new coach in Nick Milchovich and the Rams feature one of the most exciting players in the WPIAL in Nico Law, who passed and ran for 1,000 yards during the 2013 regular season.
3. West Mifflin - The Titans lost speedy running back Jimmy Wheeler but colleague Terry Shields saw West Mifflin's first scrimmage and said coach Ray Braszo has a formidable team again. We'll trust the wily veteran Shields.
4. Belle Vernon - New coach Matt Humbert left behind a pretty good team at Ringgold, but the Leopards have potential with QB Travis Snyder (not the Buccos Travis Snyder) and RB Jimmy Levis, who are both returning from knee injuries.
5. Elizabeth Forward - But what will the Warriors be like without stud QB-DB JaQuan Davidson?
GREATER ALLEGHENY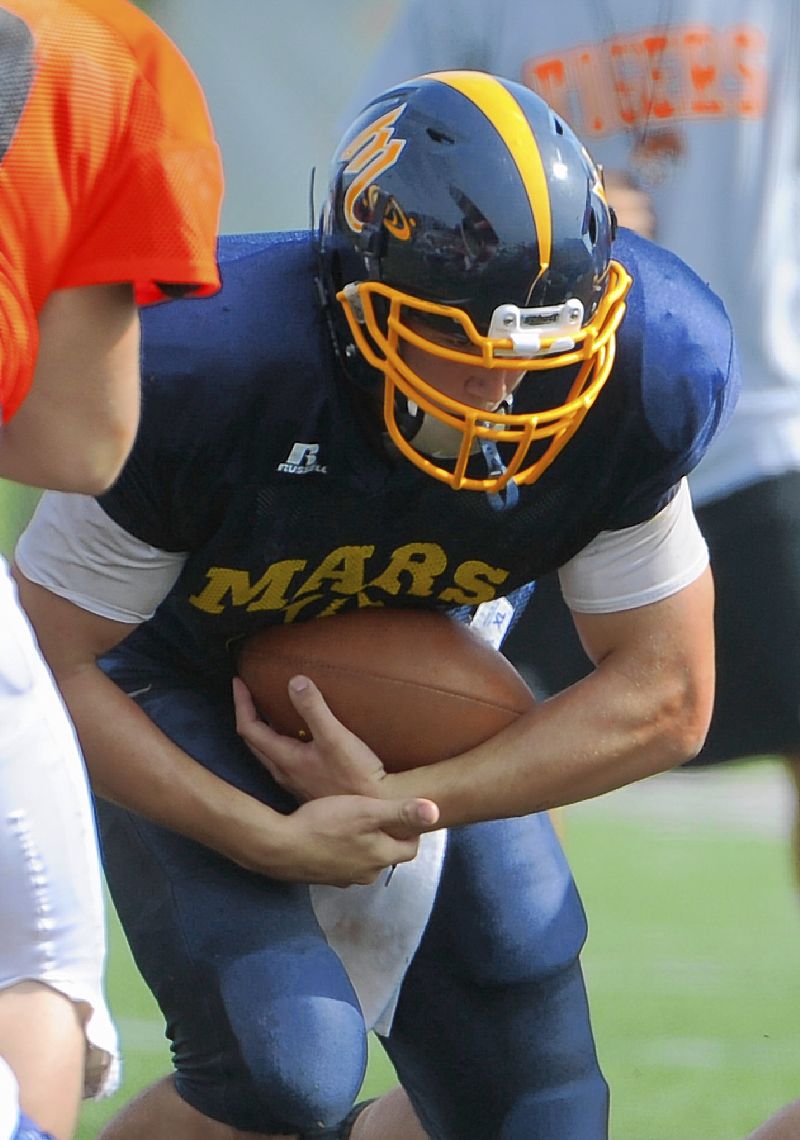 1. Mars - Coach Scott Heinauer returns a number of players, including running back Josh Schultheis (pictured), who has more than 3,000 yards the past two seasons.
2. Gateway - One of the most intriguing teams in the WPIAL. How will the Gators do under new coach Tom Nola and after dropping down from Class AAAA? I've heard from a few people the Gators' scrimmage Saturday against Penn-Trafford was a little eventful. A fight????
3. Franklin Regional - It wouldn't totally surprise me if this team knocked off one of the top two teams. Brett Zanotto is a University of Maryland linebacker recruit.
4. Knoch - QB Daniel Farinelli and RB Cody Milsom give the Knights a nice one-two offensive punch.
5. Indiana - WR Riley Stapleton caught 50 passes a year ago.
PARKWAY CONFERENCE
1. West Allegheny - The Indians might get their third third title in a row and coach Bob Palko might get his eighth WPIAL title overall. A number of starters return. And after seeing the Indians practice and seeing some of the impressive non-seniors on this team, this program is like a machine now.
2. Central Valley - WR-RB-DB Jordan Whitehead is one of the WPIAL's best players, but the Warriors have more than him.
3. New Castle - Only three starters return on offense and three on defense, but the Red Hurricanes still have enough to make some noise.
4. Montour - The Spartans better be ready early. They open with Central Valley.
5. Moon - After making the playoffs last season, the Tigers are looking to move up a few more notches in the Parkway. Nick Yaramus is one of the best linemen in Class AAA.