Comments on Pitt's football recruiting class ..... List of district recruits
Pitt's football recruiting class includes a good crop of offensive linemen. But overall, the Panthers' class is viewed as average.
At least that's what guys say who make a living out of rating players and recruiting classes. Pitt coach Paul Chryst signed 22 players today. The class has 23 recruits but Upper St. Clair's Rori Blair is already enrolled at the school for this semester.
Rivals.com ranks Pitt's class 43rd in the country while Scout.com ranked it 42nd. ESPN Recruiting Nation ranks Pitt's class ninth in the ACC.
Sam Werner of the Post-Gazette has a story on Pitt's class.
The offensive line recruits include two four-star players from the WPIAL - Mike Grimm of Bethel Park and Alex Bookser of Mt. Lebanon.
But it seems much of the talk concerning this class is the players the Panthers didn't get. Quarterback Wade Freebeck of St. Thomas Aquinas in Florida backed out of his verbal commitment and signed with Vanderbilt. The Panthers also were finalists for a few of the top players in the WPIAL but didn't land them, such as Gateway receiver-defensive back Montae Nicholson (Michigan State), Aliquippa defensive back Dravon Henry (West Virginia) and Washington running back Shai McKenzie (Virginia Tech).
But the Panthers did land seven WPIAL players.
Here are some comments from Mike Farrell, national recruiting analyst from Rivals.com
"There is good and bad to this class. The good is they did a good job on the offensive line. That's important to the foundation of an offense. The bad is a few guys got away and you don't want that to happen, especially if their local kids.
"Maybe the media built up expectations too much. I thought McKenzie would go to Pitt and I thought Montae would stay at home as well. When they don't do what myself and even some fans expect, it becomes a disappointment. Is Montae a difference maker? I don't know. On offense I think he is but I'm not sure about defense. McKenzie is a good running back and they could use him. But is he better than Chris James [running back recruit from Illinois]? That's a tossup. But Chris James is not a consolation prize. He is a terrific running back.
"Under Dave Wannstedt they really did a good job in Western Pennsylvania, but he never won the Big East. Can you win the ACC with just Western Pa. kids? Absolutely not. But if there are kids in your back yard and you've got a geographical advantage, you really need to take advantage of it.
"That being said, if I have my choice of getting Montae and Shai McKenzie, or a good offensive line class, I'd take the good offensive line class."
James got a four-star rating from Rivals.com. Pitt also got another talented running back in Qadree Ollison of Niagara Falls and a quarterback in Adam Bertke of Maria Stein, Ohio.
Here are some comments from Brian Dohn, national/Northeast recruiting analyst for Scout.com.
"To miss out on Nicholson and Henry were big because I think both are really good players and if you want to win, it starts on defense, and those kids can play in the secondary.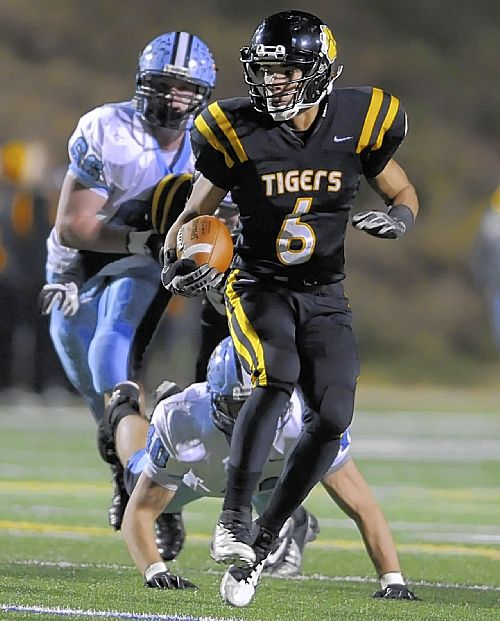 "I'd keep Shai McKenzie out of the loop because I don't know if they really wanted Shai McKenzie. They already had Qadree Ollison and Chris James when Shai was on the board. From Western Pa., I think it was great that they got Bookser and I know Elijah Zeise (pictured) is a nice player.
"But you want them to lock it down out in the Pittsburgh area. Losing Robert Foster to Alabama [last year] was one thing. But when you lose a kid to Michigan State, one to West Virginia and one to Virginia Tech, that's a little troubling.
"But I really like the running backs in this class and the offensive line is good. I like the depth they have there. And another thing is I think they went for kids with character. I think that was a big point in this class. I think they wanted to concentrate on not only do you have to be a good player, but you also have to be a good kid.
"When you look at the depth of what Paul Chryst and his coaches are doing, they are trusting in their own evaluations, which is big. They evaluate kids and it doesn't matter what other schools are doing or other people are saying about those kids. They're trusting their own evaluations."
WPIAL recruits
Below is a list of Division I-A recruits from the WPIAL. One tidbit first. Sage Curry, a tight end-fullback-linebacker from Beaver Falls, had committed to West Virginia last summer. But he will not sign with WVU. Beaver Falls coach Ryan Matsook said Curry most likely will attend a junior college, possibly Lackawanna in Eastern Pennsylvania.
Now the list:
AKRON - Brock Boxen, Beaver Falls (DL, 6-3 – 260); Chandler Kincade, Blackhawk (QB, 6-4, 210).
BALL STATE – Jake McPhatter, New Castle (RB-DB, 5-11, 170).
BOWLING GREEN - Andrew Podbielski, Blackhawk (TE-DL, 6-5 – 235).
FLORIDA STATE – J.J. Cosentino, Central Catholic (QB, 6-4, 215).
KENT STATE – Connor Shinsky, Knoch (OL-DL, 6-5, 250).
MASSACHUSETTS – Charan Singh, Franklin Regional (QB-DB, 6-1, 170).
MICHIGAN - Chase Winovich, Thomas Jefferson ( LB, 6-3, 216).
MICHIGAN STATE – Montae Nicholson, Gateway (WR-DB, 6-3, 205).
NAVY – Tory Delmonico, West Allegheny (RB-LB, 6-3, 203).
OHIO STATE - Malik Hooker, New Castle (WR-DB, 6-2, 185).
PENN STATE – Troy Apke, Mt. Lebanon (WR, 6-2, 186).
PITT - Rori Blair, Upper St. Clair (DE, 6-3, 225); Alex Bookser, Mt. Lebanon (OL, 6-6, 295); Dennis Briggs, Shady Side Academy (RB-DB, 5-11, 195); JaQuan Davidson, Elizabeth Forward (QB-WR-DB, 6-2, 173); Mike Grimm, Bethel Park (OL, 6-6, 325); Quintin Wirginis, Fox Chapel (LB, 6-2, 225); Elijah Zeise, North Allegheny (WR-DB, 6-2, 185).
TEMPLE - Delvon Randall, Gateway (WR-DB, 6-1, 185); Brenon Thrift, Gateway (LB, 6-3, 230); Lenny Williams, Sto-Rox (QB, 5-11, 197).
TOLEDO – Terry Swanson, Aliquippa (RB-DB, 5-10, 187).
VANDERBILT – Tre Tarpley, Central Catholic (DB, 6-1, 195).
VIRGINIA - Darrious Carter, Indiana (DE, 6-5, 205).
VIRGINIA TECH – Shai McKenzie, Washington (RB, 6-0, 216).
WEST VIRGINIA – Jaleel Fields, Aliquippa (OL-DL, 6-2, 287); Dravon Henry, Aliquippa (RB-DB, 6-2, 187); Ricky Rogers, Gateway (WR, 6-1, 200).
More in this category: