Gateway's Nicholson selected to All-American game .... Montour's WIlson making impact at Virginia Tech
Gateway receiver-defensive back Montae Nicholson has received a high honor. He has been selected to play in the prestigious U.S. Army All-American Bowl.
The game includes top players around the country and will be played in San Antonio Jan. 4. It will be televised live by NBC television. (Nicholson is pictured playing defense in a practice earlier this season).
Nicholson is a two-way standout who has not made a college choice yet. Pitt, Michigan State, Florida State and Oregon are four schools he has visited.
Wilson stands out for Va. Tech
The Virginia Tech basketball team overcame a 17-point first-half deficit today and posted an 87-82 victory against West Virginia. One of the leaders for Virginia Tech was a former Post-Gazette Athlete of the Year.
Virginia Tech freshman Devin Wilson, a graduate of Montour, starts for the Hokies and had 16 points with five rebounds and four assists. He played a team-high 34 minutes.
Virginia Tech is projected to be one of the bottom teams in the ACC this year, but it's still a nice win for the Hokies. I'm not surprised at all that Wilson has made an impact. First, he is an excellent athlete (all-time leading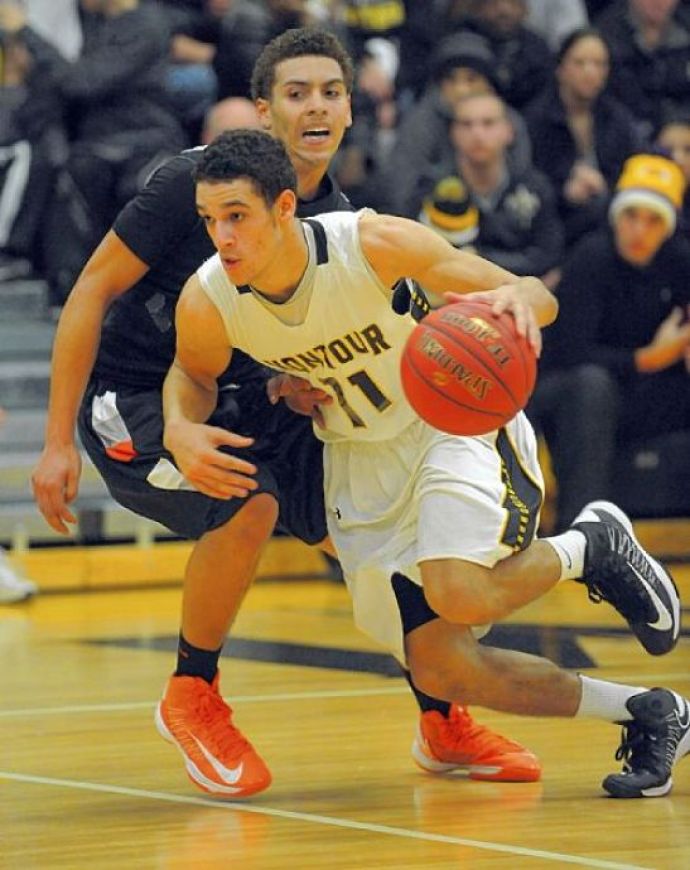 receiver in WPIAL history). And as a point guard for Montour the past three seasons, he controlled games and tempo like few point guards could.
The question with Wilson was never about his size and athletic ability. It was about whether he could develop a good outside shot. I haven't seen him play for Virginia Tech so I have no idea how he has shot the ball. But because of his athletic ability and point guard savvy, is it any wonder he is doing well?
And by all accounts, he was a model student-athlete at Montour. Just take a look at the athlete of the year story.
Wilson is one of several former WPIAL players having impacts in Division I college basketball, lending more credence to my belief that basketball talent in Western Pennsylvania is better than people think. I'm not saying it's great or as good as the 1960s and 70s. But still, players are doing fairly well at the Division I level and also the Division II level.
More in this category: