Hampton's Ryan Luther talks about Pitt commitment
By August, Hampton basketball star Ryan Luther was pretty sure he would play at either Duquesne, Dayton or George Washington.
By late October, he was sure he would play at Pitt.
Pitt put on a late recruiting charge and landed one of the top players on this side of the state. Luther, a 6-foot-8 senior guard-forward, made a verbal commitment tonight to Pitt coach Jamie Dixon.
What's funny is that I believe t the only player from the WPIAL or City League to sign with Pitt during the Jamie Dixon era was Schenley's DeJuan Blair. But next year, Pitt will have two former WPIAL players. Former Beaver Falls standout Sheldon Jeter also has committed to Pitt. Luther will sign a letter of intent with Pitt during the week-long NCAA early-signing period next month.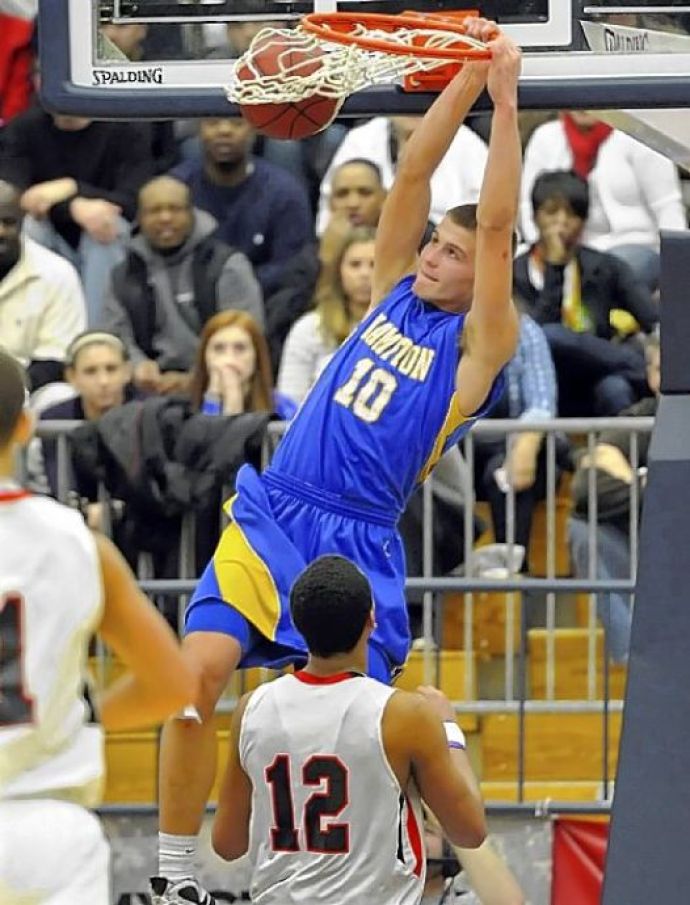 Although Pitt showed interest in Luther in the spring and summer, they didn't pull the trigger and offer a scholarship until September. Pitt came on strong. Luther started spending time at Pitt, attending a few Pitt practices. His other top two choices were Duquesne and Dayton. He also visited George Washington.
"With any school, once they offer, you have to get to know the coaches and the players until you get comfortable," Luther said. "I was really comfortable with coach Dixon. He's a great guy and good coach.
"They recruited me lightly at the beginning, but toward the end of the summer they really picked up their recruitment. It's pretty hard to turn down a school I've like since I was a little kid. The opportunity to play in your home town and have your friends and family be at games is nice, and they have a great coach, great team and play in one of the best, if not the best, conferences in the country."
Dayton had an "in" with Luther because of John Miller, the legendary former Blackhawk coach and the father of Dayton coach Archie Miller. Luther and his twin brother, Collin, sometimes worked out with John Miller.
But Duquesne had a good shot at Ryan Luther and the Dukes also offered Collin. Their father, Bill, attended Duquesne. But hey, intramurals was his top level of playing (ha ha). But seriously, one of the Luthers' uncles, Brian Shanahan, was a 1,000-point scorer at Duquesne.
But in the end, Pitt won out. Ryan said what his brother will now do is up in the air. Pitt did not offer Collin.
Luther had some ties to Pitt, too. His cousin is former Pitt football player Mike Shanahan.
"As the process went on a little longer, I realized the opportunity I would have at Pitt and how I could make an impact with them," Ryan Luther said.
Luther said it was very hard to tell Duquesne and Dayton no tonight.
"I loved every school and each school offered something unique and different," Luther said. "It came down to playing at home was important to me. And the challenge of playing in the best conference meant a lot.
"Honestly, even though Duquesne hasn't had as much recent success, coach [Jim] Ferry is a great guy and a great
coach and I really believe he'll get things turned around. I think they're eventually going to be good. It was hard to turn them down because they came in early in the process."
Although Luther and Jeter are about the same size and could end up playing the same position, Luther wasn't scared away just because Pitt took Jeter.
"I guess the way I play I can play a couple different positions," Luther said. "Coach Dixon never said you're going to play this position. He just thought I was a good, versatile player with skill who could play a couple different positions.
"Going to a program like Pitt, they're going to get great players every year. You have to earn your spot no matter where you go."
I say getting Luther is a nice catch for Pitt. Western Pennsylvania doesn't have a great reputation for producing Division I basketball players, but I've come to believe that players around here are better than people think. I think some colleges miss the boat on some Western Pa. I'm not saying there are tons of All-Americans overlooked from this area, but there are more college-level players than most believe, even if it is at the mid-major or Division II level.
As for Luther, I feel like I've watched him grow up. I've seen him play numerous times every year since he was in the fourth grade and even coached against him in younger years. And I grew tired of losing to him (ha ha).
He always had extreme talent and excellent instincts. But I'd say his game went to a different level the past two years because he started showing more athleticism. You'd have a hard time finding 6-8 guys from around Western Pennsylvania over the years that have as much skill as Luther.
On this Western Pa. high school level, I've called him a baby Dirk Nowitzki. Now don't get wrong. I'm not saying he's as big or as good as Dirk, but around here, he does thinks like Dirk. In other words, he does a variety of things. He is a good shooter for a 6-8 player. He can bring the ball up against full-court presses and his size lets him see over pressure. He also can score inside on post-up moves. Yet he can go outside, make 3-pointers and also put the ball on the floor and drive it. Luther made the Post-Gazette Fabulous 5 last year. His older brother, Bill Jr., made the Fab 5 a few years ago and is having a nice career at Pitt-Johnstown.
It will be interesting to see what kind of player Ryan Luther develops into at Pitt. He has developed into a highly-respectable young man off the court. He might have to play some more defense at Pitt (ha ha), but I think he has a world of potential. You may not see him on any top 100 lists in the country right now, but he could be a factor someday for Pitt. Plus, he may grown even more. I wouldn't be surprised if he ends up 6-9 or 6-10.
Plus, isn't it nice when Pitt or Duquesne has some local players? I think it makes area fans a little more interested. I'm not saying Pitt or Duquesne should take players just because they're local. But it is nice to see WPIAL or City League players who are good enough to play at those schools.