Upper St. Clair bringing back memories of top defensive teams
The Upper St. Clair football team has five consecutive shutouts and has allowed only 10 points all year. What the Panthers are doing is bringing back memories of some of the best defensive teams in the area (WPIAL and City League) in the past 35 years.
Since 1979, here are the four best defensive teams in terms of points allowed for a season. Coincidentally, all four teams are from north of Pittsburgh.
2002 PERRY - 20 POINTS
Nothing mattered to this Perry team. The Commodores started the season with 13 shutouts, one short of the national record for consecutive shutouts in a season. Perry ripped through the City League and then shut out General McLane and Clearfield in the first two rounds of the PIAA Class AAA playoffs.
Perry had two defensive backs who were committed to West Virginia - Eric Wicks and Vaughn Rivers. Linebacker Kareem Ferguson and defensive back Mike Reid were two other standout defenders.
But in the PIAA semifinals, Perry had to go up against a strong Hopewell team, one that featured future NFL linebacker Paul Posluszny. He had a future on defense but he was also a tremendous running back. The shutout streak ended when Hopewell beat Perry, 20-3, in front of a capacity crowd at North Allegheny. Posluszny (pictured running against Perry) finished with 116 yards on 30 carries.
Quarterback Matt Fontana added 88 yards on 15 carries and Mike Bruce 58 on 14 attempts. Hopewell scored on its first possession.
Hopewell also had an outstanding offensive line with Jason Curenton, Craig Bokor, Mike Mack, Terry Johnke and Mike Hudak.
You might say it was only the City League but to start the season with 13 consecutive shutouts still says a lot, no matter the competition.
1987 NORTH HILLS - 20 POINTS
This team is considered one of the greatest in WPIAL history, finishing the season ranked No. 1 in the country by USA Today. The team was inducted into the WPIAL Hall of Fame a few years ago. There are still a few road signs in the district for this team.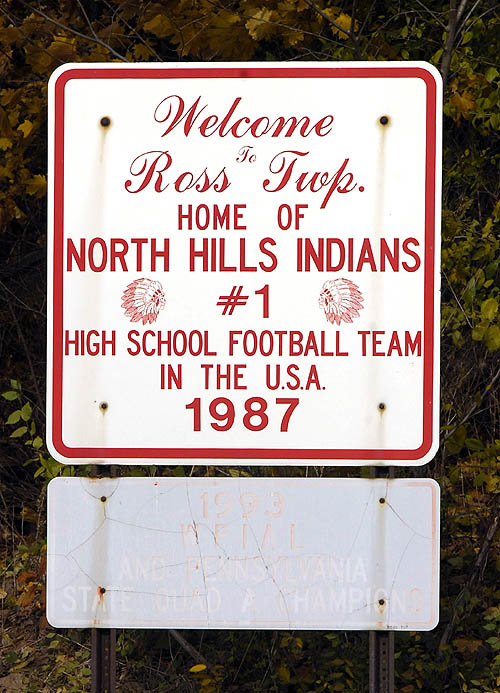 The thing about this team is that although it gave up 20 total points, the first-team defense did not allow a point. Three scores came at the end of games against the second-team defense. Only two of 13 teams scored on North Hills and the team gave up an average of only 73 yards a game rushing.
Jack McCurry was the coach and seven seniors from that team signed with Division I or I-A colleges. The team's best player was linebacker-defensive end Eric Renkey. I still say he is one of the best defensive players I ever saw in the WPIAL. He was ferocious and nasty.
I will never forget the season before (1986) when North Hills lost to Gateway, 7-6, in the WPIAL title game at Three Rivers. North Hills had been ranked No. 1 in the country that week by USA Today. I was doing an "inside the locker room piece." Kids were crying after the game when Renkey went to the center of the room and said, "We came within 3 yards of the national high school championship. We played our tails off, but it didn't work out. It's not one person's fault. It's not anybody's fault because we did our best. If anyone has his head down when he's walking out of here, I'll be inclined to fist him. So get your heads up."
Funny. Heads rose quickly.
Neck injuries and weight problems hurt Renkey in his college career at Penn State and he never did much there, but he was starting as a true freshman at Penn State. That tells you something.
Pat Carey was a standout running back-defensive back on that 1987 team who went on to play at James Madison. He is in his first year as North Hills' coach. Lineman Gary Gorajewski went on to play at Pitt. Receiver-defensive back Chris Cisar played at Penn State.
The other starters in the WPIAL championship victory against Mt. Lebanon were T.J. Schmitt, Brian Kagle, Gary Gorajewski, Sam Spade, Jim Lash, Dave Helon, Mark Laskey, Mark Ellemeyer, Jason Hoffman, Marty Stanton, Greg Morris, Duane Hitchcock and Doug Dickman. Tom Cohan also was a starting linebacker but injured a knee in the postseason.
NORTH ALLEGHENY 1982 - 16 POINTS
North Allegheny was ranked as one of the top teams in the country. The Tigers, led by future Penn State and NFL player Tim Manoa, started the season with eight consecutive shutouts. Butler kicked a field goal against North Allegheny in Week 9 and North Hills scored a touchdown in Week 10, but lost, 17-6. Besides Manoa, the defense also had standout linebackers Chris Leon, Joe Brandt and Ken Rock.
Two weeks after the regular-season finale, North Hills and North Allegheny met again on a muddy field at Ambridge. Jim Cassandro scored on a 2-yard run in the second quarter and North Hills went on to upset North Allegheny, 7-3. After the game, North Allegheny coach Mark McCann resigned.
North Hills finished 6-4 in the regular season but went on to win the WPIAL championship with a victory over Butler at Pitt Stadium. During the magical playoff run, North Hills coach Jack McCurry wore a New York Yankees batting helmet. He viewed himself as the bad guy and he thought most people hated the Yankees. So why not?
It was the first of four titles for McCurry during his North Hills tenure.
Despite the loss, it was an unforgettable defense for North Allegheny.
NORTH HILLS 1979 - 19 POINTS
I say this might be the greatest defensive team in WPIAL history that did NOT win a WPIAL title. Think of it: the defense gave up one touchdown all season, but the Indians didn't win a championship.
This was Jack McCurry's second year as coach and the Indians' defense was one for the ages under defensive coordinator Gus Nauman. North Hills shut out Upper St. Clair, 12-0, in the season opener (Jim Render's first game as USC coach). Then North Hills went to Gateway and lost, 9-7, on a late field goal by Jim Toman. The field goal was set up when North Hills' Mike Bannon botched a bad punt snap.
Then the Indians ripped off nine consecutive shutouts, including a 6-0 victory over Blackhawk in the WPIAL playoffs. Next came the WPIAL semifinals and mighty Penn Hills with Tom Flynn at QB and Bill Fralic on the lines. Penn Hills won, 10-7, at Valley. But North Hills' defense didn't give up a touchdown. Penn Hills' touchdown came when Kevin Ewing intercepted a Norb Dietrich pass and returned it for a score.
That North Hills team had a defensive back named Mark Kelso, who went on to a long NFL career with the Buffalo Bills. The line featured Rob Schellhaas (West Virginia University), Mark Taylor (Marshall), Greg Johnson (signed with Kentucky) and Bob Schumm. Linebackers John and Bob O'Rourke (brothers) played at Edinboro. Defensive back Jerry O'Hara went to the Air Force Academy and Curt Rice (also the team's leading rusher) to Kent State.
Many people forget about this defense because North Hills didn't win a WPIAL title. Still, 12 games, 19 points, one defensive touchdown - and no WPIAL title. Hard to believe. But a defense to never forget.
More in this category: