Former Beaver Falls star Jeter at Florida junior college
A Sheldon Jeter sighting. He's at a junior college in Florida.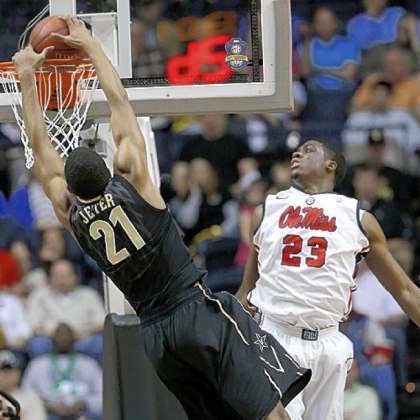 Jeter is the former Beaver Falls High School basketball star who played last season at Vanderbilt. After the school year, he decided he wanted to leave Vanderbilt and transfer to another school, possibly Pitt. But Vanderbilt wouldn't release him to Pitt, meaning Jeter (pictured) would have to pay his own tuition if he attended Pitt.
So Jeter is enrolled and taking classes at Polk State College, a junior college in Winter Haven, Fla. Polk is coached by former Robert Morris coach Matt Furjanic, who confirmed Jeter is at the school. However, Jeter will only take classes at Polk. He will not play, but can practice with the team.
Jeter has re-opened his recruiting. Furjanic said if Jeter graduates from Polk next spring, he can accept a scholarship to any four-year school, including Pitt. Furjanic said Jeter has no academic problems and should graduate without a problem. He will have three years eligibility remaining.
Jeter has a cousin, Brock Van Lier, who will be a second-year player at Polk, and another cousin, Ramone Shepherd, is a student coach at Polk. Former Beaver Falls star Lance Jeter also played for Furjanic at Polk a few years ago and earned a scholarship to the University of Nebraska.