McKenzie cuts list to five ...... Kincade picks Akron
Some items that fell off my laptop
Pitt plays Florida State in the football season opener Labor Day. It looks like Pitt also might have to battle Florida State to land a top recruit from Western Pennsylvania.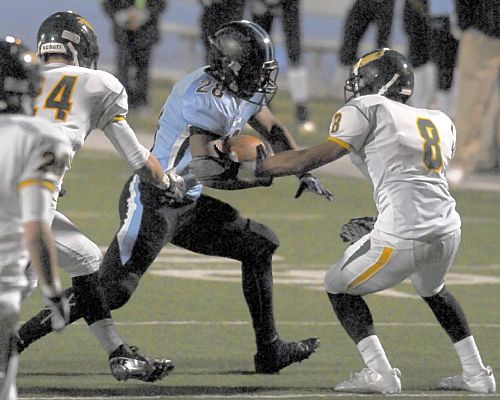 Washington running back Shai McKenzie (pictured) had scholarship offers from colleges across the country. He has narrowed his list of favorites to five and they are - Pitt, Florida State, Georgia Tech, Virginia Tech and Arkansas. However, McKenzie and both Washington coach Mike Bosnic said Florida State is the top choice - right now. Pitt is next in line.
McKenzie has visted Florida State. It's not often that Florida State is heavily involved with WPIAL players. In fact, I'm having trouble thinking of the last WPIAL player to sign with Florida State. But the Seminoles already have one recruit from the WPIAL class of 2014 - quarterback J.J. Cosentino of Central Catholic.
Kincade to Akron
Blackhawk quarterback Chandler Kincade has decided to attend Akron.
"I'll be playing for a great staff who is putting the program in the right drection," Kincade said in a text message.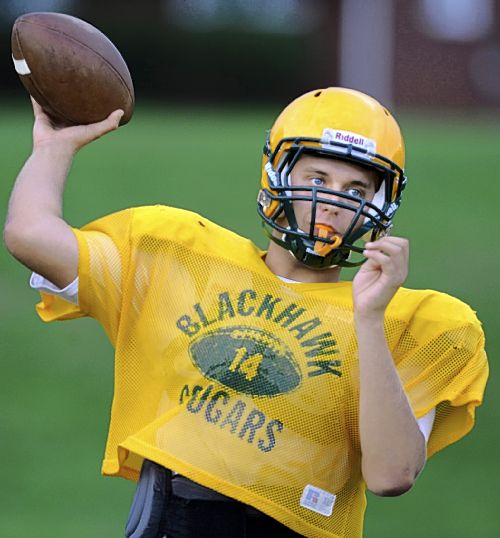 Kincade (pictured) originally made a verbal commitment to Pitt during his sophomore year when Todd Graham was coach. After Graham left and Paul Chryst became coach, Kincade stayed committed to Pitt until the two parties mutually parted ways this spring.
Kincade had scholarship offers from Rutgers, Temple and a few Mid-American Conference schools. Other Division I colleges were showing interest. I think the MAC is a good fit for him. Remember, the MAC has produced some NFL quarterbacks (Big Ben).
Where does Pitt's recruiting stand now with quarterbacks? Well, the No. 1 target is undoubtedly Keller Chryst of Palo Alto, Calif. Chryst, a highly-touted pro-style quarterback, is ranked the No. 31 player in the country by Rivals.com. He also is the nephew of Paul Chryst.
Keller Chryst has said his top four choices are Pitt, Alabama, Stanford and USC. It would be gigantic if Pitt were able to land Keller Chryst, but beating out the like of Alabama and West Coast schools for Chryst will be tough.
Cedar Cliff (Pa.) QB Andrew Ford also was considering Pitt but he recently committed to Virginia Tech.
Other notes and thoughts
***** The Post-Gazette will publish its male and female high school athletes of the year in a few weeks. I won't reveal them, but it seems like easy choices this year. Care to take any guesses?

***** After seeing New Castle's Malik Hooker play basketball again yesterday, seeing his body and athletic ability, I say he could be one terrific college player. With those wide shoulders and skinny legs below the knees, and with excellent football-basketball ability, he reminds me so much of Darrelle Revis in high school. Don't get me wrong. I'm not predicting NFL stardom for Hooker. I'm just saying he looks like Revis in high school. And honestly, it wouldn't surprise me if Hooker goes awfully far in football. His athletic ability is that good. I think he might make for an excellent defensive back, although he also plays receiver.
Hooker just doesn't have a lot of experience in football. He didn't play high school football until last year, his junior year. But with his athletic ability, that doesn't matter.
You want to see what I mean of Hooker's athletic ability? Check out this dunk he had this season. It made ESPN's top plays that day.
***** North Allegheny standout receiver-defensive back Elijah Zeise might be ready to make his college decision next month. He is at Duke's camp this weekend. Pitt, West Virginia and Arizona have offered. No word yet if Duke offered. Zeise might also look at a few Ivy League schools that are recruiting him.

***** This was no surprise but not one player at a WPIAL school was taken in this year's Major League Baseball draft.
More in this category: