A look at Pitt's newest basketball recruit: Maverick Rowan
Pitt basketball fans longing for better outside shooting, your wishes might be granted in the form of Maverick Rowan.
Rowan is a freshman at Lincoln Park, a charter school in Midland, Beaver County. He made a verbal commitment to Pitt tonight.
Rowan is a terrific outside shooter, making seven 3-pointers in one game this season and averaging three 3-pointers a game. He averaged 22.3 points during the regular season, third-best in the WPIAL, and was one of only 26 players in the country named to the MaxPreps.com freshmen All-American team. I've seen him play a few times over the past few years, both in high school and on the AAU circuit. His parents named him after the character in the 1980s movie "Top Gun." It's appropriate because this Maverick is a gunslinger with a deadly shot. He is tall and slender with long arms and can really stroke the 3-pointer.
Now he needs more muscle and some improvement on the defensive end, but he still has three more years of high school left for that. But he can most certainly shoot. He has put a lot of workout time and effort into being a top player.
Rowan has been playing AAU basketball this spring for the Ohio Basketball Club. Mike Bariski, athletic director and assistant basketball coach at Lincoln Park, said Ohio State has been extremely interested in Rowan. Bariski said North Carolina and some other big-time schools have also showed interest.
If you want to see Rowan play, check out some of his highlights from the Ohio Basketball Club on YouTube.
With Rowan being only a freshman, you might not think he will be at Pitt until the 2016 season. But Rowan will be 17 next month (he repeated 8th grade). So is there any way he could possibly "reclassify," graduate high school early and get to Pitt earlier than the 2016-17 season? Just a thought. Or if you want to get crazy from the other end, think of this: He stays at Lincoln Park all four years, goes to a prep school for a year, redshirts his freshman year in college. Then he would be a 22-year-old freshman. OK, that's crazy. But just an idea.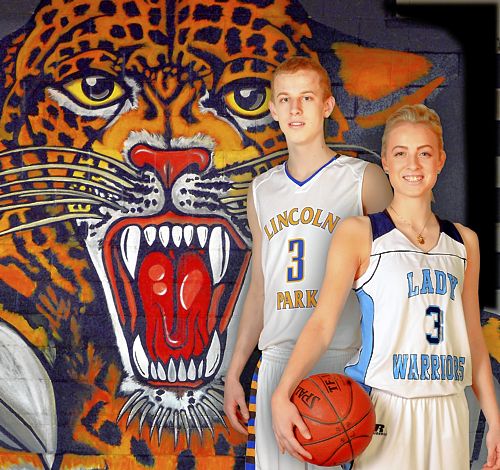 Rowan isn't the only future Division I college athlete in his family, though. His sister, Madie, will play next season at the University of New Hampshire. She averaged 18 points a game this past season for Central Valley. Madie also attended Lincoln Park, but because Lincoln Park is a charter school without a basketball team, she was allowed to play for the team in the district where the Rowans live.
(Madie and Maverick are pictured in front of the Lincoln Park Leopard)
But maybe you remember the Rowans' father. Ron was a star at Beaver Falls High School in the early 1980s. He signed with Notre Dame, transferred to St. John's and played seven games in the NBA with the Portland Trail Blazers. He then had a long and successful pro career overseas.
Ron had a most memorable moment for St. John's in 1986 when he hit the winning shot late in the game against Syracuse in the Big East Conference tournament championship. Go to the 19-second mark in this YouTube video to see Rowan's shot.
More in this category: