A spring to remember for North Allegheny athletics ...... other notes
Notes, quotes and anecdotes from Western Pennsylvania high school sports
North Allegheny High School always seems to have a number of strong athletic teams. But what North Allegheny teams have a chance to do this spring is unheard of in the WPIAL.
Call it a drive for five.
North Allegheny has already won a WPIAL team championship this spring in track and field. Over the next week, North Allegheny could add four more championship trophies.
Tonight, the North Allegheny boys volleyball team and the boys lacrosse team will play in championship games. Next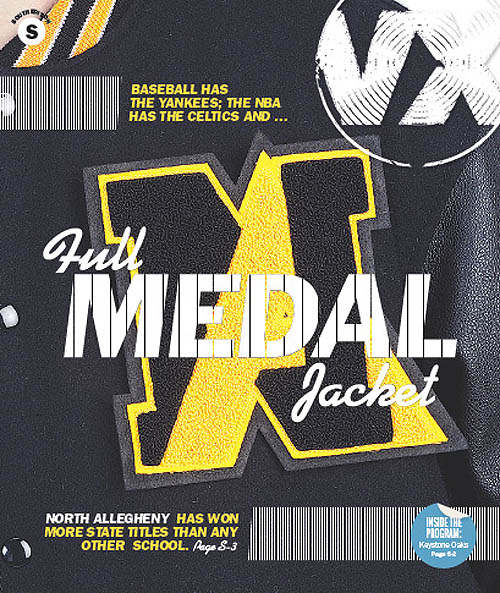 Wednesday, North Allegheny plays in the WPIAL baseball championship. Next Thursday, North Allegheny plays in the WPIAL softball championship.
Only four schools have ever won WPIAL baseball and softball championships in the same school year - Riverside in 1996, Sto-Rox in 1985, Swissvale in 1980 and North Allegheny in 2003.
Only one school has ever won baseball, softball and volleyball championships in the same spring. Coincidentally, it was North Allegheny in 2003. Also North Allegheny has won more state titles than any school in the state.
But this spring really is just the continuation of a golden sports year at North Allegheny. Before the spring started, North Allegheny already had five district championships - in football, boys cross country, hockey (PIHL title), boys swimming and girls swimming. The WPIAL doesn't sponsor water polo and although there aren't many schools in the state with water polo teams, the North Allegheny boys did win a state title in water polo.
Think of it. If things go right for North Allegheny in the next week, it could have 10 district titles this school year.
It takes only one
Sorry but I have to once again go on my rant against the way the WPIAL schedules its baseball playoffs. A case in point again is Seneca Valley, which for the second year in a row will be able to use only one pitcher IN THE ENTIRE WPIAL PLAYOFFS!!!!! Sorry, but this shouldn't be softball.
This is no knock against Seneca Valley or coach Eric Semega's use of his pitchers. Seneca Valley is a strong baseball program, winning the past two WPIAL AAAA playoffs and Semega is an excellent coach. They are just taking advantage of the way the WPIAL schedules the playoffs. Because Seneca Valley received a first-round bye for the second year in a row, it will be able to use ace Connor Coward in the quarterfinals, semifinals and championship. He pitched a one-hitter in the quarterfinals and four-hitter in the semifinals.
A year ago, Seneca Valley received another bye and Matt Smith pitched the quarterfinals, semifinals and final.
Because the WPIAL puts about one week between quarterfinals, semifinals and and final, teams can use one pitcher. I still say it would show more of a team if they put quarterfinals and semifinals maybe two or three days apart. That way, one pitcher couldn't pitch both games.
The way it is now, it's turning into softball. One top pitcher can dominate the game. I mean, in the regular season, can one pitcher work three conseutive games? No. Teams are sometimes scheduled three section games in a week. So why is it so different in the postseason? It didn't used to be this way in baseball. Scheduling was different.
B.B.'s grandson to Stanford
B.B. Flenory is a WPIAL basketball legend, starring at Valley High School in the mid 1970s and then playing at Duquesne University. He has a grandson who is a big-time football player.
Brandon Simmons plays at Timberview High School in Mansfield, Texas, and is ranked the No. 20 defensive back in the country by Rivals.co. Simmons recently committed to Stanford.
Although B.B. was a tremendous hooper, I seem to remember B.B. also playing football his senior year at Valley.
Hooker and Revis
In watching New Castle's Malik Hooker (pictured) play a spring basketball game last week, looking at his body and knowing his football-basketball pedigree, he reminds me of one other great WPIAL athlete - Darrelle Revis.
Now please, don't get me wrong. I am in no way saying Hooker will be as good as Revis. But I couldn't help but think Hooker's body resembles Revis' body in high school. They both have those thin legs below the knee. Both have pretty wide shoulders. And both stand out in football and basketball. They are both oustanding athletes. Pitt, Penn State and Michigan are a few of the schools that have offered Hooker for football.
The love of New Castle basketball
I found this interesting and also tremendous. New Castle's basketball team has been playing in a tournament at North Hills (21-team tournament). The other night, I looked on New Castle's bench and who was sitting there watching? Shawn Anderson and Antonio Rudolph.
They were both key players on New Castle's team this year (Anderson the WPIAL Class AAAA Player of the Year) but they are seniors. They will never play again for New Castle. Yet there they were, traveling an hour to watch a spring tournament game.
It shows how Anderson and Rudolph hold New Castle and coach Ralph Blundo in such high regard. A funny Anderson line: When asked why he was there watching, he said, "There's nothing else to do in New Castle."
Zero tolerance policy at Riverside
It hasn't received much attention but it really is amazing what the Riverside softball team has done this year. Riverside is 18-0 and has not allowed a run in 11 consecutive games. Riverside has shut out 16 of 18 opponents and given up six runs total in two games.
Riverside will play in the WPIAL Class AA championship next week.
PIAA makes football practice rule
The PIAA passed a rule Wednesday that limits football teams to only three practices a week where contact is allowed. This rule goes into effect after the season starts.
It really isn't a big deal. Most teams have contact practices only three days a week anyway. Many teams have contact Monday, Tuesday and Wednesday and practice lightly Thursday. Games are Friday.
Top 250 material
Rivals.com recently released its rankings for the top 250 in the country. No WPIAL players were in the top 100, but three made the top 250 - Gateway's Montae Nicholson at 127, Aliquippa's Dravon Henry at 168 and Washington's Shai McKenzie at 177.
Coaching moves
Burrell named Shawn Bennis as its new boys basketball coach. Burrell made it to the WPIAL Class AA final this past season. Bennis has been a head coach at Highlands and Kiski Area and coached Micah Mason at Highlands.
Burrell also hired Josh Shields as its new wrestling coach. Burrell has won seven consecutive WPIAL AA titles.
Greensburg Salem hired Dave Keefer as its new football coach. Keefer has been a Greensburg Salem assistant.
More in this category: