Cook to Cal U. ..... Baseball all-stars announced
Drew Cook, who helped the Beaver Falls basketball team to WPIAL and PIAA Class AA titles, will play at the NCAA Division II level in college.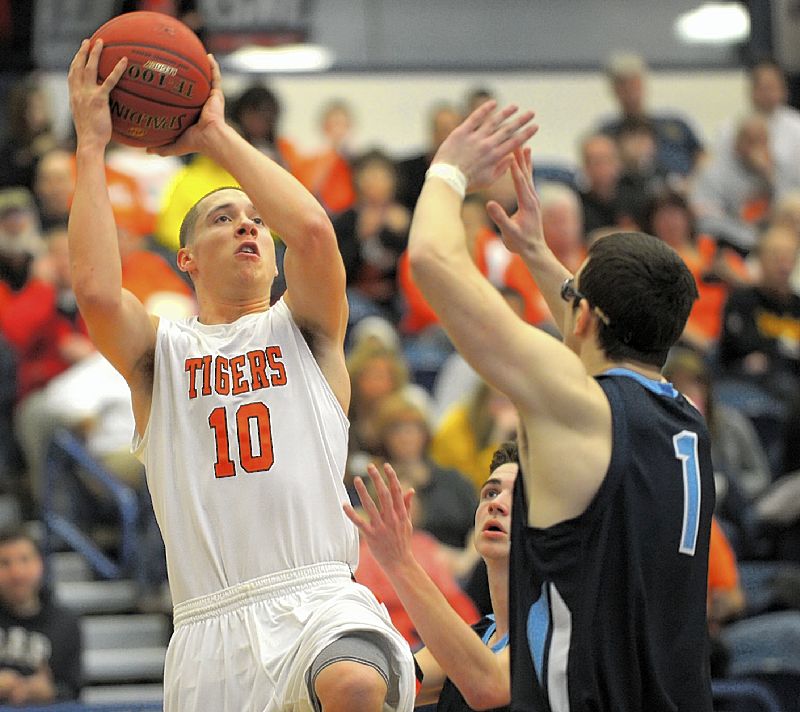 Cook has decided to play at California Univeristy of Pa. It's a nice get for Cal Pa. Cook is a 6-foot-2 guard who did a little of everything for Beaver Falls. He has an excellent mid-range game and is good at slashes to the basket. He averaged 15.3 points a game this season, was a Post-Gazette West Fabulous 5 selection and the Beaver County Times Player of the Year. He also is a good defender.
Cook started some for Beaver Falls as a freshman. During coach Doug Biega's 14 years as Beaver Falls' coach, the only others to start as freshmen were Lance Jeter, Todd Thomas and Elijah Cottrill. Cook scored more than 1,000 career points.
Baseball all-stars announced
The WPIAL Baseball Coaches Association 10th annual all-star games will be Sunday, June 9 at the Burkett Complex in Robinson. The first game at 1 matches the WPIAL AAAA All-Stars against AAA. It is followed by Class AA vs. Class A at 4.
Eighty players will participate in the games. Franklin Regional's Dan McGrath and Nick Vento, Neshannock's Alex Welker and Quigley's Zach Chinchilla declined invitations due to prior commitments. Players will be honored at an awards banquet Jiune 10 at the Airport Marriott. The banquet is open to the public and for banquet tickets, call 412-429-0546.
Here are the players selected for the game.
Class AAAA All-Stars
Cameron Balego Central Catholic
Anthony Colondrea Woodland Hills
Logan Corrigan Bethel Park
P J DeMeo Central Catholic
Sebastian DeNardo Central Catholic
Jimmy Divosevic North Allegheny
Jonathan Dorogy Seneca Valley
Tyler Dubovich Albert Gallatin
Kevin Forrester Canon McMillan
Dakota Forsyth Bethel Park
Frank Fortunato Canon McMillan
Brad Gresock Seneca Valley
Chris Hawkins Brashear
Mark Hollis North Hills
Zac Manuppelli Plum
Zach Martinelli Hempfield
James Meeker North Allegheny
Nathan Mori Hempfield
Shea Sullivan Pine-Richland
Chris Watschak Peters Township


Class AAA All-Stars
Mark Adams Elizabeth-Forward
Dave Bednar Mars
Brad Bisko Yough
Colton Booher Thomas Jefferson
Jake Bywalski South Park
Jamie Deane Ambridge
Ben Erdahl Mars
Adam Ferita Belle Vernon
Dom Francia Belle Vernon
Jake Horew Chartiers Valley
Dan Hoss Montour
Tim Hughes Hopewell
Logan Johnston Hopewell
Joey Paul Mt Pleasant
Nick Riotti Trinity
Jared Skolnicki Keystone Oaks
Luke Spisak Yough
Joey Vita Hampton
Chase Voltz Knoch
Nick Yobbi South Park


Class AA All-Stars
Jordan Allen Washington
Sam Beckey Freedom
Kevin Begley Deer Lakes
Sean Bialecki Greensburg CC
Garrett Brooks Greensburg CC
Tyler Falk Riverside
Adam Fredley Deer Lakes
Ben Herstine Beaver
Dylan Jones Riverside
Dustin Koedel Freeport
Paul McCullough Shady Side Acad
Josh Miller Beth-Center
Robbie Miller Freeport
Jake Pilewicz Quaker Valley
Dylan Pounds Chartiers-Houston
Justin Retzer Ford City
Brandon Ritchie Laurel
Austin Ross Beaver
Tyler Spohn Brownsville
Kyle Witzberger Fort Cherry


Class A All-Stars
John Arcuri St. Joseph's
Jordan Dicks Jefferson-Morgan
Nico DiPaolo Bishop Canevin
Robert DiMaggio Western Beaver
Jimmy Dlugos Bishop Canevin
Preston Falascino OLSH
Jaime Fell Frazier
Brian Fisher California
Evan Haines Sewickley Academy
Chad Hazaga Serra Catholic
Blake Herron Frazier
Wayne Hydak Serra Catholic
Dylan Kugler Serra Catholic
Jason Lanoy OLSH
Anthony Malky Riverview
Tim Mulvey OLSH
Josh Mundell Carmichaels
Ryan Peluso North Catholic
Ben Richko Rochester
Tommy Shoaf Carmichaels
More in this category: