Performance of Serra's Hydak one for national record book
Some items that fell off my laptop
Serra baseball player Wayne Hydak had an unforgettable inning a few weeks ago against Geibel. Actually, it was one that would put him in the national record book.
Hydak, a senior who plays first base and pitcher, had nine RBIs - yes, 9 - in the first inning of a 25-0 win against Geibel. Hydak had a grand slam, three-run double and two-run single all in that inning. Unheard of? Almost.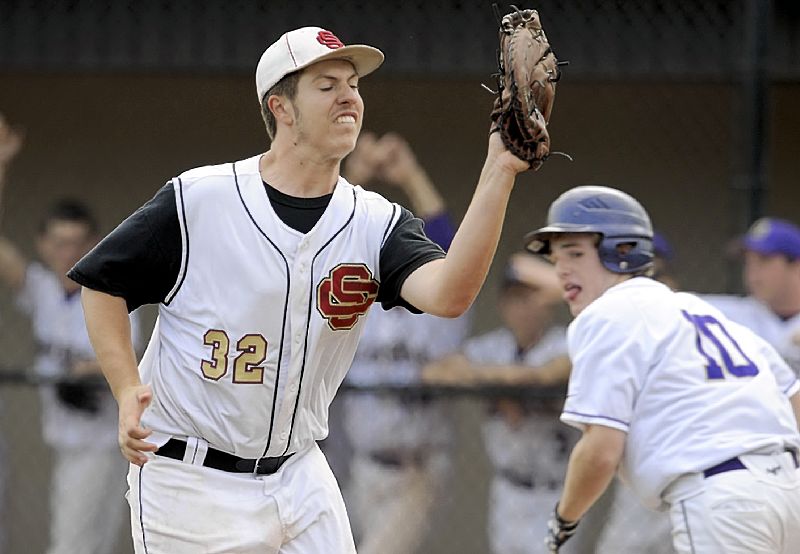 A check of the National Federation of State High School Association record book shows that Hydak's nine RBIs would be the second-highest total in an inning - ever. In the entire U.S.
According to the NFHS, the national record is 10 in an inning, by William Campbell of Middlesboro, Ky., in the first inning of a 1984 game. Hydak (pictured) would be next. A number of players had eight RBIs in an inning.
It should be pointed out the NFHS record book uses only records that are reported to the NFHS by schools. Has some else had nine RBIs in an inning? It's hard to say. But think of it: In order to have nine RBIs, a player must bat three times in an inning. That's crazy.
Serra would have to report Hydak's mark to the NFHS in order to be part of the record book.
Geibel's woes
Serra and Hydak aren't the only ones to give the Geibel baseball team trouble this year. The Gators are 1-13 and have been outscored 224-40. Nineteen of Geibel's runs were scored in a 19-17 victory against Clairton.
Clairton allowing 19 runs? Think of this: The Clairton football team has allowed 19 points or more only five times in the past four seasons.
Another for record books
The athletic talents of Hopewell's Shatori Walker-Kimbrough have been well-chronicled. But she added to her resume of impressive feats at the Baldwin Invtitational track and field meet last Friday.
Walker-Kimbrough, a senior and a Univeristy of Maryland basketball recruit, long jumped 19 feet, 3 1/2 inches to finish first. She became only the third girl in WPIAL history to reach 19 feet. She also is an excellent volleyball player. Can you say athlete of the year?
Walker-Kimbrough has a ways to go to reach the best long jumpers in WPIAL history. According to WPIAL girls track and field historian Jim Faiella, Nikita Lewis of South Park jumped 19-11 1/2 in 1998 and Cassie Richards of Winchester Thurston also jumped 19-11 1/2 in 2001.
Baldwin's 6-8, 295-pound lineman
It's hard not to notice Baldwin's Sterling Jenkins on the football field. He's a 6-8, 295-pound junior. And he is getting noticed by more colleges lately.
In the past week and a half, Jenkins has received scholarship offers from West Virginia, Michigan and Virginia. This was after he attended a one-day camp (combine) put on by Rivals.com at Montour High School two Sundays ago.
I have never seen Jenkins play. Reportedly, he is "raw" but has loads of potential.. And with that size, you can bet more offers are likely to come his way.
A $1 million scoreboard
You think they take their high school football in Texas seriously, or what? One high school is about to purchase a $1 million scoreboard for its stadium.
Weslaco Independent School District plans to buy the new 27 by 48 foot scoreboard, which would be the biggest for a high school in the country. Now get this: The school thinks the scoreboard will pay for itself in 10 years.
According to an article in the Valley Morning Star the school currently makes $82,000 annually from advertising and marketing revenue from its current scoreboard. Wow. And apparently there is a waiting list for advertisters.
More in this category: