WPIAL soccer finals at Highmark Stadium ..... Video of freshman phenom
One day after it was announced that Highmark and West Penn Allegheny Health System have merged, the WPIAL and the Pittsburgh Riverhounds announced an agreement that gives the WPIAL soccer championships a home at Highmark.
All six of the WPIAL soccer championships - boys and girls - will be at the new Highmark Stadium, a 3,500-seat stadium next to Station Square on the South Side. The stadium's primary tenant is the Pittsburgh Riverhounds pro soccer team.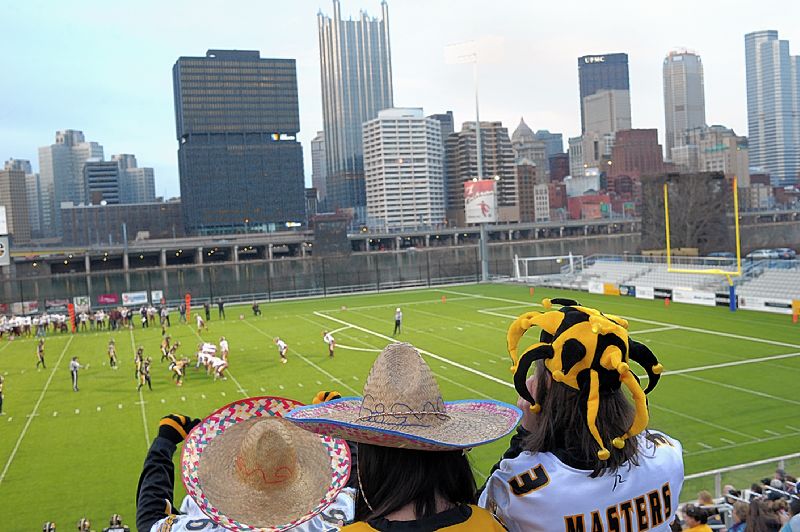 Under the plan this year, two soccer championships will be played Friday, Nov. 1 and four on Saturday, Nov. 2. (Pictured is a shot of Highmark Stadium during a Pittsburgh Passion football game).
"With the incomparable views of Pittsburgh's skyline as a backdrop, Highmark Stadium will set the stage and create and unforgettable moment with each youth participant," Melissa Lazar, president and CEO of Highmark Stadium, said in a release.
Highmark Stadium also hopes to play host to one WPIAL boys and one girls soccer game per week. Highmark hopes to attract some of the WPIAL's top teams to the games. Would schools be willing to move one of their top section games to the stadium?
More on Highmark Stadium: Central Catholic is close to finalizing a deal to have its home football games at Highmark. Stay tuned on that one.
You wonder if the WPIAL would ever have maybe a Class A or AA playoff game at Highmark? It does seat only 3,500 but that would be perfect size for some of those playoff games. It seemingly isn't big enough for a big AAA or AAAA playoff game. A big question, though, is parking.
Check this out
***Baldwin has a 6-9, 280-pound sophomore lineman named Sterling Jenkins. He apparently opened some eyes at the Rivals Camp Series (sort of like a combine) Sunday at Montour.
*** The Peters Township baseball team missed the playoffs last year for the first time since 2002. The Indians are in danger of missing again. They are 4-4 in Class AAAA Section 4. Bethel Park is 6-2, Canon-McMillan 5-2 and Mt. Lebanon 5-2. Only three teams make the playoffs and teams in Section 4 play only 10 section games.
*** You want to see a possible basketball star of the future? Take a look at this YouTube video of Seventh Woods (yes, that's his real name). He is only 14 and a freshman and his highlight tape has people buzzing. IT HAS OVER 6 MILLION HITS ON YOUTUBE. He averaged 19 points a game this past season for Hammond High School in Columbia, S.C. Yeah, he reminds me of myself when I was 14. (ha ha)
Seriously the kid is amazing.
More in this category: