Canon-McMillan hires former NFL player Coder ...... Rowan gets national recognition
The new football coach at Canon-McMillan High School has NFL playing experience and was drafted by the Steelers.
The school hired Ron Coder as the new coach this afternoon. Coder, an offensive lineman, played at Penn State and was a third-round draft pick of the Steelers in 1976. He played with Seattle from 1976-79 and St. Louis iin 1980. He missed the 1978 season with a back injury.
Canon-McMillan athletic director Guy Montecalvo has known Coder for decades. The two played together at Penn State.
Coder takes over a program that has won only five games in the past four years. Two years ago, Canon-McMillan was winless. But Coder knows what it takes to win a championship. So what if it was in womens football. Coder coached the Pittsburgh Passion womens team to the 2007 league championship.
Rowan gets honor
Maverick Rowan is one of the best freshman basketball players in the country - at least according to MaxPreps.com.
MaxPreps recently released its freshman All-American team and Rowan, a ninth-grader at Lincoln Park in Beaver County, was named honorable mention. Only 26 players around the country were named to the teams - first, second, third and honorable mention.
Rowan, a 6-foot-6 guard and an excellent shooter, averaged 22.6 points a game this season. He was the third-leading scorer in the WPIAL during the regular season.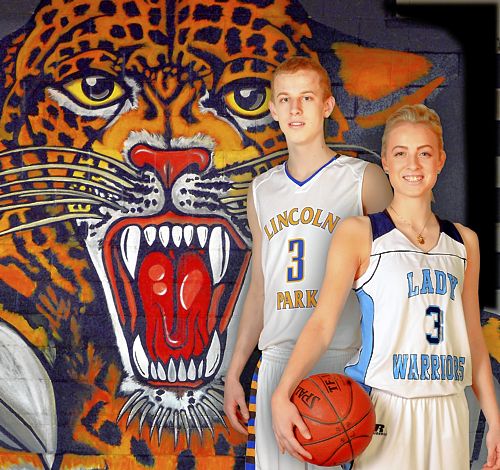 Rowan is pictured with his sister, Madi, who was a senior guard at Central Valley and earned a Division I scholarship to New Hampshirte.
Rowan is considered a Division I prospect for the future. It's a nice achievement for him to make the MaxPreps All-American team. Rowan, though, isn't your average high school freshman in age. He already is 16 and will turn 17 in July. As a senior, he will be eligible to play, but by only a few days. Under PIAA rules, a student-athlete is ineligible as a senior if he or she turns 19 before July 1.
Central and South Park rate
The Prep Baseball Report came out yesterday with its state rankings and two WPIAL teams are ranked No. 2 in their respective rankings.
Central Catholic is No. 2 in Class AAAA while South Park is No. 2 in Class AAA.
Philadelphia and the NBA
An interesting piece by Kevin Askeland of MaxPreps.com on what cities produce the best current NBA talent. They are subjective rankings, but Philadelphia ranks fourth behind Los Angeles, Indianapolis and Chicago.
Askeland's top five current NBA players from Philadelphia are Kobe Bryant, Andrew Bynum, Kyle Lowry, Tyreke Evans and Markieff Morris.
Bryant (pictured) played at Lower Merion and led Lower Merion to a state championship as a senior. Lower Merion defeated Erie Cathedral Prep in the title game.
I remember watching that game and Erie Prep double-teamed Bryant. If he got the ball and dribbled, they would send another defender at him.
He finished with 17 points, nine rebounds and three assists.
More in this category: