Video of Bazzoli "shattering" Roundball Classic
Back at it. Sorry for the long delay since the last Varsity Blog. More than a month, but I'm bouncing back from a health issue and ready talk a little high school sports again.
The Roundball Classic crumbled to pieces Saturday night, thanks to Easton Bazzoli.
Bazzoli, a 6-foot-5 senior guard at Seneca Valley, now has something in common with famous basketball players like Darryl Dawkins, Gus Johnson and Jerome Lane. In other words, Bazzoli shattered a backboard and video is below.
With about a minute left in the Class AAAA vs. AAA game in the Roundball at Geneva College, Bazzoli took a pass from New Castle's Antonio Rudolph, threw down a dunk - AND SHATTERED THE BACKBOARD!!!!
Check it out, thanks to Montour basketball (@MontourHoops on Twitter) and YouTube.
The backboard shattered, the rim came down and the fourth and final all-star game of the Roundball had to be stopped. Class AAAA won, 134-113, and maybe Bazzoli earn a badge of honor as someone whose dunk broke a backboard.
"I guess so," Bazzoli said with a laugh. "Everybody said it's pretty awesome. I thought it was pretty cool. It's not something a lot of people have done."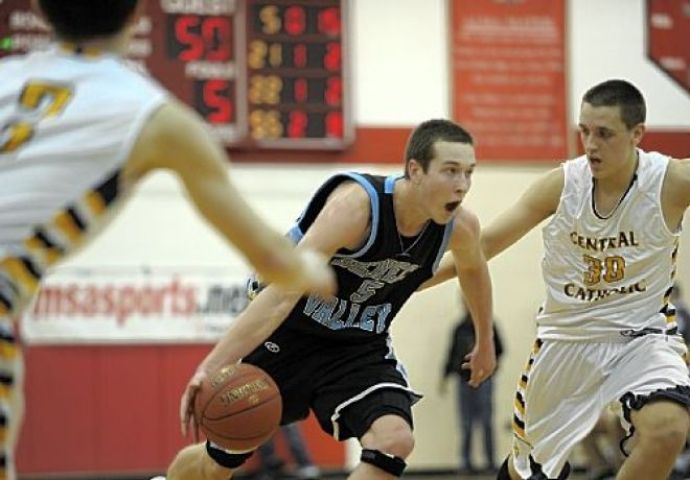 Bazzoli (pictured in a playoff game against Central Catholic) has a piece of glass from the backboard as a souvenir and said he is working with Geneva to try and get the rim.
Bazzoli said he is hoping to get another video of the play from the mother of Kittanning player Sterling Henry. "We're trying to maybe see if we could get it on ESPN SportsCenter."
Bazzoli never thought the dunk would break the backboard.
"I knew that I had to stretch out a little bit extra to make the dunk and it was a little awkward," Bazzoli said. "I knew I would have to grab the rim so that I wouldn't slip. It just broke real quick."
Bazzoli was one of the top guards in the WPIAL this past season. He will play next season at Cedarville University, an NCAA Division II team that went 22-9 this past season.
"It's an up-and-coming program," Bazzoli said.
A weekend of AAU
I spent part of the wekeend watching some top-level basketball players from AAU/all-star teams around the country play in the HoopGroup Pittsburgh Jam Fest. For part of Saturday, there had to be 100 college coaches in the stands at North Hills. I've watched plenty of AAU basketball and and even coached it in the past, but here are some things I thought of this weekend:
** The coaching for many of these high-level teams around the country is a joke.
** I know AAU basketball has become a necessary evil these days in recruiting, but I feel for the college coaches who have to recruit through some of these AAU coaches. I'm sure it is just wonderful.
** North Hills was the headquarters of the Jam Fest. The Hoop Group people that run the event are good people. At North Hills, the game officials were also part of a camp headed by some big-time officials. The officials at North Hills were college officials who were being evaluated. Officals actually paid to be part of this camp. It's amazing what these high-level officials have to put up with from some of these AAU coaches.
** I'm not saying this is good or bad. Just an observation. Division I coaches paid $350 to get a book of rosters for teams and phone numbers of players. And Friday night, there was a line of coaches out the door to buy the books.

** I found this enlightening. One Division I coach who I won't name walked out the door Sunday and I said, "See you coach. You leaving?"
He said, "No, I need a break sometimes. I can only take so much of this."
Enough said.
First offer for Cottrill
Beaver Falls junior guard Elijah Cottrill came up with his first scholarship offer this past weekend. It came from Creighton.
Still looking for coaches


Gateway still hasn't hired a football coach. Sources have said Gateway has had trouble finding a qualified candidate who wants the job. Gateway might hire someone Wednesday night.
Canon-McMillan also has yet to hire a coach.
Yobbi a standout
The Post-Gazette will run WPIAL baseball statistical leaders later this week. It's hard to believe any player is having a better overall year than South Park's Nick Yobbi. He will be among the leaders in every category the P-G lists. He is batting .567 with 18 RBIs and 21 runs scored. He also is 4-0 as a pitcher with 33 strikeouts.
Do we need to get more baseball talk going on this blog. The playoffs are right around the corner?
More in this category: