WPIAL-City League basketball roundup
Highlights from today's WPIAL boys basketball quarterfinals and City League championship.
City League championship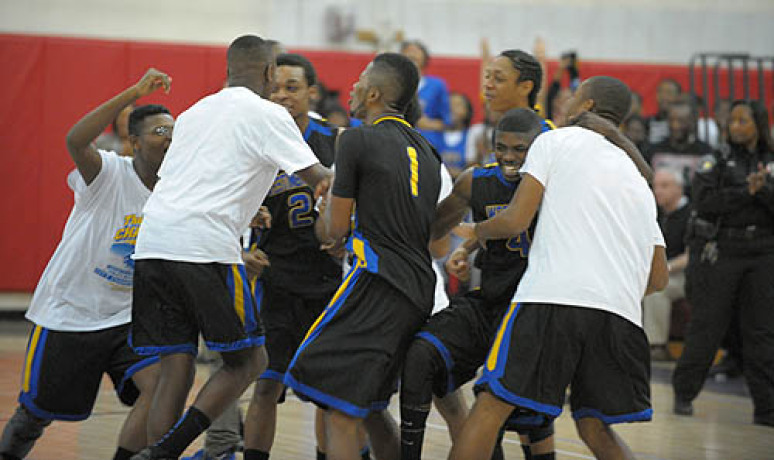 Westinghouse won its first City League title since 1998 when it defeated Perry, 61-52. (Westinghouse pictured celebrating).
Shaquan Johnson scored 20 points for Westinghouse and Aaron Lyons added 15. The game was tied, 27-27, at halftime.
Shakeem Cox scored 19 points for Perry, but he was 7 of 32 from the field. Perry shot 28 percent (19 of 68) from the field.
WPIAL Class AAAA quarterfinals
New Castle is still perfect and there will be a new champion in WPIAL Class AAAA this year.
New Castle crushed Gateway, 87-55, in a quarterfinal game today at Ambridge. New Castle is now 24-0. Gateway, meanwhile, was the two-time defending champion and had been in the title game three consecutive years.
Afterward, Gateway coach Mitch Adams used the word "great" to describe New Castle.
Gateway stayed with New Castle for a while, trailing by only 27-26 early in the second qiuarter. But over the next 12 minutes of the second and third quarters, New Castle outscored Gateway, 37-12.
Shawn Anderson led New Castle with 26 points, Malik Hooker had 14, Anthony Richards 12 and Brandon Domenick 12. Richards and Domenick both had four 3-pointers. New Castle shot 53 percent (32 of 60) from the field and had 11 3-pointers. Jordan Landfair scored 16 for Gateway.
***** Seneca Valley held No. 4 Upper St. Clair scoreless until the 4:44 mark of the second quarter and went on to defeat the Panthers, 44-34, in a WPIAL Class AAAA quarterfinal at North Allegheny.
Seneca Valley led Upper St. Clair, 6-0, after the first quarter. Upper St. Clair missed its first 14 shots and committed seven turnovers prior to scoring its first basket.
Upper St. Clair fought back and got within 32-30 with 2:35 left in the fourth quarter, but Seneca Valley outscored the Panthers, 12-4, the rest of the game. R.J. McCauley led Seneca Valley with 13 points, while Grabowski paced Upper St. Clair with 16.
***** Ryan Luther scored 24 of his 31 points in the first half to help Hampton beat McKeesport, 71-63.
***** North Allegheny led by only one point after three quarters, but outscored Fox Chapel by 17 in the fourth to pull out a 79-61 win. North Allegheny's R.J. Colabrese scored 12 of his 18 points in the final quarter. Matt D'Amico led Fox Chapel with 23 points.
Class AA quarterfinals
***** Junior guard Elijah Cottrill scored 22 points to help Beaver Falls to a 66-36 win against Brentwood. Beaver Falls forced 28 turnovers. Jason Pilarski scored 21 for Brentwood.
***** In one of three upsets in Class AA, Burrell knocked off No. 2 seed Greensburg Central Catholic, 67-63, in overtime, to put the Bucs in the semifinals for the first time since 1979, when Joey "Sonar" Myers was starring for the Bucs. Burrell's Pete Spagnolo scored six of his team-high 16 points in overtime. The Nos. 2, 3 and 4 seeds in Class AA all lost.
***** No. 4 seed Jeannette was upended by Apollo-Ridge, 53-49. Apollo-Ridge came back from an 18-point first-quarter deficit to gain a semifinal berth for the first time since 1988. Tre Tipton and Connor Billingsley led Apollo-Ridge with 13 points apiece.
No. 3 seed Seton-LaSalle was upended by Quaker Valley, 62-61. Nelson Westwood scored 20 points for Quaker Valley.
More in this category: