WPIAL quarterfinal breakdown and predictions
The WPIAL basketball quarterfinals are tonight and tomorrow. I will have live blog from tonight's Kittanning-Beaver game and will be at New Castle-Gateway tomorrow. I'll also be at the City League championship tomorrow morning.
Here is analysis of the Class AAAA quarterfinals and also predictions on all of the games:

CLASS AAAA QUARTERFINALS
Seneca Valley vs. Upper St. Clair - Can you say playing to your strengths? None of the remaining teams do it better than Seneca Valley and USC. Upper St. Clair will play a guard-oriented style with a ton of gap/kick and 3-point shooting. Seneca Valley comes at you with size, surprising athleticism, and patience. These two teams couldn't be more different in terms of playing style and personnel. The deciding factor in this one will be USC's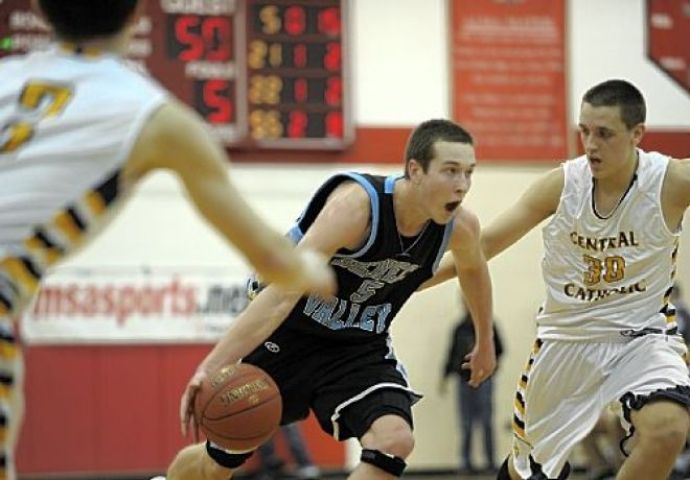 outside shooting vs. Seneca Valley's variety of zone defenses. Seneca Valley's outside shooting, suspect at times, also could be a key. In the first round, Central Catholic struggled with the Seneca Valley zone, but Central only had three days to prepare. Expect the matinee idol, Danny Holzer, to have the Panthers prepared for the Raiders mixture of zone defenses. I expect this to be a tight one, but watch for the NYC legend Victor Giannotta to run a ton of isolations for Easton Bazzoli (pictured) and R.J. McCauley, then put it in the freezer late with the triangle delay. Winner: Seneca Valley.
McKeesport vs. Hampton - I've liked McKeesport since November. Problem is Hampton is extremely talented, and they defend in the half-court better than most realize. They can beat you 85-80 or 50-45. That's a tough matchup for most teams, but especially a McKeesport team that might not be great on defense. Key here is McKeesport's athleticism. Can the Tigers extend and pressure Hampton's guards without trapping them? If not, Ryan Luther will have a field day. I picked McKeesport on Varsity Xtra video. But I'd like to change. Winner: McKeesport.

Fox Chapel vs. North Allegheny - This is an intriguing matchup. There is no team in the WPIAL that is more difficult to prepare for than North Allegheny because of the volume of 3-pointers and pressure defense. Fortunately for NA, the Foxes played Wednesday night, so coach Zach Skrinjar only has two days to get the Foxes ready. Tough turnaround, especially when you never have faced NA. If it was another Section 3 foe, the short preparation wouldn't be a problem. Everyone knows the keys to beating NA are handling the pressure and defending the 3. The two keys in this one will be the Foxes ability to run offense in the half court and whether or not they can post Matt D'Amico/Brian Papich out of their 5 around motion offense. This could be a dandy. I love the job Skrinjar has done with FC, but NA will win in front of a packed house by, maybe, 7. Winner: North Allegheny.
New Castle vs. Gateway - I've heard the comment that New Castle beat Latrobe by "only" 21. I think the week off affected the Red Hurricanes. Coach Ralph Blundo (pictured) and his team aren't about to make excuses, but the nine-day break couldn't have helped matters. The big question is if teams are starting to catch up to New Castle? If you look at three of the 'Canes past four wins, they are by 16, 5, and 20 points. Impressive for the rest of us, but below the high standards set at Ne-Ca High. I believe a few things about New Castle. I think they'll be challenged in the WPIAL playoffs at some point, but will the challenge come Saturday? Well, New Castle should win by double figures again. The play of Gateway point guard D.J. Boyce will be a key - offensively and defensively, but Gateway's attempt at a three-peat and four consecutive final appearances comes to an end. The only consolation prize is the Gators will qualify for the state playoffs when New Castlehoists the title trophy at Palumbo a week from Saturday. New Castle will wake up from its brief winter hibernation. Winner: New Castle.
OTHER BOYS GAMES
WPIAL Class AAA - Chartiers Valley over South Fayette; Beaver over Kittanning; Mars over Uniontown; Montour over Thomas Jefferson.
WPIAL Class AA - Beaver Falls over Brentwood; Jeannette over Apollo-Ridge; Greensburg Central Catholic over Burrell; Seton-LaSalle over Quaker Valley.

WPIAL Class A - Lincoln Park over Wilkinsburg; Union over Clairton; North Catholic over OLSH; Vincentian over Monessen.
City League - Perry over Westinghouse.

GIRLS GAMES


WPIAL Class AAAA - Mt. Lebanon over Fox Chapel; Chartiers Valley over Upper St. Clair; Gateway over North Allegheny; Bethel Park over Penn-Trafford.
WPIAL Class AAA - Blackhawk over Belle Vernon; Elizabeth Forward over Central Valley; Hopewell over Ambridge; South Park over Hampton.

WPIAL Class AA - Seton-LaSalle over Greensburg Central Catholic; Bishop Canevin over Mohawk; Deer Lakes over Jeannette; McGuffey over Burrell.

WPIAL Class A - Vincentian over Winchester Thurston; Quigley over St. Joseph; Serra over Rochester; North Catholic over Cornell.

City League - Westinghouse over Allderdice.

More in this category: