WPIAL bracketology dilemma: What to do about Hampton
The WPIAL basketball committee meets Monday to discuss playoff brackets and seedings, and the playoff pairings will be announced Tuesday night.
The biggest question the committee might face is: What to do about the Hampton boys?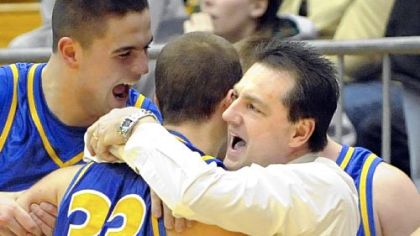 Where the WPIAL puts Hampton in the Class AAAA bracket will affect a number of teams. Here are the facts and questions about Hampton, coached by Joe Lafko (pictured after winning the Class AAA WPIAL title a few years ago):
The Talbots are 18-4 and most certainly playing the past few weeks like one of the top four teams in Class AAAA. They defeated North Allegheny and Seneca Valley and played New Castle better than anyone, losing to the undefeated Red Hurricanes by only 54-50 Friday night.
But Hampton finished in third place in Section 3 behind New Castle and North Allegheny.
New Castle has the No. 1 seed in Class AAAA locked up. It would seem logical to give Upper St. Clair the No. 2 seed. The Panthers are 18-3, have won 15 in a row and won Section 4. But Section 4 was a little down this season compared to years past and certainly not as good as Section 3. Still, USC seems a logical No. 2 seed.
That means North Allegheny would have to be No. 3, right? The Tigers have been impressive and their only losses have been to New Castle (twice) and Hampton. There is a school of thought that Hampton is playing better than North Allegheny and Hampton could be the No. 3 seed. But you can't ignore that Hampton and North Allegheny split two games, and North Allegheny finished ahead of Hampton in the section.
So if you put Upper St. Clair second and North Allegheny third, Hampton would have to be No. 4 or 5, correct? But I know the way the WPIAL thinks sometimes. The league might not want Hampton on the same side of the bracket as New Castle, meaning there is a possibility they could meet in the semifinals.
Then, let's say you put Central Catholic and Hempfield in the No. 4 and 5 spots (both are section champs, although Hempfield did beat Central Catholic in a non-section game), and move Hampton to No. 6. That would mean Hampton and North Allegheny could play in the second round, and I don't think that would be right. (By the way, keep an eye on Central Catholic in the playoffs. The Vikings are playing well and always seem to do well in the postseason).
But if you keep Upper St. Clair at No. 2 and move Hampton to No. 7, that means those two would most likely meet in the second round. The WPIAL has always been about trying to get the four best teams into the semifinals. That would destroy that thinking, if you think Hampton and Upper St. Clair are two of the best four teams.
The wild cards in this dilemma are Hempfield and Central Catholic. Central Catholic is playing very well and won the Section 4 title. Hempfield and Kiski Area tied for the Section1 title. Even though Section 1 has not fared well in playoff games in recent years (9-27 in first-round games the past nine years), Hempfield's resume is enhanced some by the win against Central Catholic.
Here is something the WPIAL could do and don't be shocked if it happens: Make New Castle the No. 1 seed, North Allegheny No. 2 and Hampton No. 3. That would push Upper St. Clair to No. 4. Should three teams from Section 3 be the top three seeds? Well, you could certainly make a point for that. North Allegheny's and Hampton's losses are only to New Castle and each other, with the exception of Hampton's loss to a pretty good Seneca Valley team.Section 3 is loaded.
So exactly where do you put Hampton, and the rest of the top seeds in Class AAAA? Good luck in figuring that one out.
Other dilemmas

Here are a few more tough choices the WPIAL will have to make: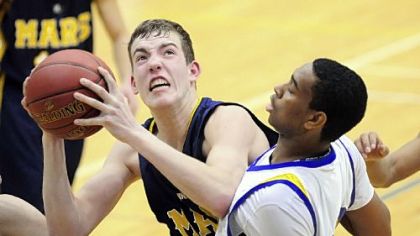 Who is the No. 1 seed in Class AAA? That has to be Mars or Chartiers Valley doesn't it? It seems like things weigh in Mars' favor. The Planets (pictured is 6-8 senior center Josh Goetz) won Section 1 with a perfect record, even though that section isn't very strong. They own impressive victories against Seneca Valley and Montour early in the season, and lost to Hampton by only one (also very early in the season).
But Chartiers Valley has only two losses and owns wins against Upper St. Clair and Mt. Lebanon. What if Chartiers Valley would beat Upper St. Clair in a non-section game tomorrow night, which is possible?
I think Montour might be playing the best of anyone in Class AAA right now, and would even be deserving of the No. 1 seed. But that won't happen because Montour finished behind Chartiers Valley in section play.
Where do you seed Beaver and Central Valley? They tied for the Section 2 title and split two games this season. But I think Central Valley will get the higher seed.

Who is the No. 1 second in Class AA? You would think this has to go to Beaver Falls or Greensburg Central Catholic. Beaver Falls is the defending champion and finished undefeated in section play. But Greensburg Central Catholic is very good and has only one loss. And what about Seton-LaSalle, which has only two losses? I don't see Seton-LaSalle getting the No. 1 seed, but watch for the Rebels in the playoffs.
Where does Clairton get seeded? The Bears got a late start to basketball because just about the entire team was playing football until mid-December. Clairton won the Section 3 title, but I'm not sure that is good enough to get a top four seed. Clairton has non-section losses to Wilkinsburg and OLSH. I see a No. 6 seed for Clairton.

Check back tomorrow, and I'll give you my seedings and some playoff pairings.
More in this category: