Jeannette's Gregory reaches 2,000
Jeannette senior guard Ciara Gregory scored her 2,000th career point this afternoon.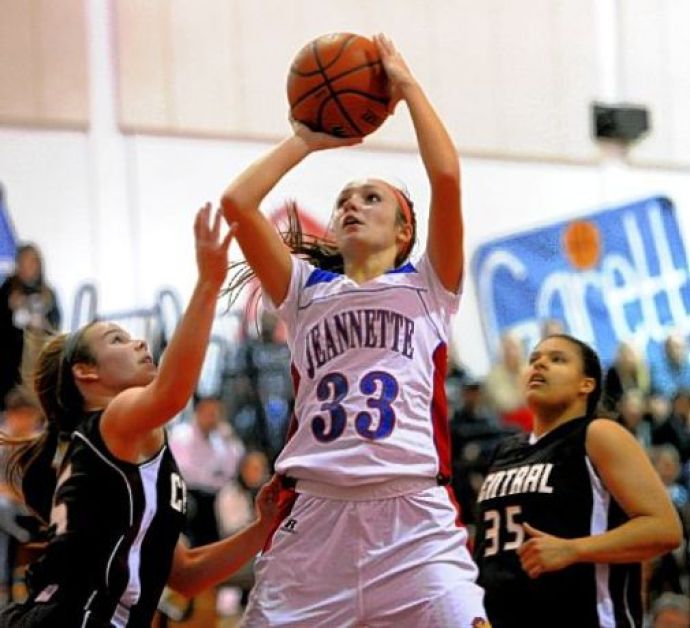 Gregory (pictured) scored 27 points in a 69-41 victory against Derry in the Westmoreland County Hoopfest, held at Greensburg Central Catholic High School. Gregory now has 2,008 points in her career.
Gregory is the second WPIAL player to reach 2,000 points this season. Hopewell's Shatori Walker-Kimbrough did it a few weeks ago.
Besides Gregory and Walker-Kimbrough, here are the other girls in WPIAL-City League history who have scored 2,000 points.
Name, School (Graduation Year) Points
Gina Naccarato, Monessen (1996) 3,364
Charel Allen, Monessen (2004) 3,110
Brooke Stewart, East Allegheny (1999) 3,055
Jess Strom, Steel Valley (2001) 2,840
Kamela Gissendanner, Clairton (2003) 2,703
Swin Cash, McKeesport (1998) 2,678
Carrie Bordas, Aliquippa (1990) 2,658
Cindy Dallas, Schenley (1998) 2,564
Maude Searcy, Wilkinsburg (1990) 2,541
Tanisha Wright, West Mifflin (2001) 2,477
Loui Hall, Albert Gallatin (2003) 2,440
Anne Malkowiak, Ellwood City (1989) 2,370
Vanessa Abel, Southmoreland (2007) 2,327
Cindy Davies, Indiana (1980) 2,322
Cathy Torchia, St. Francis (1989) 2,284
Katie Bulger, Oakland Catholic (2000) 2,282
Shannon Davis, Sacred Heart (1989) 2,275
Lizzie Suwala, Ford City (2005) 2,266
Kacy O?Brien, Carlynton (2001) 2,238
Beth Seidl, Mount Alvernia (1970) 2,197
Bonnie Rimkus, Carlynton (1990) 2,192
Carmen Bruce, Schenley (2002) 2,175
Kris Sebastian, Monaca (1990) 2,140
Lorri Johnson, New Castle (1986) 2,110
Wanda Holloway, Sharon (1980) 2,106
Kelly Dee, Steel Valley (1990) 2,103
Jen Sobota, Latrobe (1999) 2,093
Mandy West, Upper St. Clair (1995) 2,089
Val Zona, Blackhawk/Seneca Valley (1998)2,083
Amy Johns, McKeesport (2006) 2,067
Jocelyn Chandler, Uniontown (2004) 2,048
Meg Bulger, Oakland Catholic (2003) 2,044
Mona Gaffney, Aliquippa (1990) 2,038
Kameico Robison, Clairton (1999) 2,031
Kelly Morda, Ford City (1998) 2,020
Danielle Dawson, Greensburg Salem (2002)2,018
More in this category: