North Hills' McCurry retires ....... Gateway's Smith takes job at Temple
Two high-profile high school football coaches are in the news tonight.
North Hills High School announced that longtime coach Jack McCurry has stepped down as coach. Let's call it a retirement for now. McCurry has been North Hills' coach for 35 years and is third on the WPIAL all-time list for wins.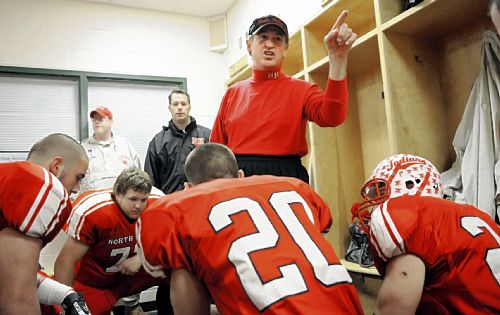 "I've been debating it for a while, but it's to the point where I can't keep debating it," McCurry said. "I had to make a decision."
McCurry (pictured giving a locker room pep talk) won four WPIAL titles, including one co-championship, and one PIAA title.
McCurry doesn't know whether his move is a resignation or a retirement.
"I don't know what I'm going to do yet. Maybe call it a semi-retirement," McCurry said.
Meanwhile, Terry Smith has resigned as coach at Gateway and taken a job as receivers coach at Temple University. He was Gateway's coach the past 11 years.
More in this category: