Clairton basketball team in big game ...... other notes
Most of Clairton's basketball team is made up of players from the school's terrific football team. The Bears' basketball team doesn't have a long winning streak like the football team and isn't getting national attention, but some of that football success has carried over to the basketball court.
After getting a late start because of the length of football season, Clairton's basketball team has done well and plays tonight for first place in WPIAL Class A Section 3. The Bears are 4-0 in section and play host to Monessen, which also is 4-0.
Clairton has been led by a few of its football players, including Bryon Clifford and Titus Howard (Pitt football recruit).
Monessen also is an interesting story. The Greyhounds were in the Class AA championship the past two seasons, but dropped down to Class A this season. They started the season 0-7, but played mostly teams from larger classifications. On the Class A level, Monessen can definitely make some noise.
Predictions
Here are my predictions on some top games tonight around the WPIAL.
Monssen at Clairton - I like Monessen on the road. Winner: Monessen.
McKeesport at Fox Chapel - McKeesport got a big win against Gateway Tuesday, while Fox Chapel lost at Central Catholic. I say Fox Chapel rebounds, and rebounding will be a key to this game. McKeesport is much stronger on on the inside than Fox Chapel. Winner: Fox Chapel.
Norwin at Hempfield - In Class AAAA Section 1, Norwin is in first place and Hempfield one game behind. Hempfield has lost three of four. Is it time for the Spartans' fortunes to change? Ahhh .... Winner: Hempfield.
Wilkinsburg at Imani Christian - Both Wilkinsburg and Imani are around .500 overall, but this is for first place in Class A Section 4. Winner: Wilkinsburg.

And just to note, I don' t feel confident about any of those above picks. Tough games to call.

Cooking it up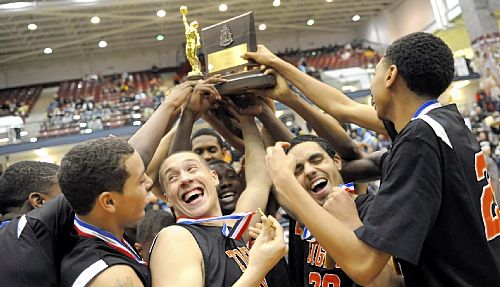 Beaver Falls senior guard Drew Cook needs only 27 points to reach 1,000 for his career. Cook and junior guard Elijah Cottrill have to be considered one of the best backcourts in the WPIAL. They are versatile and have been highly successful. Cottrill is averaging 17 points a game and Cook 15.

Cook and Cottrill are pictured, front left, celebrating last year's WPIAL Class AA championship.

Questions, questions, questions

I've got questions:

** Clairton football star Tyler Boyd has said he will play basketball this season, but when will that be?

** Isn't Elizabeth Forward's JaQuan Davidson one of the best football-basketball athletes in the WPIAL? He had a big season in football and now he is the fifth-leading scorer in the WPIAL in basketball.

** How good would McKeesport be if Davidson stayed there? He transferred this school year to EF.

** Have you ever seen a high school team make 12 3-pointers in a half? Surely not often, but I saw North Allegheny do it against North Hills Tuesday night.

** Doesn't Norwin need a sign in lights that reads "Perz and Merz Show now playing"? Curtis Perz is the leading scorer on the Norwin boys basketball team while Daniel Merz is one of the leading scorers in district hockey.

** Doesn't it seem like Class AA basketball overall is down this season? Class AA has probably been the strongest classification in the WPIAL in recent years, at least in terms of depth of quality teams. The class also has produced some strong teams. But it isn't the same this year.

** What would Monessen be like with Chavas Rawlins and Elijah Minnie? Rawlins started on last year's team, but graduated early and enrolled at West Virginia University, where he will play football. Minnie is now at Lincoln Park after showing plenty of promise two years ago at Monessen. With those two, Monessen would be No. 1 in Class A.

** Does New Castle stay perfect and become the first team since Norwin in 1986 to win the WPIAL's largest classification with an undefeated record?

** Do you remember the Rasp brothers on that Norwin team?

** What will happen with Gateway football coach/athletic director Terry Smith? He was interested in the McKeesport coaching position, but there was not a job to go along with the position, so Smith wasn't all that involved after all. Smith's status at Gateway is still up in the air.

More in this category: