George Smith and Wayne Wade are top candidates for McKeesport job
McKeesport is one of the schools in the WPIAL looking for a new football coach, and the opening has certainly brought about some interesting candidates.
It is possible that Clairton defensive cooridnator Wayne Wade might get the job. Or we could see George Smith return to coach McKeesport.
Those are two of the top candidates. Wade his second interview this past weekend. Baldwin's Jim Wehner also is a candidate.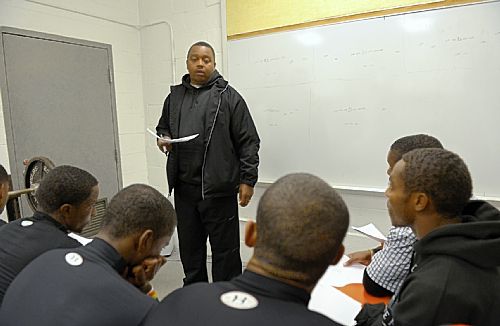 Wade (pictured) has done a tremendous in recent years as Clairton's defensive coordinator. He is like another head coach with that team and has played a huge role in the Bears' 63-game winning streak. He has been good for Clairton's players on and off the field.
Wade is a former Clairton player, but knows McKeesport High School quite well. He works in the McKeesport School District as the district security coordinator/head crisis intevention specialist of the alternative education program . He also is an assistant basketball coach at McKeesport.
But Smith also might get the job. He was highly successful during his 28 years as the Tigers' coach before resigning after the 2009 season. He won 197 games, two WPIAL titles and one PIAA title.
Stay tuned on this one.
More in this category: