Quad-A showdown all set ..... Should Beaver go to No. 1?
Notes and thoughts after a Tuesday night of basketball
One Class AAAA showdown tonight sets up another one Friday.
North Allegheny defeated Hampton tonight, 74-65, in a battle of undefeated teams. North Allegheny led by 10 at the half and 17 after three quarters. Sean Hennigan had 23 points and six 3-pointers while Ryan Luther had 30 for Hampton.
That means another Class AAAA Section 3 showdown Friday. This one will be a 1 vs. 2 game of undefeated teams. New Castle is undefeated and has been No. 1 in Class AAAA since the preseason. With the victory against Hampton, North Allegheny should move up to No. 2 in the Post-Gazette rankings that come out Friday.
New Castle-North Allegheny should be a good one to watch. Both teams play up tempo. Both press full-court the entire game. I'll go with New Castle. Why? Simply because I think they are the better team overall. But if North Allegheny can handle New Castle's pressure and then shoot it well, the Tigers will be in the game. It will be interesting to see how North Allegheny handles New Castle's pressure.
***** North Allegheny certainly likes to shoot the 3-pointer. In the previous six games before tonight, North Allegheny attempted at least 22 3-pointers in fiveof them. and more than 30 in three of them. The low was 18.
***** Has this sentence ever been uttered in WPIAL history? "Should Beaver be ranked No. 1 in Class AAA?"
Hey it might sound strange but it's a legitimate question after the Bobcats knocked off No. 1-ranked and previously undefeated Chartiers Valley tonight, 59-55. Beaver is still undefeated this season. The Bobcats were ranked No. 3 in the previous Post-Gazette Class AAA rankings. But maybe Beaver should jump ahead of No. 2 Mars, which has two losses.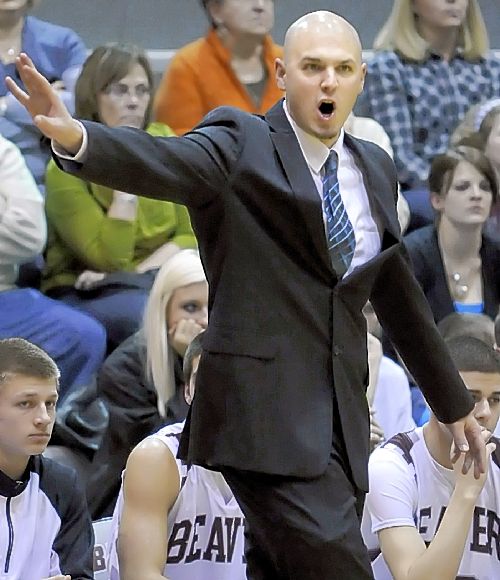 But what a job Andy Podbielski has done as Beaver's coach, turning around a program in only three years. Somewhere, his father, Dave, is proud. Dave was a WPIAL champ at both New Brighton and Beaver Falls, but passed away suddenly 10 years ago.
A year ago, Podbielski (pictured) guided Beaver to a memorable season, winning 19 games and making the WPIAL semifinals for the second time in school history. This is a program that, until last season, did not finish above .500 since 1996-97. Six seasons ago, the Bobcats were 0-22.
I can't say I'm surprised at Beaver. I saw Beaver a few times in some spring leagues and shootouts, and they have talent. I don't know if I thought they would be a No. 1-ranked team, but I thought definitely in the top five. Kudos to Podbielski.
***** Congrats also to Danny Holzer, who got his 300th win tonight as Upper St. Clair's coach. He has a 300-148 record in 18 seasons as the Panthers' coach.
***** From the Where Are They Now department: All of a sudden Aaron Johnson is playing basketball again - and playing well.
Johnson was a standout player at Moon a few years ago. He went to Princeton, but did not play basketball. He transferred to Clarion in the summer, but did not play in the fall semester. He is now eligible and is doing some big things for Clarion. Johnson had his second double-double in three games tonight when he had 19 points and 15 rbounds
More in this category: