North Allegheny places six on all-state team
Whether it was on the field or on the all-state team, the North Allegheny football team was dominant.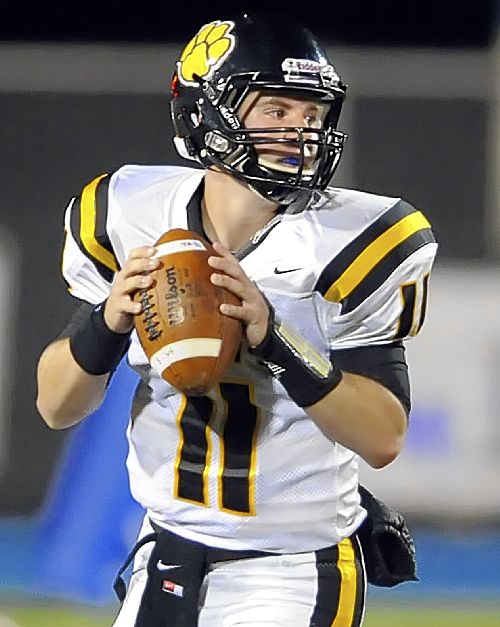 North Allegheny finished 16-0 this season and placed a half dozen players on the Pennsylvania Sports Writers All-State Football team that was released today. On top of that, North Allegheny quarterback Mack Leftwich (pictured) was named the Class AAAA Player of the Year.
Leftwich threw for more than 3,000 yards this season and had more than 7,000 yards offense in only two seasons at North Allegheny. He will play next season at University of Texas at El Paso (UTEP).
Besides Leftwich, the other five North Allegheny players to make all-state were offensive lineman Pat Kugler, receiver Gregg Garrity, tight end Zach Lyon, defensive lineman Jeremy Gonzales and defensive back Brendan Coniker.
The other five players from the WPIAL to make the Class AAAA team were Gateway quarterback Thomas Woodson, Woodland Hills defensive lineman Jawan Turner, Woodland Hills linebacker Alex Beasley, McKeesport linebacker Hodari Christian and Gateway defensive back Montae Nicholson.Nicholson is the only junior from the WPIAL to make the AAAA team.
The Class AAA all-state team had eight players from the WPIAL, including two from Montour – offensive lineman Matt Barone and "athlete" Devin Wilson. Wilson played receiver and running back for Montour and set a WPIAL record for career receptions.
The other WPIAL players on the Class AAA team were Central Valley receiver Robert Foster, West Allegheny offensive lineman Jordan Diven, Belle Vernon offensive lineman Dorian Johnson, West Mifflin "athlete" Derrick Fulmore and Franklin Regional linebacker Carter Henderson. Fulmore played quarterback for West Mifflin.
Foster will announce his college decision tomorrow and will choose from Pitt and Alabama.