Pine-Richland football coach Altemus retires
Clair Altemus retired as Pine-Richland's athletic director in th spring. He liked the retirement so mcuh that he also decided to retire as Pine-Richland's football coach.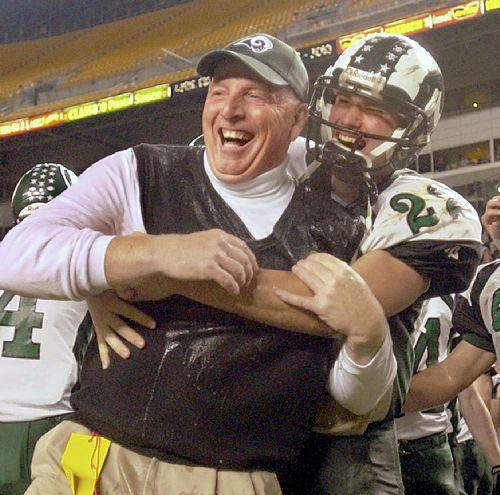 Altemus told school officials and his players that he is stepping down after 16 seasons. He guided the Rams to a WPIAL title, a spot in an epic PIAA title game and also coached future Pittsburgh Pirate Neil Walker. (Altemus is pictured getting a hug from Walker after the 2003 WPIAL title game.)

Altemus was Pine-Richland's coach for 16 seasons.
"I realized about three months after retiring as AD that it was kind of nice not having to work every day and listening to people tell you what to do," Altemus said. "I figured out about halfway through this football season and to go ahead and make that decision to retire from coaching as well.
"As the season ended it was apparent I was enjoying my freedom and wanted more time to spend with my family and travel."
Altemus won a WPIAL title in 2003 and led the Rams to the PIAA AAA title game that year. The PIAA championship is legendary. It was played in a snowstorm. Manheim Central beat Pine-Richland, 39-38, in two overtimes.
"I have no regrets," Altemus said. "I got to coach in the Big 33 game, I got to coach players like Neil Walker and Kevin McCabe. It's been a great ride and certainly the people at Pine-Richland are wonderful and nothing but great."
"It's time to turn it over to youth and have someone else take over. I'm going enjoy my retiremenbt, go see my grandkids more and do some traveling and other things you're supposed to do when you retire".
More in this category: