NA's Leftwich might end up as a Sean Kugler recruit at UTEP
Steelers offensive line coach Sean Kugler will be the new head coach at UTEP - and one of his recruits might be a quarterback from North Allegheny High School.
Mack Leftwich is North Allegheny's star senior QB who made a verbal commitment earlier this season to Stephen F. Austin, an NCAA Division I-AA school in Texas. But with the developments of Kugler in the past few days, Leftwich might go up one level and play Division I-A at UTEP under Kugler.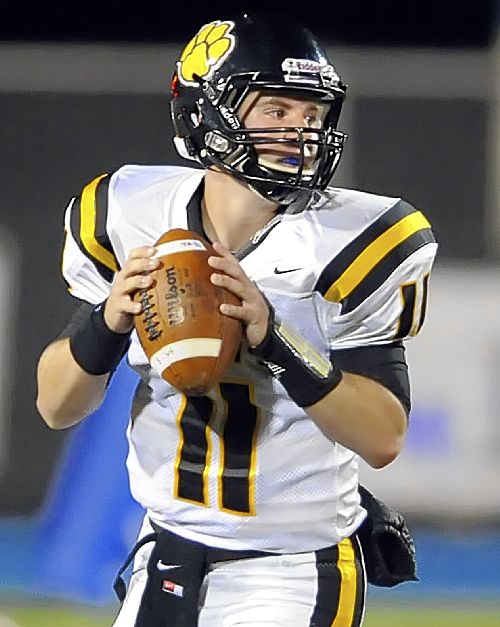 Leftwich to UTEP makes perfect sense because Leftwich is a teammate of Kugler's son, Pat.
"I don't know what's going to happen. I just have to wait and see," Leftwich said.
He added he probably won't decide anything until after North Allegheny plays in the state championship game this weekend. Just a hunch here, but I'd guess the odds are pretty good that Leftwich will be playing in the state of Texas next year - and it won't be at Stephen F. Austin.
In the semifinals against Wilson Saturday, Leftwich became only the third quarterback in WPIAL history to throw for 3,000 yards in a season. North Allegheny plays Coatsville in the title game Saturday at Hersheypark Stadium.
While there is a possibility Leftwich might end up at UTEP, I hope people can stop wondering if Pat Kugler will end up at UTEP playing for his father. Pat is NOT going to UTEP. Pat Kugler is ranked among the best offensive linemen in the country and already has made a verbal commitment to Michigan. He said today he is 100 percent sure he is still going to Michigan.
QB showdown
There are no records to prove it, but I'm going to say there has never been a PIAA championship game matching two quarterbacks that have 6,000 yards passing between them.
Leftwich has more than 3,000 yards passing and Coatesville quarterback Emmett Hunt has more than 2,900.
I say North Allegheny still wins, but Coatesville hails from District 1 - and District 1 has produced some pretty good teams over the years.
Other PIAA notes
* Clairton will play Dunmore in the PIAA Class A final and Dunmore's Jack Hanzes is the second-winningest coach in Pennsylvania history. Henzes is in his 46th season overall and has a record of 371-152-8. His 2007 team lost to Jeannette and Terrelle Pryor in the Class AA final.
* Doesn't this have to be the bigest team Clairton has faced this year? Dunmore's starting offensive line is Mike Boland (6-5, 265), Cory Jones (6-2, 195), Dan Drewes (6-2, 250), Jake Korgeski (5-11, 230) and James McHale (6-7, 285).
* Aliquippa will play in the Class AA championship against a Wyomissing team that features Notre Dame recruit Alex Anzalone. Although he was recruited as a linebacker, Anzalone has been terrific as a fullback in Wyomissing's wing-T offense.
More in this category: