After Pitt scholarship offer, future uncertain for Clairton's Webb
Recruitiing tidbits
Clairton football player Terrish Webb had made a verbal commitment to Kent State this fall. But after a phone call he received Saturday, he is not sure where he will play college football.
Pitt offered Webb a scholarship Saturday morning. Pitt receivers coach Bobby Engram called Webb to make the offer and Pitt coach Paul Chryst also spoke with Webb. Although Pitt was showing interest in Webb and Engram was speaking with Webb regularly, Webb was still surprised by the offer.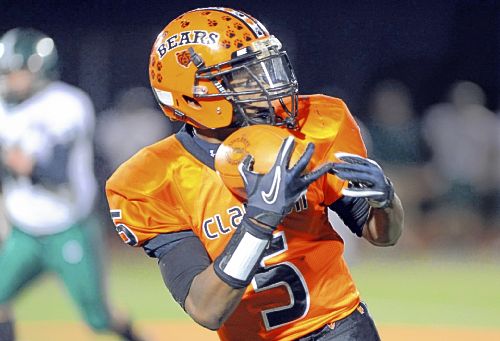 "I'm still in the thinking process," said Webb (pictured). "This was unexpected. It happened so fast, I'm still thinking about things."
Clairton defeated Sto-Rox in the WPIAL Class A championship Friday at Heinz Field for a state-record 60th win in a row.
"Coach Engram said they were at our game Friday and he said after the game that it was only right to offer me a scholarship," Webb said.
Webb said he will make three official visits before he decides anything. He plans to visit Kent State, Pitt and Toledo. Kent State is 11-1 and will play for the MAC championship Friday against Northern Illinois. Webb said Kent State "is still at the of my list," but that he was definitely going to consider Pitt.
Webb is aWR-DB and said he isn't sure what position Pitt likes him.
"I'm going to take my official visits and see how things go," Webb said.
**** Pitt already has one recruit from Clairton. Receiver-defensive back Titus Howard committed to the Panthers in the summer. Plus, Pitt is trying to land Clairton star Tyler Boyd.
Boyd visited Pitt last weekend and is seriously considering the Panthers. He also last week that he was looking at Penn State again. Boyd was seriously considering Penn State until the school was hit with NCAA sanctions this summer. He then soured on the Nittany Lions. But he recently started to like Penn State again and Boyd said he was planning to visit Penn State for the Wisconsin game Saturday.
But Boyd didn't go to Penn State for the game. Clairton assistant coach Eric Fusco said Boyd stayed home and got some treatment on his back, which has been bothering him lately.
**** On the basketball recruiting front, here is a player to watch for the upcoming season: 6-foot-10 Wyatt Hagerty of Bethel Park.
Haggerty received a Division I scholarship offer from James Madison last week. Hagerty has improved greatly over the past year or so, growing into his large body, moving better and improving his post game. Bethel Park coach Ben O'Connor said New Hampshire and Northern Illinois also are interested in Hagerty.
More in this category: