Upper St. Clair is rather defensive ..... other notes
I'm just sayin'
North Allegheny's defense has been praised this year - and rightly so. But Upper St. Clair's defense isn't far behind.
Upper St. Clair quarterback Pete Coughlin gets most of the publicity for Upper St. Clair, but don't overlook Jim Render's defense. It has two shutouts in a row in the playoffs and the Panthers have held six opponents to three points or less.
Next up for Upper St. Clair is Woodland Hills. The Wolverines' offense has been impressive this year, especially with the pass. But I can't see Woodland Hills racking up points against Upper St. Clair.
The two met in the season opener and Upper St. Clair won, 31-12. Unless Woodland Hills makes key turnovers, don't look for a 19-point margin this time. Look for a much closer game. Remember, Upper St. Clair did not have a touchdown in the first half of that first game and trailed at one point, 12-0.
**** I think any coach - in football or basketball - would probably like to have about 30 David Ursos.
Urso is a senior at Central Catholic. What he did Friday and Saturday says something about him and his attitude. He is a Central Catholic starter in football and played the entire game Friday night in a 38-0 loss to Upper St. Clair. Saturday morning, he was at North Allegheny with the Central Catholic basketball team playing in a preseason shootout. Urso is one of Central Catholic's top basketball players. Don't you think he had to be a little sore less than 24 hours after a physical game like Friday? But he played three games with the basketball team in four hours.
I loved it.
**** I'm just wondering: Has Terry Smith coached his last game at Gateway?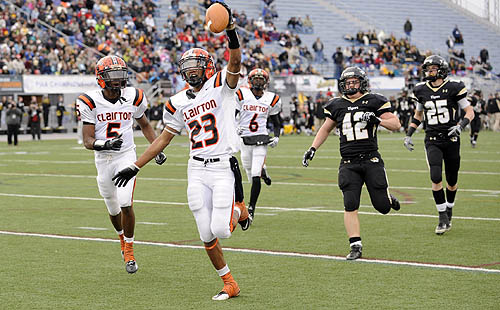 **** I looked at the stats of Clairton's Tyler Boyd today. Boyd (pictured) is averaging 35 yards on his 38 touchdowns. Wow! Plus, he has scored five different ways this year - on runs, receptions, a few punt returns, an interception return and a fumble recovery return.
Clairton plays Neshannock in the WPIAL Class A semifinals Friday. Talk about a difference in traditions. Clairton is one win away from tying the state record for the longest winning streak (59 games) and has won the past three WPIAL titles. Neshannock never won a playoff game before this season.
**** I know it's the football playoffs, but I have to mention the official start of basketball practice in Pennsylvania is Friday. Always good to know the roundball sport is right around the corner.
**** Speaking of basketball, Kiski School guard Major Canady recently made a verbal commitment to Drexel.
**** Does anyone else wonder what kind of competition there is sometimes in some of these private school or independent school leagues around the country. Why? Well, in North Carolina this weekend there was an Independent Schools Division state playoff game and Davidson Day beat Harrells Christian, 104-80. C'mon man! This was a state playoff game? I wondered if it was a 7 on 7 game and West Virginia University's defense showed up - to play for both teams.
But get this: Davidson Day quarterback Will Grier threw for a national record 837 yards in the game. C'mon man!
More in this category: