Boyd to visit Wisconsin ...... Other notes
Some things that fell off my laptop heading into the quarterfinals of the WPIAL playoffs.
Clairton's Tyler Boyd doesn't have a final list of colleges, but it looks like Wisconsin will be a major player in his recruiting game.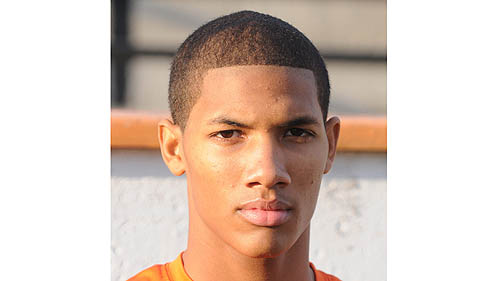 Boyd plans to make a visit to the University of Wisconsin for the Badgers' game against Ohio State Nov. 17. Boyd has more than two dozen scholarship offers. Among others that he is considering are Pitt, West Virginia, Ohio State and Notre Dame.
Speaking of Boyd, don't you think the WPIAL player of the year award is still very much up in the air? Although Boyd is definitely one of the major contenders.
***** Harvey Smith is no longer the football coach at Imani Christian. This was Imani's first year playing a WPIAL schedule. Smith wouldn't say whether he resigned or was asked to leave, but did confirm he is no longer the coach.
***** Root Sports will televise the Seneca Valley-Mt. Lebanon WPIAL Class AAAA quarterfinal game live this Friday from North Allegheny.
***** When will West Allegheny or Montour score a touchdown in their game this week? Or will they? Remember, the last time they met a few weeks ago, Montour won, 5-3. The West Allegheny-Montour game will be the Comcast Game of the Week. It can be seen "On Demand" by the Monday after the game.
Comcast's game of the week the past week was North Hills against Woodland Hills. It is now available "On Demand."
***** The first round of the playoffs brought little surprise. I would say the closest thing to an upset was Hopewell defeating Hampton. Hopewell was a No. 11 seed. Overall, home teams were 24-8 in the first round. Some higher-seeded teams did lose, but they weren't really upsets. For example, was anyone really surprised that Beaver Falls won at Freeport, or Mount Pleasant won at Burrell, or Neshannock won at Jefferson-Morgan, or Bethel Park won at McKeesport?
To me, one of the most shocking things of the first round was that Gateway was leading Peters Township by only 21-19 in the third quarter. Gateway ended up winning, 35-19.
The seedings might have said the Belle Vernon-Central Valley game was a surprise. No. 3 Class AAA seed Central Valley needed a late field goal to beat No. 14 Belle Vernon. But remember, Central Valley played without star WR Robert Foster, leading rusher Jordan Whitehead and quarterback Nathan Climo. Sorry, but I don't know any Class AAA team that could lose three players like that and not take a big drop.
Foster will be back this week. I'm not sure of the status of Climo (head injury) and Whitehead (shoulder) yet, but I'm hearing Climo is out.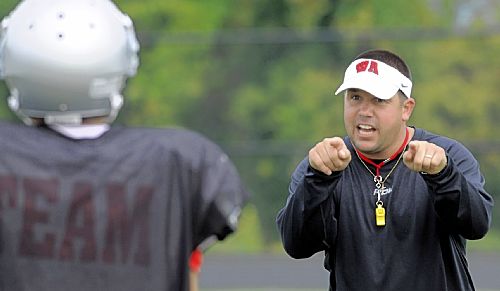 ***** I think it has gone pretty much unnoticed this year, but hasn't West Allegheny's Bob Palko done one of the best coaching jobs in the WPIAL? It's not like the Indians have a plethora of star players or Division I prospects swimming in their talent pool. But here they are, 9-1 and in the WPIAL quarterfinals. When the subject is best coaches in the WPIAL, Palko (pictured) still deserves to be mentioned. In case you forgot, the guy does have five WPIAL championships. And he won titles before and after his son, Tyler, played there.
***** I'd say the Class AAAA quarterfinal matchups are the best of all the classifications this weekend. Upper St. Clair vs. Central Catholic, Gateway vs. Woodland Hills and Seneca Valley vs. Mt. Lebanon are all sexy matchups. Can Bethel Park stay close with North Allegheny?
***** Ya think Miles Sanders might be a player to watch in the future? He's only a freshman, but leads Woodland Hills in rushing with 547 yards on 97 carries, and had 120 last week against North Hills.
***** A group of kids who deserve kudos: the offensive linemen at Mars. These guys are most certainly on the smallish side, but, oh, how they can block. How do you think sophomore Josh Shultheis has more than 1,600 yards rushing? But are these Mars linemen better in high school than coach Scott Heinauer was as a lineman at Sto-Rox? Hey guys, go debate that with coach Heinauer.
***** It has been 10 games and 10 mercy-rule wins for South Fayette. The Lions can't go 11 for 11, can they? You wouldn't think so against Beaver Falls.
***** Aliquippa is big enough on the lines this year that the Quips would have been highly competitive in the Class AAA Parkway Conference.
***** This week's installment of "Varsity Xtra" video. Scroll down to the "video" section.
***** I remember the days in the 1980s and even for a while in the 1990s when a running back reaching 4,000 career yards rushing was big news. Now it gets merely a sentence or two in a story. It's understandable, though. Every year it seems at least two or three runners are reaching 4,000 yards. In other words, it's not all that unusual any more. It's still an impressive feat, though.
***** OK, a little note about another sport. I really have trouble understanding the PIAA's thought on playoff brackets sometimes. Canon-McMillan wins the Class AAA boys soccer championship. A week ago, Canon-McMillan beat Peters Township in the WPIAL semifinals. Then Canon-McMillan has to turn around and play Peters Township in the first round of the PIAA playoffs. Huh? I guess the PIAA is trying to save schools some on travel expenses because the other teams in the western half of the bracket are Delaware Valley, Central Bucks East, State College, Cumberland Valley, McDowell and Upper St. Clair. Canon-McMillan beat Upper St. Clair in the WPIAL championship.
I just don't see the point of having to play a team in the WPIAL semifinals and then again in the first round of the PIAA playoffs.
More in this category: