Playoff predictions ..... Foster closer to a decision?
Below are playoff predictions for the WPIAL first round and for the City League championship, but first ...
Robert Foster, the heavily-recruit receiver at Central Valley, is close to making his college choice. But maybe not.
Foster visited the University of Alabama this weekend and last night on his Twitter account wrote "I think I'm ready to COMMIT." He also "tweeted" that his mother likes Pitt and his father likes Alabama. Foster had also said Ohio State was his other finalist, but this looks like a Pitt-'Bama game.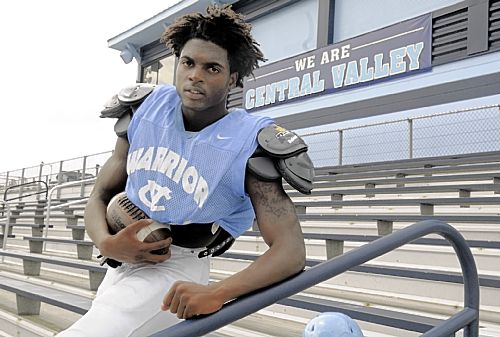 But it turns out that Foster is NOT be ready to commit.Central Valley coach Mark Lyons was going to meet with Foster late this morning. Lyons said Foster was still going to make a visit to Pitt and the Pitt coaches were working hard this morning to make sure that visit still occurred in the future. Then a short while ago, Foster tweeted "I may have spoke to soon. I will to take my official visits then make a decision. This will be my last tweet concerning this matter"
Apparently Foster's "tweet" about a possible commitment caused a lot of commotion. Foster also "tweeted" that he will not announce his college choice on Twitter. Good decision. Lyons also has an idea - and I totally agree with it: Stop tweeting anything about recruiting. Many times, all it does is create unneeded commotion.
Now onto the predictions (tomorrow's live blog will be from Blackhawk at Mars, with updates from playoff games around the WPIAL)
CITY LEAGUE CHAMPIONSHIP - Perry over University Prep.
WPIAL CLASS AAAA - North Allegheny over Altoona; Bethel Park over McKeesport; Seneca Valley over Hempfield; Mt. Lebanon over Butler; Gateway over Peters Township; Woodland Hills over North Hills; Upper St. Clair over Kiski Area; Central Catholic over Penn-Trafford.
WPIAL CLASS AAA - Thomas Jefferson over Hollidaysburg; Franklin Regional over Elizabeth Forward; West Allegheny over Ringgold; Montour over Trinity; Mars over Blackhawk; West Mifflin over Knoch; Central Valley over Belle Vernon; Hampton over Hopewell.
WPIAL CLASS AA - Aliquippa over Steel Valley; Mount Pleasant over Burrell; Jeannette over South Allegheny; Beaver over Valley; South Fayette over Freedom; Beaver Falls over Freeport; Washington over Shady Side Academy; Seton-LaSalle over Greensburg Central Catholic.
WPIAL CLASS A - Clairton over Frazier; Brentwood over Springdale; Neshannock over Jefferson-Morgan; Monessen over Apollo-Ridge; Sto-Rox over Carmichaels; Beth-Center over Union; Rochester over Avonworth; Bishop Canevin over North Catholic.
More in this category: