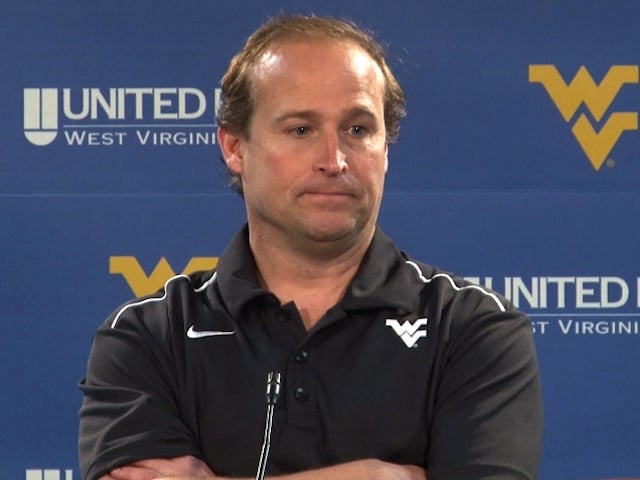 MORGANTOWN, W.Va. -- West Virginia coach Dana Holgorsen joined the media corps Tuesday for his weekly press conference.
Here are a few news bullets:
• Next up: Iowa State (2-9, 1-7 Big 12). "They're without a doubt the most competitive 2-9 team in the country." Shut out Kansas last weekend to earn first Big 12 game. "They're an incredibly tough outfit." Seems they've found their identity offensively, going with QB Grant Rohach, a name Holgorsen admittedly had no idea how to pronounce. LB Jeremiah George "is just a tremendous football player." On special teams, have already broken three kickoffs loose, and there could have been three more. Team got some real momentum last week after taking some tough losses. "Been telling the guys all week that at this time of year it doesn't matter who you play, it's who has energy and effort and will fight its butt of that will win."
• Can't dwell on the Kansas loss, just like you can't dwell on wins. "We got over Kansas the next day." Been "relatively happy" with the way they've prepared.
• Developmental week last week, but didn't necessarily learn anything new from the young guys. It was just three days, it doesn't hurt but it also doesn't do a ton for you.
• Iowa State is going to try to run and stop the run. A lot of the rushing yards Iowa State has allowed has been by QBs, "which we don't have the luxury of doing." Going to try to establish the run anyway, and when they start stacking the box, WVU will turn to the pass.
• QBs: Clint Trickett and Paul Millard are splitting the reps 50/50 this week. Ford Childress is available but won't be the starter. "We haven't had a winning performance offensively this year, not one time." Says to point the job at him, he didn't get people prepared well enough. "I don't expect ever again to be in the same situation again that we were in this year."
• Senior class: "It's been tough for them. I appreciate these guys." Job on Saturday is to put the best foot forward on Saturday for the seniors. "This will be the last week together as a team, so we've got to make it count."
• RBs: "There's not difference" in how WVU is using Wendell Smallwood compared to Charles Sims. Holgorsen had Sims as a true freshman and saw the exact same thing. Smallwood has learned from Sims this year, and that'll play a large role down the road. "Not a lot of people do what we do with them."
• Injury report: Darwin Cook, Curtis Feigt, Isaiah Bruce, Daryl Worley are questionable and haven't practiced to the point where they can play yet. Jared Barber had surgery. KJ is out. Christian Brown will be back in January. Malik Greaves has a hip problem, will be back in March. Doug Rigg should be back and good this week.
• Thankful for: seniors and the Big 12. "I think we're a better football team this year than last year, minus maybe one or two guys."
---
Stephen J. Nesbitt: This email address is being protected from spambots. You need JavaScript enabled to view it. , 412-290-2183 and Twitter @stephenjnesbitt.