In this college football desert of July, and with this upcoming season marking the 10th anniversary of West Virginia's 2005 team that won the Sugar Bowl, I've decided to count down the 10 most important Mountaineers games of the past decade.
Over the next three weeks, we'll work from 10 to one, with one entry appearing every few days. Lists like this are arbitrary by nature, but the hope here is to find the games that had the biggest impact on the West Virginia program both at that time and well into the future. So, before we get going, a disclaimer: these aren't necessarily the best, most compelling games, but rather the ones that had the most profound role in steering the Mountaineers to where they are today.
Before we get going, here are the previous games on the list:
No. 10: West Virginia 31, North Carolina 30 (2008)
No. 9: East Carolina 24, West Virginia 3 (2008)
No. 8: West Virginia 70, Baylor 63 (2012)
No. 7: Kansas State 55, West Virginia 14 (2012)
No. 6: TCU 31, West Virginia 30 (2014)
The bottom half of the countdown is now complete and we're on to the meatiest, most meaningful games of the past decade. For today, No. 5:
West Virginia 70, Clemson 33; Jan. 4, 2012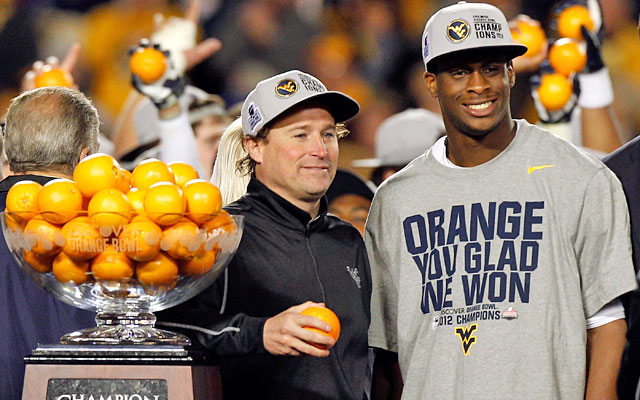 (Photo: Getty)
Part of the popularity of sports ties back to their ability to compel, to lure us in with tight, back-and-forth battles of will that keep us on edge until there are nothing but zeroes on the clock. It's the drama of it all that makes it such gripping theater.
But if a fan is being honest, does anything really beat a good, thorough beatdown (if it's their team doling out the pain, of course)? A rout over some no-name FCS or low-level FBS school is expected, but there's a special kind of euphoria that comes when a game that, by design, is supposed to be close turns into a blowout.
West Virginia experienced that joy in 2012, when it mercilessly and unceremoniously undressed a Clemson team that entered the Orange Bowl as a 3.5-point favorite. The idea of the Mountaineers winning this game was far from inconceivable; the fashion in which they did it, though, certainly was.
Trailing, 17-14, after the first quarter, they unleashed a 35-point onslaught in the second quarter that included three touchdowns in the final 2:30 of the half. By the nine-minute mark of the third quarter, that lead grew to 63-20 as a national TV audience gazed in awe (or, in certain parts of South Carolina, agony).
Part of this game's allure came from the sheer entertainment it provided – knowing that a touchdown could very well happen on any given play – but, at least from my vantage point, it was akin to watching the aftermath of a car wreck. The result had long been decided, but you couldn't help but be captivated by what was unfolding. How was it that a team that lost two months ago at home to a 4-4 Louisville squad starting a freshman quarterback (granted, a pretty good one in Teddy Bridgewater) was dismantling a major conference champion with a high-powered offense featuring, among other things, three future NFL wide receivers?
Even for an impartial observer, there was a surreal quality to it.
In reality, the win didn't mean that much. At the very least, it didn't resonate much beyond that night and the few months that followed, and its inclusion in the top five of this list is mostly due to the fact that it was a BCS bowl game.
That's not to say there was nothing to it. The importance of a BCS bowl appearance, let alone a win, can't be overlooked, especially from an exposure and profile standpoint. If anything, the win also bought Dana Holgorsen a slew of goodwill, something he would need the next few years as West Virginia imploded after a 5-0 start (2012), hobbled its way to a 4-8 record (2013) and faded down the back stretch after another encouraging start (2014).
The win itself – and especially the fashion in which it unfolded – was a realization of the promise that came when the Mountaineers were able to pry one of college football's most coveted assistants and top offensive minds in 2010. The rout of the Tigers, which came two months after West Virginia made the leap to the Big 12, was a vigorous farewell to the Big East and a potential sign of what it could unleash on its new conference.
Though the latter part of that has yet to materialize, that January night still stands as one of those precious moments when everything seemed to come together and nothing could go wrong.
Craig Meyer: This email address is being protected from spambots. You need JavaScript enabled to view it. and Twitter @CraigMeyerPG