Taking a look back at football and taking a look around at basketball, it's time for ...
I'm just sayin'
*****Since the beginning of the season, I had wondered if Central Catholic had to pass in a game, what would happen? It took 16 weeks to find out.
Central Catholic really didn't have a game where it had to pass until the state title game Sunday against St. Joseph's Prep. When it turned out the Vikings had to go to the air, the results weren't good.
St. Joseph's Prep grabbed a second-half lead and although Central Catholic's Luigi Lista-Brinza rushed for 129 yards, the Vikings needed some successful passes. Central Catholic finished with only 49 passing yards.
True, Central Catholic starting quarterback J.J. Cosentino sustained an injured ankle in the third quarter and did not return. But he had thrown only six passes a game and completed less than 50 percent of his throws heading into the game. Cosentino finished 1 of 4 for 7 yards. Backup Graham Adomitis was 2 of 5 for 42 yards.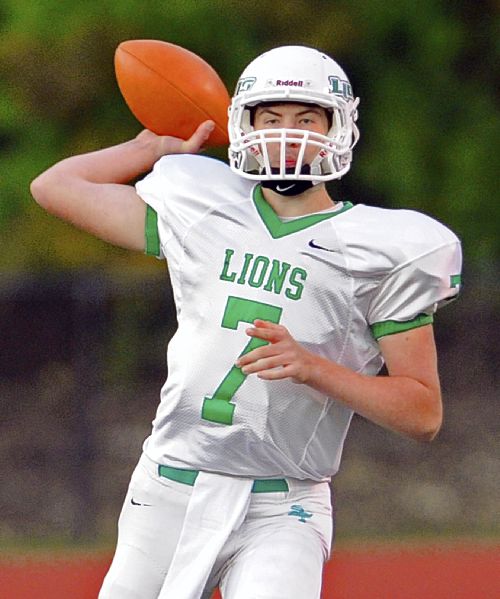 ***** Barring injury, South Fayette quarterback Brett Brumbaugh will break the WPIAL passing record next year. He finished this year with 7,325 career yards and needs about 1,200 next year to reach Lenny Williams' record.
Incidentally, although South Fayette loses some key players to graduation, the Lions should be very good again next year. Brumbaugh (pictured) is back and so are some other starters. And the future looks bright beyond next year. Coach Joe Rossi believes he might have another talented quarterback coming up in freshman Mike Speca.
***** I hate to address unfounded rumors. But in case you hear that the new Cardinal Wuerl North Catholic might have open coaching jobs next year, don't believe it. Athletic director Mike Burrell said all coaches will be back when the new school opens in Cranberry next year.
"Why wouldn't they be?" Burrell said.
***** Geibel will not play football in the WPIAL next year. The Gators had to forfeit some games the past two years because of not having enough players. They will try to play some JV games next year and also possibly some games against small WPIAL schools that might have an open date or two.
Good move by Geibel. The Gators really shouldn't have said they would play this season. Just not enough players.
***** Gateway receiver-defensive back Montae Nicholson will announce his college choice tomorrow. Great.
Another news conference by a high school kid. Friday, Washington running back Shai McKenzie announces his choice. Last week was Aliquippa's Dravon Henry.
It seems every kid wants his show. Just guessing. Who do you think has had more news conferences the past two weeks? WPIAL football players? Or the President?
Just a guess on my part but I say Nicholson (pictured) is either Pitt or Michigan State. Oregon, Florida State and Virginia Tech are his other three finalists.
***** New Castle and Hampton met in the Class AAA title game two years ago and the AAAA title game last year. And wow, are they looking strong again.
Hampton has outscored opponents, 81-47, and New Castle, 80-47. I didn't think New Castle, with the loss of Shawn Anderson and a few others, could be as good this season as last. Maybe I'm wrong. I saw Hampton last Friday and the Talbots looked tremendous.
***** There are seven teams in Class AAAA averaging at least 70 points. Five are in Section 3. They are Hampton, New Castle, North Allegheny (81), Seneca Valley (74) and North Hills (70).
***** Shoutout to Jerry Roman, head of the WPIAL golf committee who is battling a health issue but is now out of the hospital and back home. A lot of people are pulling for you, Jerry.
***** Post-Gazette Player of the Year, Coach of the Year and all-conference football teams come out in Friday's paper.
***** With New Castle moving down to Class AAA basketball next season and Beaver Falls deciding to play "up" to Class AAA, look for those two to play in the same section. The section with Central Valley, Blackhawk, etc., could turn into a super section. Hopefully the WPIAL does what it can to create some competitive balance.
***** Cam Johnson, a 6-foot-6 point guard for Our Lady of the Sacred Heart, has missed the past few games with a hamstring injury. He was averaging 30 points after two games. Johnson has a few Division I college scholarship offers.
***** Fox Chapel's Matt D'Amico is quickly moving up the list of all-time leading scorers at his school and passing up some pretty good players in the process. He passed up Stu Lyons (1,022) last week and Erik Nelson (,1046) Tuesday night. Lyons played at Georgia Tech and Oregon, while Nelson played at Vermont.
D'Amico is now third on the list with 1,040 points. Chris Hudak is second with 1,066 and Dave Ostrosky first with 1,312. Ostrosky graduated from Fox Chapel in 1989 before also playing at Vermont.