The winner of tonight's boys basketball game between Beaver Falls and Aliquippa wins the WPIAL Class AA Section 2 title. For Beaver Falls, a win keeps alive an impressive streak.
Beaver Falls has won six section titles in a row under coach Doug Biega. It is the longest active streak in the WPIAL and a win against Aliquippa would give the Tigers seven in a row and put them closer to the top six section title streaks all time in the WPIAL.
Here are the longest section championship streaks.
1. Blackhawk 14 (1990-2003)
2. Ford City 12 (1928-39)
2. (tie) Wampum 12 (1950-1961)
4. Uniontown 11 (1956-66)
4. (tie) Aliquippa 11 (1997-2007)
6. Washington 10 (1950-59)
It is a little coincidental that Beaver Falls is playing Aliquippa. Aliquippa had won 11 section titles in a row from 1997 through 2007 until Beaver Falls stopped the streak in 2008.
Tonight's game figures to be close. First-year Aliquippa coach Nick Lackovich has done a good job in bringing Aliquippa basketball back to prominence in Beaver County. The Quips are 15-5 after finishing below .500 the past three years.
What's also interesting is that Lackovich spent the past few years as an assistant at Beaver Falls under Biega. The picture below is from last year of Biega coaching Beaver Falls, with Lackovich on the bench nearby.
This might be the year to get Beaver Falls. The Tigers lost a few starters from last years state championship team and standout point guard Elijah Cottrill is done for the season with a knee injury. He is supposed to have surgery today.
But Beaver Falls might be very good again in the future. Biega is playing a few talented, good-sized freshmen, including Donovan Jeter, younger brother of former Beaver Falls star Sheldon Jeter. But this is Beaver Falls' final year in Class AA. The Tigers are moving up to AAA next year. The school's enrollment still is Class AA, but the Tigers have chosen to play up. They will likely play in the same section as Central Valley, Blackhawk and probably New Castle, which is moving down from Class AAAA to AAA.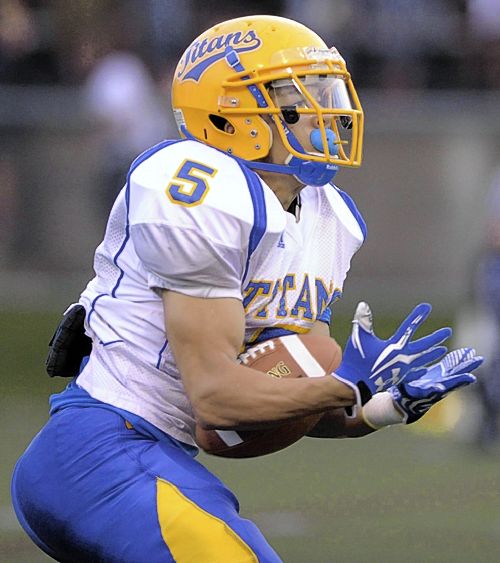 Wheeler still undecided
All but one of the seniors on the Post-Gazette Fabulous 22 all-star football team signed with a college Wednesday, the first day high school seniors could sign a binding letter of intent with a school. The only one who didn't was West Mifflin running back Jimmy Wheeler (pictured).
Wheeler said last night he is still deciding between California University of Pa. and Slippery Rock.
Wheeler led the WPIAL in rushing this season.
Just one, please
The most bizarre recruiting story this year had to be a high school player from Florida signing three letters of intent Wednesday with three different colleges.
That's right. D.J. Law of Haines City, Fla., signed with Mississippi Wednesday morning and then Utah in the afternoon. Both of those schools had him on their recruiting lists. But it didn't end there. Law also signed with East Missippi Junior College.
Crazy and idiotic? For sure. Apparently, Law's mother signed his letter of intent with Ole Miss and his father the one with Utah. But the ordeal seems to be over. On Thursday, Mississippi released him from his letter of intent and Law can go to Utah. He signed with East Mississippi just in case he didn't qualify academically.
So Law will be a Ute - apparently.