Know the new guys: Chuck Oliver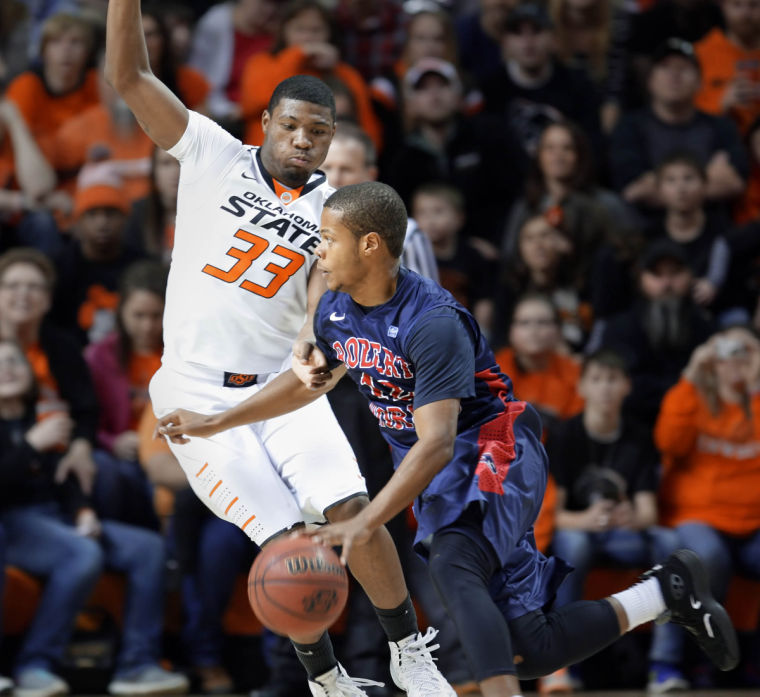 (Photo: Tulsa World. Oliver is the one that is not Marcus Smart.)
Somewhat lost in the wave of suspensions, eight-man rotations and actual games has been the team itself and the individual players that comprise it.
A few weeks ago, I introduced a small feature I'm going to be doing throughout the year where I do a quick Q & A with the players who are in their first season at Robert Morris. With only three such players left on the roster, it's probably time to get through to more of these, which I'll start back with today.
About two weeks ago, before one of the team's practices, I talked for a few minutes with junior guard Chuck Oliver, a junior-college transfer in his first season with the program. We talked a bit about the transition to Division I, growing up in North Jersey and what his experience in junior college was like.
Chris Cappella over at Chronicling the Colonials kind of beat me to the punch with a feature he did on him last week, but right below is a transcript of the conversation I had with Chuck:
How's the season been going for you? "It's been a little up and down, you know. I've hit my learning curves a little bit, but I've been sticking with it. The coaches have been helping me out a lot. I'm just trying to learn everything I can because this system is new to me. I'm just trying to process everything, take it in day by day, get better, learn from each game and other stuff like that."
What was it like growing up in Scotch Plains? "It was a nice suburban town. It's a small, small town, but they have a lot of basketball players that I looked up to growing up – Ashton Gibbs, Lance Thomas, who went to Duke. He lived down the street from me. I was real good friends with Derrick Caracter. I knew all three of them pretty well growing up and those are people I look up to them."
Do you have any siblings? "I have two sisters, one older and one younger."
Did they mess with you a lot growing up? "I was the only boy, so I would get messed with a lot. I grew up with all girls, so that can be annoying at times, being the only male in the house, but I got used to it."
You spent a year at Rider and after that season, your coach [Tommy Dempsey] left for Binghamton. Was that a big factor in your decision or was it other stuff? "I had decided to transfer before that even happened. It was just more of an opportunity. I decided to go to junior college. I figured that would be good for me to play and get experience and then get ready to come back to DI the following year."
What was the one season of JuCo ball like? "It was pretty good for me. I got to learn a lot of things, I got to play a lot. My JuCo team was a good one, so we won a lot of games and I played well, so I got to build my confidence. It was good for me. It was a good experience."
What are some of the biggest differences between DI ball and JuCo ball? "Probably the size, for me personally. In JuCo, there were a couple of teams that were big, but you're not going against seven-footers like you are almost on a daily basis on the Division I level. And the speed of the game is a little faster. JuCo ball is pretty fast, too, but obviously the DI college game is a little bit faster."
Was the transition from junior college to Division I easier than the one from high school to college? "It was easier for me because I'm a little bit older now, a little more mature and it was easier because I came from JuCo to Robert Morris and not straight out of high school. I kind of knew what I was getting myself into because I heard about Robert Morris, the program and the winning tradition it has here."
I'll get you out on this one – if you were stuck on a desert island and could only listen to one song for the rest of your life, what would it be? "That's a good question. I'd just say Jay-Z's 'Song Cry.'"
Craig Meyer: This email address is being protected from spambots. You need JavaScript enabled to view it. and Twitter @CraigMeyerPG
More in this category: