The Drawing Board: Jim Ferry breaks down the Duquesne defense
The Dukes have been abysmal on defense in their first three games. I know it, you know it, coach Jim Ferry knows it.
Duquesne, averaging 85.0 points allowed per game, hosts Albany at 7 p.m. tonight at the Palumbo Center. To prepare, I sat down with Ferry to break down his defense. In the past two games, losses to New Hampshire and West Virginia, Ferry has opened with man-to-man looks before sinking back into a 3-2 (or 1-2-2) zone.
P-G: What's your base defensive preference?
Ferry: "I prefer man, but as I've gotten older I've used more zone — ¾-court press back to a zone, I've done that a little bit more. The way we play, there are more possessions than in a normal game. So, if we're not defending to the rate that we need to defend at, the other team gets more possessions as well. That's where we're stuck at right now. We're out-rebounding our opponents. We're out free-throwing our opponents. We're doing a decent job with turnovers. It's about getting our stops.
"In the first game we got up 30, so it's hard to judge by. But these last two games we've given up a high percentage from the field, and that's got to clean up. We can't allow these high-percentage shots — easy looks on the basket and step-in 3-pointers. If a guy's going to take 3-pointers, they're going to have to be on the move."
[AFTER THE CLICK: GET TO KNOW THE ZONE]
The transition offense has been pretty successful thus far, keeping the pace quick, have you seen any concerns with the transition defense?
"I don't think we gave up a lot of transition points, but I think we struggled with penetration. We were back at even numbers, but we really got hurt by Juwan Staten really breaking us down. That keeps showing up. It's not just one person. We addressed that today when we really broke down our whole defensive philosophy from step one to step five. To really make sure everybody understands what we have to do and how we have to do it."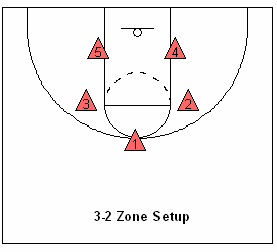 Break down for us the switch you and the staff have made midway from man to zone in the first few games? What sparks the change?
"A lot of it has to do with the feel for the game. A lot of it is something we recognize. Sometimes it's just to change up if a team is starting to feel comfortable. We break down every game while we're playing in the game percentages and what's working better that what. We break it down overall after each game to find what we're having more success in.
"A lot of people think that when you're trying to blend new pieces together the difficulty is offense. It's not. To me it's always been defense, getting these guys to talk together. Getting to know each guy's strength and weakness defensively so you're there for each other. I think we're still at the stage of developing that. Offensively we recruit good kids, good offensive players. Just be unselfish and we'll be fine. And that's how they're playing.
"It's defensively and really getting to know each other, to be there for each other and defend as five instead of defending as one. Now it's one guy doing one job and everyone else doing something different. If four guys are doing it right and one guy makes a mistake then it leads to something bad. We've got to get all five guys playing as one."
Is it easier for guys to look out for each others' assignments in zone?
"Some people do say you can contain penetration better if you're in a zone. It's just that the whole defense, whether it's a man or zone, we've been able to get broken down. We've got to do a better job with that."
Perhaps this is oversimplifying the 3-2 zone, but doesn't it leave you susceptible to the dreaded 3-pointer that UNH and WVU beat you with?
"It leaves the corner 3 open, which is the hardest shot in college basketball."
So you willing to take your chances there?
"We're small, so [the 3-2 zone] allows us to guard the horn, guard the perimeter better. What it does is the spots that are open are the corner 3s, which, again, are the hardest shots in college basketball. We're still trying to close out to it with our forwards."
The inability for your guards to get back out to the perimeter, is that due to them trying to give help in the paint?
"I think some of it is the penetration, helping with the penetration. And some of it is their height."
---
Stephen J. Nesbitt: This email address is being protected from spambots. You need JavaScript enabled to view it. , 412-290-2183 and Twitter @stephenjnesbitt.
More in this category: