Charles Sims, Will Clarke drafted in third round of NFL draft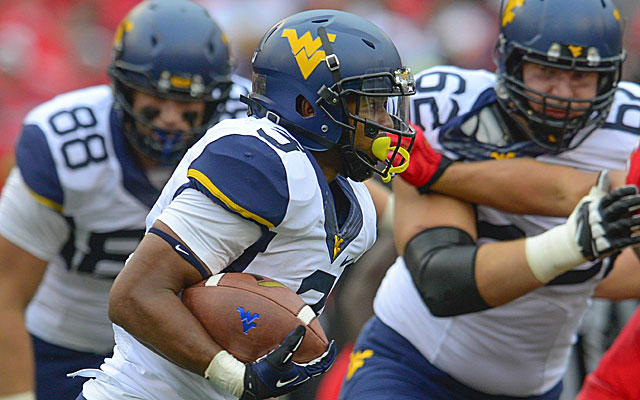 Two Mountaineers heard their names called in the third round of the NFL draft Friday night. Running back Charles Sims, who sparkled in his first, last and only season in Morgantown, was taken 69th overall by the Tampa Bay Buccaneers. Defensive end Will Clarke, a Pittsburgh native, was selected by the Cincinnati Bengals at No. 88.
Through two days of the draft, West Virginia is the lone Big 12 school to have more than one player drafted in the first three rounds. No flashy first-round pick, but that's a nice number for Dana Holgorsen's staff.
Will have more notes and quotes from both players up later, but here's the team's official release.
---
MORGANTOWN, W.Va. – (May 9, 2014) - West Virginia University running back Charles Sims was drafted by the Tampa Bay Buccaneers with the fifth pick of the third round of the National Football League's first-year player's draft, the 69th overall selection, and defensive lineman Will Clarke was drafted by the Cincinnati Bengals with the 24th pick of the third round, the 88th overall pick.
After having three all-conference seasons at the University of Houston, Sims transferred to play his final year at West Virginia. In 2013, he earned All-Big 12 First Team honors, was named the Big 12 Newcomer of the Year and finished as WVU's first 1,000-yard rusher since 2009, posting 1,095 yards on 208 carries and 11 touchdowns. He tied for the team lead with 45 catches for 401 yards and three touchdowns.

Sims was No. 2 in the Big 12 Conference and No. 33 nationally in all-purpose yardage (1,549), No. 3 in the Big 12 and No. 40 nationally in rushing yards, No. 3 in the Big 12 in rushing touchdowns, No. 13 in the Big 12 in points responsible for (84) and No. 14 in receptions per game.

At Houston, Sims finished with 2,370 rushing yards and 29 touchdowns, while registering 1,707 receiving yards and eight touchdowns.

Clarke was an All-Big 12 Conference Second Team honoree in 2013, finishing with a fifth-best 49 tackles for WVU, and a team-leading six sacks and 17 tackles for loss. He was No. 2 in the Big 12 Conference in tackles for loss and No. 16 nationally and was No. 6 in the league in sacks.

For his career, he finished with 111 tackles, including nine sacks and 28.5 tackles for loss and seven pass breakups.
More in this category: