Dana Holgorsen discusses staff changes, spring football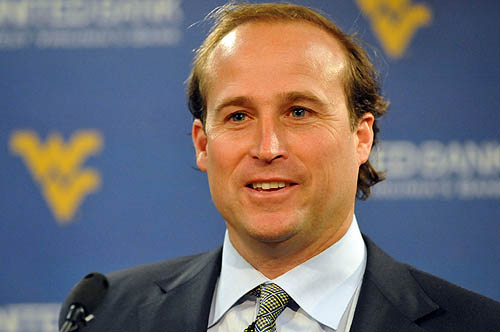 MORGANTOWN, W.Va. — West Virginia coach Dana Holgorsen met with the media Friday for a spring-football luncheon.
Here's a news recap:
• Players have been working with the strength-and-conditioning team for the past two months. "Have had six good weeks of good. The goal at this time is to get this guys bigger, faster, stronger and healthy." Coaches have had nine early-morning sessions with the players to "kick 'em around a little bit, yell at 'em, scream at 'em."
• Spring camp will start Monday, March 2. Will have three days indoor, non-padded practices. After spring break, they'll have four weeks, 12 practices, all padded. Will hold four open Saturday practices. March 22 in Wheeling. March 29 in Morgantown. April 5 in Charleston. Then the next Saturday, April 12, will be the spring game in Morgantown.
• Team will look pretty similar this season, with some needed improvements. "Hopefully the outcomes will be a bit better." Invites fans out to open practices -- show your devotion, we'll show you our improvement.
• Injury report: Clint Trickett, progressing. Had shoulder surgery. Will be throwing gradually throughout the course of spring. Will not participate in spring; will be cleared by summer. Wes Tonkery has had numerous shoulder surgeries and a thumb injury. He'll miss spring. Jared Barber had knee surgery and will miss camp. Tyler Tezeno will miss majority of spring ball after knee injury. Cleared after missing games: Malik Greaves (hip), Shaq Petteway "real close" (knee); Dustin Garrison (knee); Christian Brown (foot), Nana Kyeremeh (shoulder); Ricky Rumph.
• Coaching staff changes: Tony Gibson is new DC. "Nobody cares more about the Mountaineers or West Virginia than Tony does." Got a standing ovation from the players when it was announced to the team. Will be primarily working with linebackers. Damon Cogdell will work with defensive line. Brian Mitchell will work with cornerbacks. Joe DeForest will remain special-teams coordinator.
• Offensive coaching staff won't change, "so should see more continuity with that." Don't have a lot of first-year players, and have a new staff."
• Team has 70 scholarship guys entering spring, many more than they've had in the past. Helps in spring to have two- and three-deep at each position.
• Spring captains: Mike Molinari, Quinton Spain, Cody Clay, Karl Joseph and Nick Kwiatkoski.
• Want to be a three-down front on defense. Depth at linebacker stands out — returning seven guys that have started games at WVU. Have a good mixture of youth and experience at linebacker.
• Defensive line "should have some good battles" for starting position. Kyle Rose has taken on leadership role, at this role. Dontrill Hyman has worked hard. They need to be pushed by the other candidates. At nose, Christian Brown "looks great." Brandon Jackson has moved to nose tackle; "he hadn't been extremely productive for us," so asked if he'd move.
• Safety: Karl Joseph is experienced; K.J. Dillon has recovered from his severe dehydration, looks good. "Those two guys bring a tremendous amount of experience."
• QBs: Skyler Howard "has been doing a great job." Logan Moore has been moved to QB full-time to have third arm in spring. "We've been through spring with two arms, and it's not a whole lot of fun." Paul Millard "has taken a ton of reps and has gotten himself a position where he knows the offense better than anybody."
• RBs: Running back room has a ton of experience. Andrew Buie is back. Rushel Shell "is in shape, looks great."
• WRs: "It's nice to see two- to three-deep at each position." Returning three starters, "and that'll go a long way." Last year had to teach them what to do. Now can teach them how to get better at it.
• OL: "Might have one of the better guard combinations in the country" with Quinton Spain and Mark Glowinski. "Both strong as can be. Those guys should be a tremendous force on the inside." Tyler Orlosky snaps the ball well and has a presence at center. Biggest question mark on offense is the tackle spots. Lost two seniors. Marquis Lucas will be moved to tackle. Adam Pankey, Marcel Lazard, Sylvester Townes "are all big bodies, long and tall. We just have to see who develops."
• This will be the first spring camp with a lot of guys who came in last year. Having a few extra allotted hours per week in the summer will really help the coaches move them along.
• Interviewing guys now for final spot on coaching staff. Will hopefully have an answer early next week. Not saying whether it's an offensive or defensive guy: "best available."
• "We weren't very good last year at executing offensively at key times." Isn't really sure why that happened. Knew what opponents were doing, just didn't execute.
• Speed of play: "Do I have to answer?" Went slower last year than he had in 10 years. "How many times did we snap the ball with the clock in the 30s?" Doesn't think there were many. "I don't think it would affect us very much, but I don't think it's a good rule."
• On coaching changes, bad sign or good sign? "It's both." Continuity is good, but change is too. Some guys left for good positions because of success they had here. "Some of the things that have changed here have changed for the better, in a whole lot of situations."
• To fans: "There were some disappointing losses last year, but I can promise you we're going to work harder, going to have continuity, have experience. Don't forget we're playing in one of the best conferences in college football." Invites fans out to the open practices. "We're working as hard as we can possibly work." He came up with the idea himself. "Much like the spring game is, wanted to open things up and show people across the state that we will put a product out there you can be proud of."
• Skyler Howard asks a lot of questions. He's eager. Players gravitate toward him, and he's a good workout guy. "It's a breath of fresh air for me."
• How to use all the running backs: "It's called competition. It makes everybody better." Didn't have much competition last spring, "and guys get complacent, guys don't try very hard." Can line them up in many different places.
• Alabama: "We're the ones that made the schedule. I'm the one that okayed it. We're trying to schedule as many high-profile games as we can. That's going to be the future of college football." Need to face power-conference teams. "Will it be challenging? Absolutely. We wanted to be relevant."
---
Stephen J. Nesbitt: This email address is being protected from spambots. You need JavaScript enabled to view it. , 412-290-2183 and Twitter @stephenjnesbitt.
More in this category: