Dana Holgorsen National Signing Day presser recap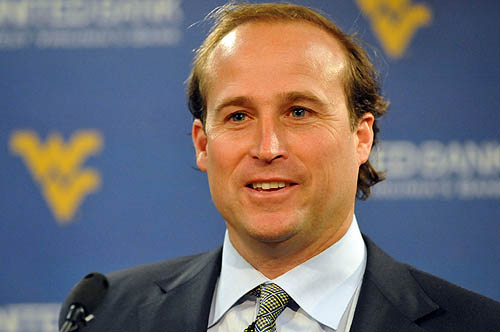 West Virginia coach Dana Holgorsen met with the media Wednesday to discuss the Mountaineers' 22-man recruiting class on National Signing Day.
• "It's been a successful day today." … I was excited to see the first one come in at 7:01, Mr. Henry out of Aliquippa gets the first-of-the-day award." Twenty-two players over 11 states covered in this class. Overall number now is right at 85. "We're excited about getting those numbers to where they're healthy."
• Rushel Shell was added on scholarship at midterm, so he counts toward this class, too.
• Early enrollees have been doing well. Can hear them lifting in the weight room below.
• Offensively, "we took a little bit of everything." Skyler Howard adds good depth, and that's much needed this offseason. William Crest "has been a target of quite some time." Developed a relationship with the staff, Tavon Austin and Geno Smith. WR coach Lonnie Galloway's first job when he was hired was to head to Baltimore's Dunbar High School to get to know Crest, and it worked.
• Staff was able to connect well with RB Dontae Thomas-Williams, who was one of their top RBs on the board.
• Have about 17 kids on offensive line, Holgorsen said. Have to do the same thing on the defensive line now. Got three bodies on the defensive line in this class; "don't know if they'll be able to compete right away."
• Likes the "rangy" linebackers in this class.
• "Really excited about our safeties, obviously." Calls Dravon Henry one of the better players in the northeast; can play safety, nickel, can return kicks. "We feel like it'll be one of the best secondaries in college football." JUCO kid Jaylon Myers is a ballhawk.
• Needs: "We're finally to a point where it wasn't a necessity to fill up [the roster] right now. ... Our numbers weren't where they needed to be."
• Attrition happens: Dante Campbell took a medical hardship redshirt, "so he's done for good" after three shoulder surgeries.
• JUCO numbers: Two of the six JUCOs are "three-year" guys, and two more have redshirt years available to them.
• QBs: Think you'll be able to avoid QB musical chairs this year? "I as well as 1.8 million people hope so." Performance last year wasn't good enough. "Been very candid" with Clint Trickett and Paul Millard, letting them know they are in a competition. Howard idolizes Russell Wilson, "for obvious reasons." Coaches will be able to meet with Crest in the summer, thanks to new NCAA rules, and that will help. "We should be in a much, much, much better position come Sept. 1 than we were a year ago."
• Maybe only two QBs available for spring camp: "It's not ideal." Trickett won't be ready for the first practice of spring, but "there's an outside chance" for after they return from spring break. Logan Moore is also moving back to QB for the spring. "They'll all get a bunch of reps."
• Crest: He's a very eager guy. Skill set is good; strong arm; athletic. Doesn't know what the adjustment period will be, and can't really answer that until coaches get to practice with him.
• OL Dontae Angus: Came over for a visit last weekend and had a great time. Had 10 official visitors this past weekend. Angus can really play on either side of the ball, but they've got him slotted on offense right now.
West Virginia's 2014 recruiting class:
QB William Crest, 6-2, 210 lbs., Baltimore (Dunbar High School)
QB Skyler Howard (JUCO), 6-0, 205 lbs., Fort Worth, Texas (Riverside Community College)*
RB Dontae Thomas-Williams, 6-0, 221 lbs., Durham, N.C. (Hillside High School)
WR Jacob McCrary, 6-0, 182 lbs., Miami (Coral Reef High School)
WR Ricky Rogers, 6-1, 200 lbs., Monroeville (Gateway High School)*
WR Lamar Parker, 5-9, 170 lbs., Miami (Booker T. Washington High School)
OL Dontae Angus, 6-6, 330 lbs., Philadelphia (Martin Luther King High School)
OL Amanii Brown, 6-5, 285 lbs., Morgantown (Morgantown High School)
OL Yodny Cajuste, 6-6, 270 lbs., Hollywood, Fla. (Miramar High School)
OL Walter Rauterkus, 6-6, 286 lbs., Avon, Ohio (Avon High School)
OL Justin Scott (JUCO), 6-5, 290 lbs., Woodland Hills, Ca. (Pierce Community College)
OL Sylvester Townes (JUCO), 6-6, 285 lbs., Memphis, Tenn. (Coahoma Community College)*
DE Jaleel Fields, 6-3, 286 lbs., Aliquippa (Aliquippa High School)
DL Tyree Owens, 6-3, 260 lbs., Oviedo, Fla. (Oviedo High School)
LB Edward Muldrow (JUCO), 6-3, 215 lbs., Snellville, Ga. (Copiah-Lincoln Community College)*
LB Davonte James, 6-1, 233 lbs., Springfield, Ohio (Springfield High School)*
LB Xavier Preston, 6-3, 220 lbs., Jensen Beach, Fla. (Jensen Beach High School)
DB Keishawn Richardson (JUCO), 5-10, 170 lbs., Putnam City, Okla. (Northeastern Oklahoma A&M)*
CB Dravon Henry, 5-11, 185 lbs., Aliquippa (Aliquippa High School)
CB Jaylon Myers (JUCO), 6-2, 195 lbs., North Augusta, S.C. (Hutchinson Community College)
S Daejuan Funderburk, 6-1, 180 lbs., Washington, D.C. (Friendship Collegiate Academy)
* denotes early enrollee
---
Stephen J. Nesbitt: This email address is being protected from spambots. You need JavaScript enabled to view it. , 412-290-2183 and Twitter @stephenjnesbitt.
More in this category: