Dana Holgorsen calls for swift improvements to West Virginia meeting, practice facilities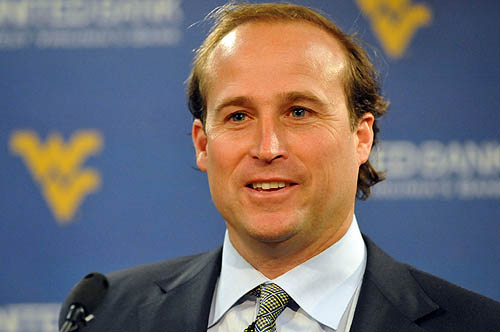 West Virginia coach Dana Holgorsen had plenty to say when asked about what facilities need improvement to get the Mountaineers among the elite in college football.
West Virginia had its weight room renovated prior to this season, but there's plenty more to be done. The next step?
"You're sitting in it," Holgorsen said, identifying the team meeting room. "It's next on the list."
Holgorsen said the wish list he delivered to the administration had three criteria: proper weight training, meeting and practice facilities.
"You have to be able to meet appropriately, which we can't," Holgorsen said, "and you need to be able to practice appropriately, which we can't.
"I don't think I'm being unreasonable with the requests that I'm asking for. We're working hard on trying to get out there to raise the money that we need to make some of this stuff a reality."
Holgorsen hopes the Mountaineers will soon be able to lay turf on their outdoor practice field, which with its natural grass gets torn up too quickly and leaves the team to practice inside Milan Puskar Stadium.
"You shouldn't have to practice on your game field," Holgorsen said. "Nobody else does.
"Everyone says we don't have the space because we live on a mountain. Well, that's not true. We have the space. We use that practice field six times per year. With the climate and the maintenance, the only way to do it is with a turf field. So that's in our plans.
When asked about the indoor practice facility housed next door to the stadium, Holgorsen said, rather matter-of-factly, "You've got to blow it up."
"If you want to use it the way people want to be able to utilize your indoor facility, then safety is key," he said. "You need runoff, you need proper length and if you want to do the kicking game in there you need it to be a little higher. It's dysfunctional. We use it for some offseason stuff, but it needs to be a bit more functional."
Holgorsen's frustrations bring to mind the concerns of Rich Rodriguez. Look back at this post ...
Rodriguez: I still wasn't going to take the job if I thought the administration at the time at West Virginia had the same vision I did as far as growing the program. The program had gotten to a pretty good place, and I wanted to keep growing it. The administration at the time — not the one now, but the administration at the time — I wasn't convinced with my talks with them that they wanted to keep doing that. That was my perception, my belief."
We'll see how quickly the administration jumps on these improvements, but it's certainly true that each year recruits are being wined and dined at nicer and nicer facilities each year around the country, and West Virginia is falling behind. Holgorsen knows it, and he wants to play catch-up.
---
Stephen J. Nesbitt: This email address is being protected from spambots. You need JavaScript enabled to view it. , 412-290-2183 and Twitter @stephenjnesbitt.
More in this category: