Mauled in Manhattan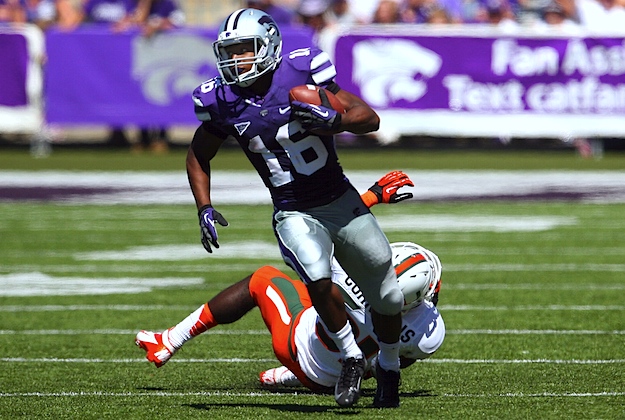 KANSAS STATE 35:12 WEST VIRGINIA
Another second-half lead, another massive scoring run allowed, and another double-digit defeat in Big 12 play.
West Virginia scrapped and battled ... and then collapsed for the second week in a row
Ten seconds. That was the only real difference between this defeat and the last one.
A week ago, West Virginia held a 27-16 lead until 2:26 remained in the third quarter. Then the Mountaineers allowed 21 consecutive points to end the game.
Today, West Virginia held a 12-7 lead until 2:16 remained in the third quarter. Then the Mountaineers allowed 28 consecutive points to end the game, end the pain, end the embarrassing 35-12 defeat to Kansas State in Manhattan, Kan. The defeat marked the Mountaineers' third consecutive loss and their fourth consecutive road loss.
West Virginia (3-5, 1-4 Big 12) expected to feast on a pair of first-year quarterbacks, Daniel Sams and Jake Waters, attributing the defense's inability to stop the pass the last three weeks to facing skilled pocket passers. Well, these mobile quarterbacks did just fine, combining for 18 of 21 passing for 291 yards and four touchdowns and 71 rushing yards.
West Virginia QB Clint Trickett was 15 of 28 passing for 227 yards and added eight carries for 21 yards and the Mountaineers' lone touchdown of the day. But he crippled his own effort with a pair of fumbles that led to him being benched in the fourth quarter in favor of backup QB Paul Millard. To add insult to an already insulting situation, Millard was intercepted on the last drive of the game — he was 4 of 13 passing for 37 yards.
West Virginia running backs Dreamius Smith and Charles Sims had 166 rushing yards and three touchdowns last week but had just 15 combined carries against Kansas State (3-4, 1-3 Big 12) and picked up just 66 yards.
The Good
• The WVU defense broke its three-game streak of allowing more than 300 rushing yards per game (by nine yards, so, little victory).
• Kicker Josh Lambert drilled a 50-yard field goal in the third quarter.
• Linebacker Isaiah Bruce and safety Karl Joseph each forced fumbles; Joseph and CB Ishmael Banks had fumble recoveries.

The Bad
• Punter Nick O'Toole, a top-15 punter this season, had punts of 27, 33, 36, 38 and 26 yards. Yikes.

• WVU scored just one touchdown, and the ensuing extra point was blocked.
• WVU attempted a fake field goal in the last minute of the first half from the Kansas State nine and holder Michael Molinari rushed for four yards — he needed seven.
The Reality
• WVU must win three of its last four games to be bowl eligible.
Stephen J. Nesbitt: This email address is being protected from spambots. You need JavaScript enabled to view it. , 412-290-2183 and Twitter @stephenjnesbitt.
More in this category: